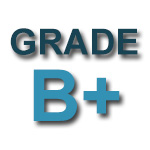 Proven Innocent
wastes no time in going for the jugular. In the opening scene a man shoots himself front and center and an apathetic Madeline Scott merely wants to know what happens to dogs after a criminal kills themselves.
She adopts the dog the same way she adopts the cases of the wrongfully convicted, a topic she relates to on an extremely personal level. When Madeline was a teenager, she and her brother Levi were imprisoned for the murder of Rosemary Lynch, a crime they didn't commit. The man who was responsible for her sentencing, Gore Bellows, still believes she is guilty to this day. A fact he tells her in a nasty whisper after making himself a hero and overturning the current high-profile case of Harvey Birkback.
But Madeline and her partner Easy, the very man who was responsible for defending her in court and getting her conviction overturned, know Bellows has an ulterior motive. They're proven right when he announces his run for Attorney General of Illinois, hence why he is trying to earn good favor and faith from the local community by conceding in the Birkback trial.
Madeline, now an accomplished innocence lawyer, and her team aren't willing to let that happen. Which is how to we get to the main plot of the show, they're going back through Bellows's cases to find other innocent people he's wrongfully convicted, beginning with Lucia Rincon, "The Goth Killer", a woman made famous for a photo taken of her where she looks like a satanic goth queen and confessed to burning her house down with her child inside.
There is more to Lucia's story than the media would lead you to believe. In Maddie's case they made her out to be a wild party girl despite the night of Rosemary's death being the first night she'd ever been drunk. In Lucia's case, they didn't let her clean the soot on her face before the confession, leading to the macabre looking mugshot. Plus she was injected with something on the scene and the toxicology report mysteriously vanished.
The problem is, to take Lucia back to court will likely result in Maddie's name and family being dragged through the mud again. She is their best asset as her own situation is the perfect comparison to help Lucia. Her parents aren't thrilled about the idea although her brother Levi is supportive.
He wants to be anyways, but as we see soon after while he's at his job (kid's soccer coach), he is harassed by Brian and Heather Husband, ex-classmates of Maddie and Levi's. Brian tries to beat Levi with a baseball bat and when Levi turns the tables on him, he wusses out and tries to take Levi to court.
Maddie is there to defend her brother of course, and they plead: "as usual with our family, not guilty." It's worth noting that before she even gets into court, she has a run-in with Heather, who is a real nasty piece of work. An ex-queen bee who never got the dream life she wanted, Heather is harboring some serious bitterness towards the Scotts and Rosemary? This moment is definitely going to end up on Maddie's murder board, something she has pinned up in her apartment since the case is still open! I'm guessing discovering the truth behind Rosemary's murder is going to become a big background plot on the show.
Back in the Lucia case, Maddie's team learns she had a fault blood test and that the house fire occurred during a phenomenon dubbed "Charcoal Christmas" by the fire department. In 2004, a line of faulty Christmas lights caused hundreds of house fires across the country. Although Maddie wants to hold on to all of their evidence until they can humiliate Bellows in court, she needs a firm reminder that their client comes first. This winds up coming back up when Maddie somewhat manipulates Lucia into fighting for a complete overturn of her conviction in court instead of taking a plea deal. Easy lays into her about her vendetta against Bellows beginning to conflict with how she handles clients but Maddie doesn't see it that way.
With Maddie on the case, Lucia really had no reason to worry. After an initially rocky day in court, their investigator comes through with the faulty translator used to get Lucia's husband's statement. The guy is notably corrupt and has been working for Bellows for years! I guess Bellows's cases will be fodder for much of the show's future cases moving forward. Lucia Rincon reclaims her innocence.
The shocks for the day aren't over yet either, Levi drops perhaps the biggest one of all on her as he takes oxy again for the first time after being sober for four years. All the drama with the Husbands has resulted in Levi getting fired from his coaching job, a job that was essentially the only thing holding the fragile lines of his life together. Without it, he's a complete mess. In a tearful confession, Levi reveals he had a romantic relationship with Rosemary!
While not altogether shocking, it does throw Maddie for a loop. Apparently she had no idea and the threat of the secret getting out to the public is enough to rattle her to the core. It's even more upsetting to watch her move her own brother's photo to the key suspect position on Rosemary's murder board. Could he have killed her after all?
Odds & Ends
- "Lucia's not fighting for her freedom and neither am I. She's fighting for her innocence."
- There is a smarmy reporter sniffing around Maddie all episode. At first he appears charming but once Madeline finally agrees to a date, he lets his editor know he has "a line on Madeline Scott." Uh-oh.
- One moment of the season one trailer has Bellows saying "we re-try her for murder." And the issue of double jeopardy was brought up at one point in the episode. Might Bellows be putting Maddy back on the stand?
A new episode of Proven Innocent titled "The Burden of Truth" premieres February 22nd on FOX.