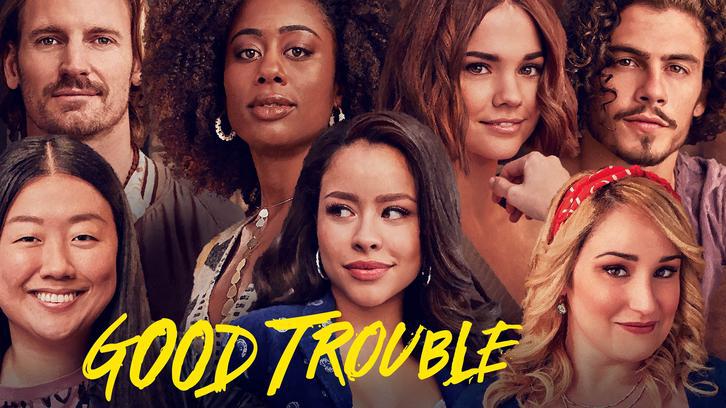 Good Trouble airs Tuesday nights at 8:00PM ET on FREEFORM

This week on the Good Trouble is not one of my favorites mostly because we seem to have been stuck with where we left everyone last week but Mariana. Jesus is in town visiting, and he hangs out with Mariana more than with Callie who is busy at work. Mariana and manages to gather together the women engineers at Speculate for an empowerment strategy session. This doesn't turn out as she expected which is now the norm for all Mariana's encounters. We finally get to see a breakthrough at Speculate which has been a long time coming. It is easier for anyone on the outside to give the "find another job" advice, but things are never that black and white.

Raj somehow gets to redeem himself which was a delightful surprise. The writers take us on an emotional roller coaster that will make you want to detest everyone, but it's all good at the end. Ben and the men at Speculate are still unbearable, but what makes me happy about how these characters are represented, is we all experience our share of irritating personalities in our everyday work life. Pretending that insufferable people as colleagues or peers are myths does not help make work environment suitable for anyone. Mariana seems to show an interest in Ben, and we will see how that plays out, but if it's up to Callie, that matter will be squashed very quickly.


Callie encounters a confrontation between Judge Wilson and his son, and we learn a couple of things about the Judge and his family. I am not quite sure where all this is going, but I hope there will not be a Callie and the judges' son hook up. I get that she's free and exploring her individuality, but she is always getting caught up in these emotionally draining situations that are not good for her. Another problem that might be looming for Callie is the maybe fling between Jesus and Rebecca. A bit of background is shared about Rebecca, and it's heartbreaking. This might cause some distress to viewers, but the reveal is handled with a lot of care. The case she and Callie are working on is triggering, to say the least, but it is definitely an issue that needs to be addressed more often on television.
Dennis gets to spend the day with Jesus who he introduces to a friend of his. This meeting turns out very well for Jesus but awkward for Dennis who gets some strange news from this same friend. What transpires here is definitely an opening into Dennis's world and maybe a hint of more Jesus to come, but if I am not wrong we could be seeing the beginning of a recurring role for Josh Pence who plays Dennis. I really like Dennis, and I hope that they can craft a good story for him long term.
I will end here with my preview of the episode but join me in the review comments section tomorrow night after the episode airs as I will be stepping in for Ida who is the regular reviewer of the show.
Questions? Ask away.