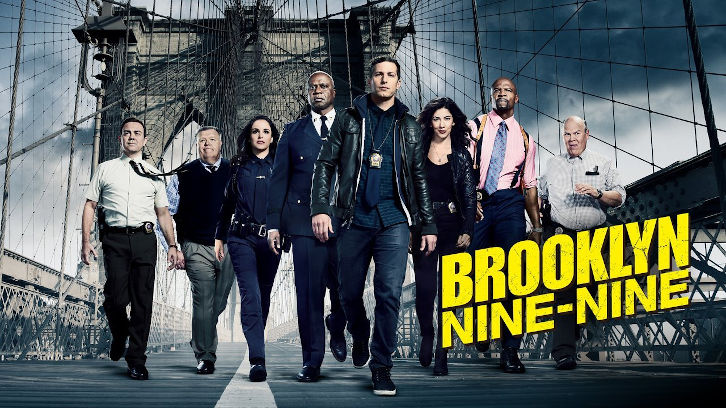 I think it's safe to say that we will all deeply miss Gina Linetti. The show will be very different without her and I'm curious to see how it will deal with such a big part of the Nine-Nine missing. This week's episode showed us Gina saying goodbye to the Nine-Nine and giving each member a 'Gina Moment' in 4 Movements.

The First movement involved Holt, Gina taught him to trash talk and he taught her how to play chess. This brought about my favourite quote of the episode: "The hospital called, your test results came back positive. You're a stage five dumbass." I never thought that I would have heard Holt say something like that and it was fantastic.

The Second Movement at first seemed like it was to teach Amy to be more like Rosa, however we quickly found out that it was to teach Amy to always be herself no matter what. I definitely think that this was the sweetest moment of the episode by far, it even made Rosa cry!


The Third Movement involved Gina and Jake sneaking into a very posh and expensive club to invite Mario Lopez to her leaving party. They eventually succeeded to invite him by begging and Jake being beat up by his security. But when he showed up to the party Gina refused to let him in and forced him to leave. The Gina moment there was for Jake to show him that she doesn't need a fancy venue or celebrities at her party, all she needs is her friends. It was also a moment for Gina herself because she got to kick out a celebrity from her party.
The final Fourth movement was for mainly for Terry. It began by Gina stalling and being at work every day even though her two-week notice period was over. Terry believed she got cold feet and Jake then steals that theory and brands it as his own. In those few days, Gina gives out her stuff and gives Boyle the 'Boyle mother dough starter' but Terry still hasn't gotten anything. That is until the squad finally show up to work and Gina is gone. However, left behind is a large gold statute of Gina (can't lie it did not look very much like her). Beside it was a laptop with a recording from Gina. Terry fell for one of her jokes for the final time and then received his Gina moment; a yoghurt subscription. We find out that Gina had to stall due to a delay in the shipment of her statue. The squad then applaud Gina for the last time.
Other notes
-I loved seeing Gina, Rosa and Amy all out together and having their moment.
-I loved Rosa's toast to Gina.
-Jake and Gina pretending to be rich was hilarious and so was their "yes daddy, no daddy, yes daddy…"
-I loved seeing Amy be so emotional about Gina leaving.
-Amy getting a hoodie with 'Arnie' instead of 'Amy' was hilarious.
-I still cannot believe we actually got to see Rosa be emotional.
-Amy's book for Gina was very, very cute.
-I honestly did think that Gina was getting cold feet, but then it all made sense when the statue appeared.
I loved this episode and I thought that it was really great and sweet send of for Gina. It was great seeing her interact with every single member of the squad and giving them a moment that will stay with them forever. Let me know what you thought of the episode in the comments below!