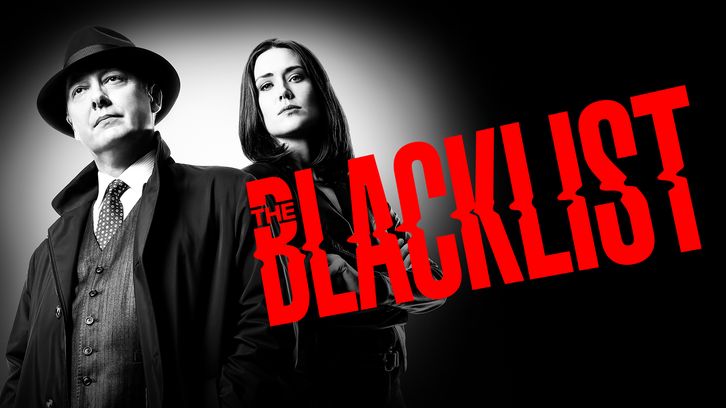 This review is going to be spoiler-heavy! If you want a spoiler-free preview be sure to check out Jessica's excellent write-up of the first two episodes here.

The Blacklist 6.01 "Dr. Hans Koehler" - Review:

Now into its sixth series, The Blacklist has somewhat answered the mystery that Red Reddington is not actually Red Reddington. The cat is out of the bag and Liz is working behind his back to find out more about the truth. It's an interesting role reversal that puts Red in a compromised position, but you have to remember that this is Red Reddington we're talking about and he's not going to go quietly into the night, and as evidenced by his interruption of an ordinary bank robbery to take over the operation - only for him to turn over the other criminals to the police and then return what he took to the bank, and its rightful owner - Red is still at the top of his game, even in his older age. And James Spader, ever the draw of this series, is having lots of fun.

And the show still knows how to use its music moments well, with Wolfmother's Joker and the Thief kicking off proceedings in the bank robbery, followed up by Parquet Courts' Wide Awake, Dope Lemon's How Many Times and The Baptist Generals' Turnunders and Overpasses. It had all the makings of an old-school premiere of The Blacklist, reminding us that yes, no matter what happened last season, the core concept of the show is still intact. The biggest question will be whether or not once the mystery is out of the bag can the show continue its form, and based of this episode it can.

The Blacklister of the week is Dr. Hans Koehler, a plastic surgeon. The taskforce is reluctant to work with Red and Cooper is eager to inform Elizabeth Keen that should she want out of this duplicity at any time, he's happy to help. But for now they've made a deal with the devil and will continue to use it. And at the end of the day, bad guys are taken care of in the process, so as far as Red - at least, is concerned, it's a win win. Elizabeth is up for her new role, and given that the show has once more shifted the dynamic between both Elizabeth and Red we have some added agency to proceedings that should keep things exciting. Koehler as a whole was a fairly unremarkable villain, but then with much of the attention of the premiere focused elsewhere, it's entirely understandable.

Elizabeth and Jennifer are working together as a team of sisters looking for the mystery of what happened to their real father and we see Elizabeth looking for clues when Red calls her with information about Koehler. It's interesting to see how much Elizabeth has learned from Red from working directly under him over the course of the past five seasons too, and it's fascinating to see just how much she has changed since she was first introduced back in season one. Jennifer is marvelled at how easy it was for Elizabeth to lie to someone like Red, but then again, she's in an entirely different position to her sister.

The hunt for Dr. Koehler was fairly by-the-numbers stuff for The Blacklist with little risks taken in that regard. Elizabeth and Ressler both run into a dead end at a bakery, but have better luck with a trace of blood evidence from a former patient, Basil Vladakis, but Red is of course one step ahead of them and already at the bar where Vladakis is. With the knowledge that Red is looking for Koehler Elizabeth believes that it's too suspicious for someone like him to be involved personally in the matter when he could just sit back and let the Task Force do all the work for him, so he could be looking to use Koehler for an alternative motive. Does he want him for a plastic surgery?

But regardless, it turns out that Koehler needs saving rather than being stopped and is not hiding out in France as suggested. Aram is able to get the location of the Doctor, but in the process, Red is informed, turning it into a race against time. Predictably, Red gets there first with Dembe in tow, and not long after, Elizabeth, Ressler and Navabi arrive. Interestingly the team fail to save Koehler from being shot, but before he can be killed the Task Force come racing in to the rescue. Koehler stays long enough alive for Red to ask him the location of something, but we don't hear his reply before his death. It's a failed rescue for the Task Force that sees Elizabeth confront Red over alternative agendas. Red insists that he has secrets, not agendas, and of course, he doesn't know that Elizabeth knows too. There's some ever present tension in the dynamic between the two and it's exciting to watch Spader and Boone go back and forth.

I think even at this early stage it's clear that Jennifer isn't being entirely honest with Elizabeth, and it's only serving as a distraction at this point. Jennifer could have good intentions, sure, but it's The Blacklist, a show where everyone has secrets, and there's bound to be more to her than meets the eye. And furthermore, is Red playing Elizabeth again? Just like Elizabeth thinks she's playing him? It's an exciting element of added unpredictability that makes this show exciting when looking beyond just the standard case of the week. It's clear that Elizabeth is being led on by Red at this point, and both know more than they're letting on. But at least for now, he has no idea that she's working with Jennifer, and I did enjoy seeing them return to the scene of the incident together. As far as I'm concerned, the more we get of Elizabeth and Jennifer on the same team, the better.

The next Blacklister it turns out is the one-time patient of Dr. Koehler, The Corsican, Bastien Moreau. It's a nice stage-setter for the next episode with the Task Force and Red both out to get one of the world's most deadly assassins. Red will want justice for his friend and for now both parties are on the same page, even if it lasted for only a short amount of time, as we're about to see in my review of The Corsican.

The Blacklist 6.02 "The Corscian" - Review:


The Corsican was the superior of the two episodes that kickstarted this season and upped the ante by taking the action to the United Nations. It was an episode that consisted very much of two halves, sending the Taskforce into the UN to stop a bomb from going off. This showed Red at the peak of his powers, being able to get a police escort into one of the most secure buildings in the world in order to save the day. The great debate throughout these two episodes is whether saving all these people was worth the cost, and you get to see two sides of the argument here. It's made all the more complicated by the fact that Jennifer and Elizabeth are doing a side investigation of their own, and the person who they don't want interfering in the operations is Reddington.

This episode was full of tension and expense and wisely kept Moreau in the background, as much like the premiere The Blacklister of the week wasn't the main focus. Seeing how Red was able to waltz in the UN only to be taken down by beat cops ordering a pretzel is reminiscent of how Al Capone was taken down through taxes, and Red is no doubt aware of that. In fact, even though the case is transitioned to the higher-ups pretty quickly who will not fall victim to his bribes, he's only interested in who set him up. His cocky attitude worries Elizabeth, who knows that she's responsible, and if Red finds out, all hell is going to be unleashed.

Another episode, another good selection of songs thrown our way. Super Bon Bon from Soul Coughing backed Red, Dembe, Elizabeth and the FBI Agents making their way into the UN building was awesome to see, even with a bit too excessive amounts of slow motion. The comment made by the bomb-maker about the police treating Red like Elvis was a good touch, and again it plays into the example of the pride before the fall. Red may point out that Elvis was given a badge and that he doesn't need one, but how long will there be before he regrets that choice of keeping his actions secret?. That speech before the UN as he left Elizabeth to deal with the bomb was classic Reddington, viewing it as once in a lifetime opportunity to give a speech to the absent diplomats about LSD and Cary Grant.

The second half of the episode was largely spent with Red behind bars. Aram had Elizabeth and Ressler thinking that they'd caught Moreau only to find out that he hadn't been arrested, although of course we later find out that Elizabeth was in on it from the beginning, it's going to be interesting to see what happens when she tells someone at the FBI or someone like Ressler finds out. There's only so long a secret like this can stay hidden.

After shooting a couple of people in order to escape, Moreau is now in the clear at least for the moment. It's interesting to see how much the show takes influence from The Silence of the Lambs this season with Red having to go down the Hannibal Lecter approach as operating behind bars to inform the Taskforce of the Blacklisters assuming he doesn't get out as quickly as he was put in, which was a suggestion raised when Cooper was trying to fight for his innocence. It's interesting to see that Red could almost be considered as an almost vigilante esque figure of his own when you see the boards with pictures of all the villains that he put away (there were some great callbacks to some earlier classic Blacklist episodes if you paid attention).

What happens to the Taskforce now Red is behind bars? The Corsican ends on a fascinating note that opens up a whole whirlwind of possibilities. Yes, Elizabeth has crossed the line in betraying Red, but there are arguments on both sides for that. You can see the reasoning. It's just Jennifer may have alternative motives of her own. But that's all speculation for now, and it's very much turned into a season that looks to pit both Liz and Red against each other and the results should be fascinating.