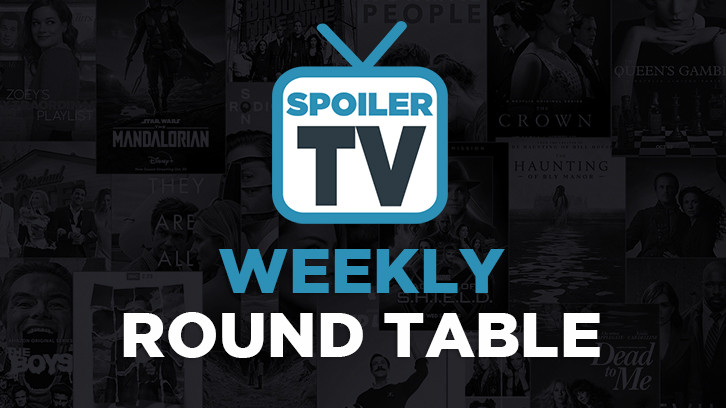 Hello and Welcome to a new Edition of SpoilerTV`s Weekly Round Table. SpoilerTV members featured in this issue are KlutzyGirl, Michelle, Laura B, Kollin Lore, Sam Dinsmoor, Jamie Coudeville, Angela Niles, Ellys Cartin (EC), Ami Goeree (AG), Jessica Lerner and me (Yon). You just have to sit back enjoy the read and join the discussion in the comment section down below.
We entered 2019! The way we watch TV changed in so many ways, what are the positives and what are the negatives of this new TV ERA?
Yon:
To get the negatives out the way? Far too much TV on offer that it's completely impossible to watch all the different shows available, because there's just not enough hours in the day. Broadcast TV seasons are also too long which results in the odd filler episode, and sometimes a lack of structure in the story where it's blatantly obvious everything is being made up as the scripts go along. The brightside though? Ironically enough too much TV on offer, so if one show fails to amuse you then you can quickly drop it for something more entincing. With the vampire era of TV somewhat at an end, we're getting more mystery/sci-fi/supernatural shows, which makes for a welcome break from the overload of police dramas. More Networks and Streaming services are giving into the binge way of viewing and making seasons available all at once instead of weekly, and with Networks launching their own streaming services it means that programming they usually wouldn't be able to offer, they now are though I guess the downside to that is all the different streaming services cost a fortune and the programming isn't always available world wide.
K
lutzyGirl:
I love that we have so many choices - it's nice to have options - but at the same time, it's hard keeping up with all my favorite shows. It's both a positive and a negative! But I'm so glad we have streaming now, even if not everything is available.
Michele:
It's wonderful to have a multitude of options of what I can watch these days - and on so many mediums! But that's also the worst part. Thanks to streaming services and apps, I can follow so many amazing shows, but choosing what I'm in the mood for after a long day sometimes leaves me turning on a sitcom I've already seen a dozen times.
Laura B:
It's great to have so many choices, but we're now seeing a tend where we're about to get more an more streaming services and where Netflix in particular has taken in a massive influx of high budgeted projects. It makes worry a bit for future costs and quality. I don't think we have hit the plague of less than greatness just yet, but I fell like it's coming...
Kollin Lore:
As a genre/sci-fi/fantasy fan there will be so much coming out in 2019, and 2020 as well, more than in any other years and I love it! As we go deeper into the year I feel like there will never be a dry day in terms of what to watch, the positive being that I will constantly be entertained. The only negative out of all this is that it will lead to a regression in my productivity. If I can make a liveable wage out of watching television and reviewing these shows, I'd be a happy man, but alas.
Sam Dinsmoor:
I think it's great that we have so many new shows to check out! But the problem is there's almost too many. I don't have a lot of time to check out each and every show the comes out on all these different networks and streaming services, as I feel like is the case with a lot of people. The problem that would arise from this is there could be a lot of wonderful shows coming out that people don't see because they just didn't have the time to get to them, and they will be canceled before it can gain an audience. It would be nice to have a slower rollout of shows so you can have the chance to sample all of them.
Jamie Coudeville:
I'm always catching up on old shows so when I compare them to shows that are currently airing, the most notable is more diversity. Also, better CGI (which of course makes sense). I also like that there are a lot more shows with shorter seasons, I'm kind of over the 22 episode style season.
EC:
There is such a sweeping array of TV content available that I'm just not watching any of it. I am only half-jesting. It would be more accurate to say that I don't feel a need to watch anything new right away. By now hurrying to finish something as soon as it's released, I can truly watch at my own slower pace. What about spoilers? By blocking the key words of a juicy show on Twitter, I can escape 90% of spoilers. But more often these days I look up the spoilers and see if I still care about a show outside of its twists and turns. However, more often than not there are so many shows that I just miss the spoilers. The positives are there is always something to watch. Do I want to gawk at smug historical characters in glorious costumes? Do I want to watch episode after episode of a classic comedy to lift my spirits? I can always find something. The downside of ALL THIS is that really good, fresh shows can slip through the cracks.
AG:
Well, in a way, its great, because we have so many options these days, that we can never really run out of content, which is great for a content-hungry society like ours today! (You want to watch a superhero show? There's 100 out there, pick one and start binging!) Its great for creators too, because there are so many platforms for streaming all different kinds of content, and the variety in platforms – and how they evolve – appeals to the variety in writers and actors. A script for a Netflix show will look and feel very different to a pilot airing on Sci-Fi, or Stan (I don't know about you guys but I am obsessed with the idea behind Bandersnatch – technology is amazing!). And with Youtube adopting the idea of streaming its own created shows, now there's even more chances for writers to write a script, actors to show off their talent, film directors to put together short films, etc. And all for free! (For example, did you guys see the short Nathan Drake film Nathan Fillion put on Youtube? That's out there, free to watch by anyone with an internet connection – that blows my mind! The introduction of YouTube has really shaken up the entertainment industry! Also, side note, where's my Uncharted film?!) On the other hand, quality will always beat quantity; just because there are a lot of shows out there, doesn't mean they're good. There are some shows out in the world today that are so brilliantly written that you can't help but wonder why you didn't think of that first, but then there are others that, when you watch them, you just want to rub bleach into your eyes and call it a day. I think with the evolution of TV, there has also been an evolution in audience types, which has its good and bad sides. I think overall, TV really has come far, but it also still has a long way to go.
Jessica Lerner:
As we enter 2019, there are nearly 500 scripted shows on air. In this era of Peak TV, the overwhelming number of shows is both a positive and negative. It's a good thing that is there is such a variety of programming and a show out there for everyone. However, the down side is there is no way to be able to watch everything, and having so many shows makes it harder to find some of the hidden gems among the oversaturation of certain genres.
The Connors ended its first season run! Did this adventure pay off for ABC or should`ve they tried something else?

KlutzyGirl:
This adventure definitely paid off for ABC! The show was much better than the revival (the last few seasons of the original show, too) and the writing was smoother. I'm actually looking forward to a season two.

Sam Dinsmoor:
I think it paid off. Creatively, The Conners was much, much better than the first revival seasonal. So many characters shined and the writing and acting was very, very sharp. I loved it.
Angela Niles:
I love how they handled everything with the "Connors". They were able to move quickly past the issues with Roseanne and the controversy, and they settled into their own new rhythm and storylines quite nicely. The characters are still as loveable and relatable as ever, and I like how they've integrated the new characters as well. I'm glad ABC allowed them another chance after everything with Roseanne, and I'm glad the show's managed to be successful in its own right. I look forward to seeing what they could do with another season.
EC:
Ratings-wise, they appear to have done okay. I personally lost interest. It just isn't my thing.
Suits was renewed for a final 9th season? On time or long overdue?
KlutzyGirl:
It seems like the right time to end the show.
EC:
One time I overcooked hash browns. Even worse, I overcooked under-seasoned hash browns. This is a show whose most recent season left the impression that a group of people were hanging about and waiting to be given something to do. In the most recent season, Katherine Heigl injected new energy, but her character was quickly watered down. Two other characters, recently promoted to regulars, were similarly left to languish. It's time to close this case.
AG:
9 seasons is no easy feat, so congrats to them, really. All things must eventually end (and they probably won't have much to go on when their lead is focused on her royal duties instead), but there may still be a spin-off or a sequel, you never know! In a way I like shows ending, because then I can binge it all in one sitting, rather than sit there and wait for a new episode each week (I waited before watching BBC's Sherlock and I'm so glad I did because screw waiting for a year).

Jessica Lerner:
I feel that this isn't so much long overdue, just slightly overdue. I believe the series should have ended with season 7, with the departures of Patrick J. Adams and Megan Markle. The series was able to carry on after Gina Torres left, but Mike Ross was essentially half of the show. His character and Harvey started something together and went on this crazy rollercoaster ride for seven seasons, so to continue the series without Patrick J. Adams didn't feel right. I'm just hoping the character will make a cameo before the series ends, most likely without Rachel, as that would just be too cruel for fans.
Pilot season is lightly gearing up. What type of show are you missing on your screens? And which talent do you wanna see catch a new gig?
Yon:
Like I said above, I'm really hoping that the mystery/sci-fi/supernatural genre makes a comeback. Every pilot season it is the same old police dramas and completely humourless comedies that manage to make it to series. I understand it's all about money at the end of the day, and Networks are going to go with the tried and tested formula that they know will make banj, especially with the overseas market, but TV just feels really stale. This year we're losing The Big Bang Theory and Criminal Minds, which are two shows that really shouldn't have lasted as long as they have, and it'd be nice if we had a fresh injection of creativity cutting through the ranks. Last year I was extremely excited that Grand Hotel made it to series and have been left disappointed that ABC decided to give it the summer death slot. None of the shows that are so far being talked about impress me, but I'd really like to see the likes of Sarah Michelle Gellar, James Marsters, Hilarie Burton in something half decent.
KlutzyGirl:
I miss paranormal shows and would like to see more of them (but something other than witches and vampires, please). I'm also dying for an Arrowverse spin-off featuing Lois and Clark - what little we saw of them in Elsewords was adorable and also not enough. Plus, I love Bitsie and Tyler so it'd be nice to watch them again every week. And I'd love to see Brett Dalton, Danneel Ackles, Jessica Capshaw, Angela Kinsey, Bridget Regan, Charisma Carpenter, Hilarie Burton, and J. August Richards in new shows this year.

Michele:
I'm missing a quality show that connects with the whole family. I feel like we've split a lot of TV shows to reach a specific audience, but where's the show like "Chuck" that all ages can watch together and enjoy? Speaking of, I'd love to see more Zachary Levi on my screen every week.
Kollin Lore:
I'd love to see a globe-spanning, treasure hunting adventure type of series. I remember a couple of years back a Berlanti pilot was picked up on the CW called Searchers about a brother and sister who set out to discover "the great legends, myths, and unexplainable mysteries of the world' based around their mother's "terrifying and bizarre stories." That sounded so freaking AMAZING, I was hyped and then was so bummed when it did not get picked up. Something like that on a streaming network would be so damn epic. The closest to this was Hooten & the Lady which wasn't that bad, but lasted only one season.
In terms of talent, I still long to see those from my favourite show ever Angel get roles, not named David Boreanaz and Amy Acker. In particular, Alexis Denisof, James Marsters, and J. August Richards, but each passing year this seems like a fantasy. Also, while in that universe, Sarah Michelle Gellar needs a new show too. Most definitely.

Jamie Coudeville:
I'm kind of missing high fantasy shows. I know they often end up being compared to Game of Thrones, but it's my favorite book genre and there are so many different ways to go with this. This is why I'm so excited about the Grishaverse show coming to Netflix. As for the actors that I want to see, I'm looking forward to seeing where the Shadowhunters cast will land.
EC:
On one hand I want more bland procedurals, because then cool new shows that I would love to watch won't get made. And I will have more time to catch up on all the older cool new shows I haven't had a chance to watch yet. Honestly, I just want smart shows that don't go for easy gags or stereotypes or recycled melodrama. I'd love to see Abigail Spencer (and the rest of the Timeless cast) in a new project. I'm very excited to see where the amazing Jane the Virgin cast end up too.
AG:
I know Rise kind of bombed out, but I really miss watching something musical-related on-screen. I really hope for 2019 to bring something Rise-esque, Smash-esque to the screens. Musicals in TV-format are fun and dramatic and interesting and I'm totally bias, I know. I'm just really over high school/teen dramas that take themselves too seriously. I want something crazy, and different, and just super unique, something that's willing to be daring and break the rules. Netflix is showing us that with glimpses like Bandersnatch and the writing in One Day At A Time, but I want more! I wouldn't mind more original superhero stuff either, but not poorly-written sit-com style stuff, I like dark and gritty superheroes (Titans is a good example, that was better than I expected!!). As for new talent, I'm kind of currently obsessed with Jordan Fisher and Rachel Zegler (Yes I'm bias, we know), and I'd like to see more of Lana Condor because she's super talented and precious. I'm also waiting to see Kat McNamara cast in something gritty and dark, like Arrow and SH (Where's my Matthew-Daddario-as-a-gritty-moody-NY-detective drama???).
Jessica Lerner:
This may sound cliché, but I'm missing shows with original concepts. Every series nowadays seems to be adapted from some source material or be a reboot or remake of something else. And then the shows that don't fall into those categories are usually the same formulaic series that have been gracing our screens for years.
That's a wrap on this weeks round table. It's over to you guys until we read again.....