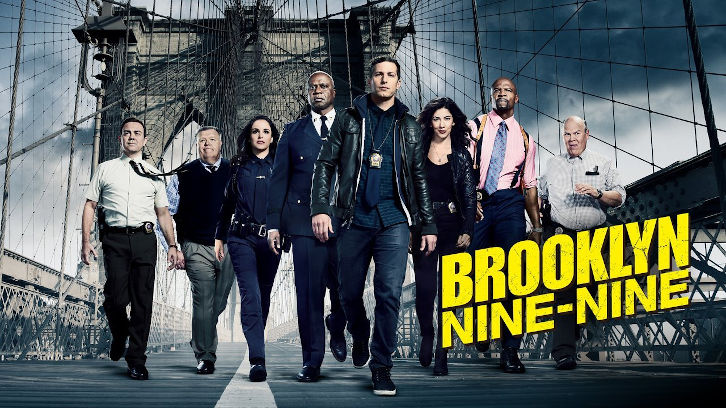 As always Brooklyn Nine-Nine comes back with a very strong, funny and entertaining episode which definitely went by much faster than I wanted it to.

The episode begins with nearly right where we left off. The 99 crew are at the bar celebrating Jake and Amy when Holt gets news that he has received the position of Commissioner, so obviously filled with joy Jake runs to get his boombox so that they can celebrate however, meanwhile Jake is away Holt rereads the email and realises that the email says he did not receive the position. Jake runs back in dancing and questioning why no one is celebrating. Awkward situation. It obviously would have been too simple for Holt to get Commissioner without any problems so him not receiving the position comes with little surprise.
So, with the news, Holt decides to take some personal days which is obviously very unlike him. With Holt away Terry takes over the precinct and has some trouble with that when Rosa comes to him with a problem. Struggling to get the instruction manual that Holt left for the precinct, Terry has a hard time helping Rosa and believing in himself. That is until Rosa finds the instruction manual that Gina had along. The manual states that if anyone needs help, they should turn to Terry because Holt trusts him completely. This is a sweet moment and I can definitely see a future in which Terry aims to become a Captain one day.

Back to the main issue at hand; Holt's personal days. Jake and Amy leave for a honeymoon in Mexico. The two arrive in paradise but their happiness is cut short when they notice Holt sipping on a cocktail in the same resort that they are staying in. Holt is clearly and rightfully bitter about not getting the job however, this puts a downer on Jake and Amy's honeymoon due to the fact that they constantly seem to bump into him. Eventually, Holt decides to leave but Jake and Amy quickly learn that Holt means more than just leaving Mexico, he means leaving the 99 because there is "more to life." However, Jake and Amy don't let Holt leave and continue to feel sorry for himself. Jake and Amy put him "spread eagle" and "legs akimbo" on the bed and Amy gives him a piece of her mind when Holt calls Jake selfish. Melissa was fantastic in this scene, I thought it was a great scene in which we saw a completely different side of Amy in which she is the complete opposite of what she usually is like around Holt. Jake and Amy's method works, Holt comes back to the 99 and takes on the new Commissioner by going to the Mayor. Is this a good idea? I don't think so and we quickly learn that it maybe wasn't as the 99 is now in chaos with the bottom floor being closed for "renovations" meaning that the top floor has to be shared by everyone. It is war.

Other notes

- Jake and Amy are even more adorable as a married couple. Jake is always so proud when he calls Amy his wife.
- I was shocked by the Gina and Boyle story in this episode, but it still ended up being funny in its own way.
- My favourite line this episode was delivered by Amy when shouting at Holt; "walled in your misery like a little baby." My second favourite was Gina's "Cause I'm a rascal."
- I found Top Dog Terry's "woof woof" absolutely great.
- Charles dressing up as Gina was pretty hilarious.
- I loved seeing Holt in the funny t-shirts.

The episode was fun and hilarious and a strong come back for Brooklyn Nine-Nine after the cancelation. Fox made a major mistake, but NBC made a great one. Season 6 looks like it's going to be a very strong one. Let me know your thoughts on the episode in the comments below!