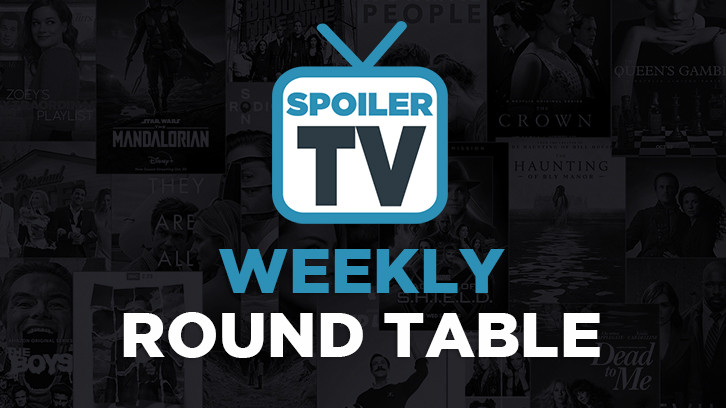 Hello and Welcome to a new Edition of SpoilerTV`s Weekly Round Table. SpoilerTV members featured in this issue are Giulia, Milo, Katherine Meusey, Claire Serowinski, Ami Goeree, Jamie Coudeville, Jessica Lerner, Abi Baker, Cecile and Patrick Flaherty (PF). You just have to sit back enjoy the read and join the discussion in the comment section down below.


Golden Globe Nominations dropped this past week. The biggest surprise and biggest snub in your opinion!
Giulia: I love the Golden Globes! I was so excited to see the nominations!
Surprises:
- A huge yay for Sandra Oh getting nominated for "Killing Eve". And she's also hosting the show, it doesn't get better than this;
- I am super psyched for Elsie Fisher getting the nomination for "Eight Grade", in my opinion, one of the best movies of the year;
- The Legend Candice Bergen getting recognized for her amazing work on "Murphy Brown". Let's hope this will give CBS a reason to renew the show.
- "Pose" nominated for Best Drama and Billy Porter for Best Actor! I love this show so much and the fact that the HFPA recognized its existence and its importance matters a lot.
Snubs:
- I was hoping to see Laura Linney for "Ozark". She is always outstanding but she really delivers an amazing performance in season 2. She is the secret weapon of the show. I think Jason Bateman does a fine job portraying Marty, but Laura's Wendy is just beyond.
- I was pretty sure "Succession" would get a nomination. Only Kieran Culkin did. He's great and funny, sure, but I thought the show was worthy of a nomination, too.
- MJ Rodriguez and Indya Moore not getting a nomination for their work on "Pose". Along with Billy Porter, they are the heart of the show.
Milo: Bohemian Rhapsody and A Star is Born getting nominated in the wrong categories (they're musicals not dramas) was disappointing as it took nominations away from films like You Were Never Really Here. I'm happy for Black Panther and Blackkklansman though, and If Beale Street Could Talk. Would have also liked to see some love for First Reformed or Leave No Trace but sadly it was not to be. Ditto for any female director in the director categories - Lynne Ramsay, Debra Granik, Crystal Moselle, Chloe Zhao et al can feel rightly snubbed especially when Bradley Cooper's direction was one of the weakest parts of A Star is Born.
I was much happier with the TV series side of things even if I'm bummed that there was no love for My Brilliant Friend. Bodyguard getting the nod was a welcome but awesome surprise - and it's great to see some recognition as ever for The Americans, the best show of the year. I guess I need to hurry up and watch Pose and Homecoming, because Killing Eve makes it 3 out of 3 in that category for shows that I liked!
It is kind of a bummer that Anna and the Apocalypse or Hearts Beat Loud didn't get nominated for best original song, nor Suspiria - but I was never expecting them to. At least A Star is Born just had Shallow.
Katherine: Two words: Jodie Comer. How in the hell could they nominate Sandra Oh (who was also brilliant) and forget Jodie Comer? She was amazing, totally original, and every scene she was in she stole. Baffled by her absence. "The Haunting of Hill House" Both the show itself and pretty much any of the cast. Tony Shalhoub? J.K. Simmons? Alexander Skarsgard? Florence Pugh? And completely stunned by any nominations around "The Alienist". It's a great book with a mediocre (to be kind) screen adaptation. And now they're doing another one. Oy.
Claire: Biggest snubs - Sissy Spacek for Castlerock. Her portrayal of a woman caught in the depths of dementia was the most fabulous performance that I've seen on television all year.
Also, I feel that Emily Blunt is the most overrated actor at the moment. After I see Poppins I may feel differently, but I think she'd receive a nomination if she were just on screen, knitting a sweater. No one will ever outdo Julie Andrew's Mary Poppins!
Yeah for Candice Bergen! This is a terrific show and I'm hoping this might boost its chances for a second season.
Ami: Very excited for Mary Poppins (I'm biased about Lin), CRA, A Star is Born, Bohemian Rhapsody,Black Panther AND Spider-Man: Into the Spiderverse. I'm rooting for all of them in their respected categories. I was also surprised that both Star and Bohemian were considered dramas and not musicals, but whatever I guess, both works. Kind of weird that Mary Poppins didn't make it into best original song. Also surprised there was no nominations for Viola Davis, Michelle Yeoh, or anyone from This Is Us? I'm predicting that Star will take out a lot of its categories, but I'm really gunning for Bohemian - Rami's performance was amazing in it.
Jessica: The biggest surprise would be both
The Good Place
and Kristen Bell snagging nominations for best comedy or musical series and best actress in a comedy or musical series. I've long held the believe that
The Good Place
is one of the best sitcoms on television right now. In its third season, the show keeps finding ways to hilariously reinvent itself, so it's nice to see the series getting the recognition it deserves. Also as a fan of Bell's since
Veronica Mars
, I'm really excited to see her getting the credit she so earnestly deserves.
The biggest snubs would have to be
This Is Us
being completely shut out of the nominations. The series has had an extremely strong second and third season so far, with standout performances from Milo Ventimiglia, Sterling K. Brown, Justin Hartley, and Chrissy Metz, yet none of these actors nor the series itself was recognized. Also there was absolutely no loved for
The Haunting of Hill House
. Netflix's revisionist take on a legendary ghost story supersedes its source material in the best way possible. With incredibly strong performances from the entire cast, I'm utterly shocked there wasn't any nominations from this incredibly haunting series.
Abi: I find it incredibly strange that Atlanta wasn't nominated anywhere as that's usually awards bait and should've been eligible. Also a little bit strange that This Is Us was shut out as again, usually awards bait. I would've loved if Jodie Comer was finally recognised for her amazing performance as Villanelle on Killing Eve, especially with Sandra Oh being nominated and with her arguably giving a better performance. Very surprised at Candice Bergen being nominated as I haven't heard much praise for Murphy Brown and was fully expecting it to be cancelled after this initial run.
Cecile: So happy about Amy Adams getting noms in Vice AND Sharp Objects, it wasn't a huge surprise, but I'm glad the industry is recognizing how amazing and versatile she can be. Sames goes for Kristen Bell, I wasn't expecting her to get a nom and she deserves praise for the Good Place. As for snubs, I'm wondering how Yorgos Lanthimos didn't get into Best Director when 3 of the actresses of The Favourite are nominated in acting categories. What else do they want?! On the TV side, I wish Jodie Comer had gotten in for Killing Eve. Sandra Oh is wonderful and deservedly got a nomination, but the show wouldn't be the same without Jodie's performance.
PF: I think K. Bell getting the nom is fantastic as TGP is such an original and fun show with great performances all around. C. Bergen is the "ok we kinda have to" nom so I'm meh about that. Bummed to C. Spacek not in there for Castle Rock. And shocked no love for This Is Us, seemed to deliver on performances and the feels week after week.
Netflix continues to exorcize Marvel from their development side. Daredevil being their latest victim. Do Punisher and Jessica Jones have chances for more seasons or is their cancellation just a formality?
Milo: From the moment Luke Cage was cancelled I suspected it wouldn't be long before the rest of the Marvel shows on Netflix followed suit, with Punisher and Jessica Jones only being dead shows walking at this point which is a shame. But hopefully they can find new life either on FX or on Disney+, but if not, there's always a whole wealth of comics out there for fans to read about their favourite characters. Mark Waid's run on Daredevil was incredible, for one.
Ami: I am just waiting for their cancellation announcement. I'm disappointed, but really not surprised they were all cancelled one by one, I'm sure its more of an ecomonical/'high-above' decision for their shows to be taken off of Netflix and moved somewhere else. They'll be back, most likely on Disney+, with a fresh new look and new take and everything.
Jamie: Yeah, they're screwed. Netflix is pissed at Disney and is taking it out on the Marvel shows. I don't see them keeping Jessica Jones and The Punisher.
Abi: Jessica Jones and The Punisher are not long for this world. Netflix will definitely cut the ties after they air their next seasons. Hopefully the writers haven't written huge cliffhangers in the hopes for a renewal because they won't be getting one unless Disney+ give them a miracle.
Cecile: Daredevil was one of Netflix's (allegedly) most successful shows so unfortunately, I do believe JJ and the Punisher won't escape cancellation. That said, I'm hoping this is only Marvel related and not all non-original Netflix shows in general, because that would mean goodbye to A LOT of content I don't want to see disappearing. I'm not an expert on distribution deals, so I'm not sure how linked it is but shows like the Good Place, Riverdale, etc. are on Netflix for international viewers like me but aren't "original" to Netflix so I hope the deals stay in place.
PF: If they killed Daredevil then the other two are done. Disney+ needs to do what Marvel did and start a small subset/offshoot show called "Marvel Knights" where they had Punisher and Ghost Rider and Moon Knight and Daredevil and other "darker" characters and they could be badder. Throw JJ and LC and IF in a Heroes for Hire series in there and Boom, problem solved.
A surprising rise in quality for Arrow transferred in getting back ratings-wise as well, gaining 2 tenths in demo and 300K in viewers. Is a positive Word of Mouth easier to appeal to younger-skewing shows? And how sustainable is it for a long-running show like Arrow?
Jamie: I have no clue why Arrow's ratings improved. I haven't been happy with the show in years, I found this prison storyline dragging and I'm so sick of Diaz as a villain. Perhaps it has something to do with the build up to the crossover? Who knows. Regardless, I think this show has reached a point where it's time to start thinking about a fitting ending.
PF: The positive word of mouth amongst the die hard fans can translate to ratings increases. Someone once said story is king, and if the people liked Ollie in jail then more viewers will tune back in. The old "oh yeah, the last season sucked, but this one is pretty good" always works for us comic book geeks.
X-mas is approaching and it is time to forgive and forget. Which recent redemption arc did make you forget all the bad of the past?
Jessica: The best redemption arc that came to a close in 2018 would have to be Klaus Mikaelson from
The Originals
. When the hybrid was originally introduced on
The Vampire Diaries
, he was the Big Bad who wreaked havoc for all the characters of Mystic Falls. From killing Elena to end a 1,000-year-old curse to forcing Stefan to become a ripper again and killing Carol Lockwood, Klaus was the worst kind of villain. Yet, viewers, and I, couldn't help but see something in him, some good, like when he saved Caroline after being bitten by a werewolf. He was by no means perfect, but viewers got to see him become something of an anti-hero over five seasons on
The Originals
, most notably due to having a daughter. In the end it was Hope, not Elijah, who was Klaus's saving grace, as he ended the series by sacrificing himself to save her. He may have never truly redeemed himself for all the awful things he did, but he did manage to make things right by his family, which is enough for me.
Cecile: I'm glad Conrad & his dad reconciled somewhat on The Resident. (Spoilers ahead) I'm just not sure the dad will survive that operation, the "I love you" exchange seemed kind of ominous.
PF: I'm still enjoying watching Dick Grayson come to terms with himself on Titans. He, and I, think he lost a bit of his humanity in his time serving under Batman, and now he's struggling to try and get it back. He doesn't exactly know who he is if he's not the ward of the Dark Knight and it's fun watching him try and figure it out.
That's a wrap from us, sound off in the comments below with your thoughts. Until we read again......