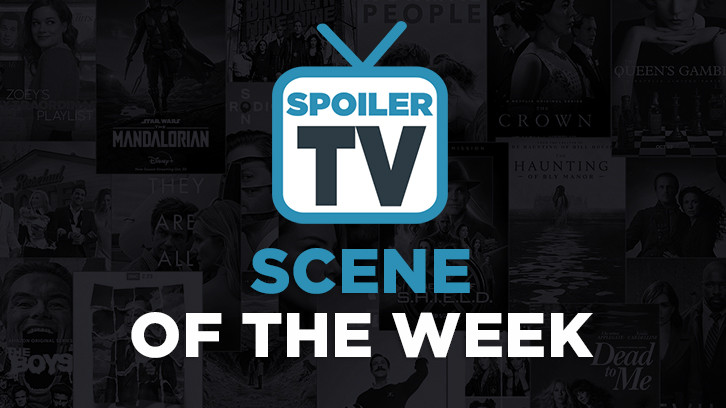 A weekly feature in which we're trying to find the most compelling, best acted, written, directed and just generally great, memorable scenes that we've seen in past seven days on TV.

A MILLION LITTLE THINGS, "Christmas Wishlist", December 12, 2018, Actors: James Roday, Allison Miller, The Scene: Gary realizes that Maggie is doing chemo
Justyna: These two once again steal the show for me. All their interactions in the episode were great but the moment when Gary realizes that Maggie decided to start doing chemo is pretty much perfect. It all starts with Maggie finding out about him and Ashley, making it clear she's not happy about it. That's when Gary admits he's in love with her and before Maggie even gets a chance to process this news she vomits all over his new car. I love that instead of focusing on the car or even her reaction to his confession Gary immediately makes a connection and takes a closer look at her. He notices how tired and sick she is so he checks her arm and confirms his suspicion - she started getting chemo treatments for her cancer. After all their arguments and everything he's done to convince her, it means more than he can say. Maggie feels really sorry for creating the mess, especially in a moment like that, but he doesn't care about any of it at all. He's so hopeful and happy that she decided to fight to stay alive, and kisses her in response. It's impossible not to root for these two. Both characters are wonderfully true and work perfectly together. The actors also continue to bring their A game with their powerful performances and incredible dynamics. Between Maggie's vulnerability and Gary's heartwarming reaction, this is without a doubt one of the best scenes of the show so far. Kudos!
Beth: Gary realizes Maggie is getting chemo. This scene had vomit and an after vomit kiss, yet it was beautiful. Throughout the hour, I desperately wanted Gary to notice how tired and worn out Maggie was, because maybe then he would realize why.... she was fighting her cancer. In the end, it took his profession of love and her vomiting in his lap to make him finally realize she was getting treatment. Maggie sweetly apologized for vomiting on him in his new car, but once Gary put the pieces together and rolled up her sleeve to find where the IV had been, he knew that she was getting chemo and was elated. I was in tears for both of them and it was one of the most romantic scenes I have witnessed this year.
Luana: Gary tells Maggie he's in love with her and realizes she's getting chemo. Disgusting vomit kiss aside, this scene was so cute, the moment Gary realized Maggie was finally getting treatment he looked like a man seeing water for the first time after days in the desert. And Maggie looked so vulnerable, almost melting in his arms, she's so tired of fighting and yet willing to give it a go. Both James Roday and Allison Miller were absolutely amazing once again.

ARROW, "Elseworlds, Part 2", December 10, 2018, Actors: Melissa Benoist, Ruby Rose, The Scene: Batwoman and Supergirl say goodbye
DJRiter: In the limited screen time she had in the three-part crossover, Ruby Rose made an impressive debut as Kate Kane aka Batwoman. This brief scene illustrated one of the highlights of her first appearance in the Arrowverse, a solid and immediate rapport with Melissa Benoist/Supergirl and is one of the few shining moments of the entire Elseworlds crossover. As Supergirl and her friends prepare to leave Gotham, Batwoman and Supergirl share a friendly but guarded goodbye revealing they are both aware of the other's secret identity but don't appear concerned about the fact. Supergirl laments they didn't have more time to work together because she thought they'd make a great team – World's Finest in a nod to DC comics, Batwoman agrees. Let's hope we see this dynamic duo work together again when the anticipated Batwoman series comes to fruition.

DIRTY JOHN, "Remember It Was Me", December 9, 2018, Actors: Connie Britton, Juno Temple
The Scene: Veronica comforts Debra
Mads: Ronnie has been shown to be somewhat bratty and selfish up until now but the moment her mother realizes the truth about who John is, instead of serving her a catty "I told you so" she simply gives her a big hug. It's a quiet moment but speaks volume to Veronica's character and how much she truly does care about Debra.

GOD FRIENDED ME, "Coney Island Cyclone", December 9, 2018, Actors: Brandon Micheal Hall, Joe Morton, The Scene: Milo tells his dad what he needed after his mom died
Dahne: Throughout the series, Miles and his dad have been gradually repairing their relationship. This way an important turning point because Miles finally told his dad how he felt as a kid when his mom died. Them riding the Cyclone together at the end was such a joyous moment, brought about by the tough, but necessary, conversation they had earlier.

INTO THE DARK, "Pooka!", December 7, 2018, Actors: Nyasha Hatendi and more
The Scene: The end scene
Claire: The end scene where it is revealed that the entire episode was a delusion of Wilson's who has caused a devastating car accident on Christmas; killing his son, wife and two strangers. It was unbelievable how they wove all of the threads throughout the ninety minutes and you are never quite sure what is real and what is not. I was riveted the entire time.

LEGACIES, "Death Keeps Knocking on My Door", December 13, 2018, Actors: Danielle Rose Russell and more, The Scene: Hope gets trapped in the Necromancer's subconscious
Mads: I didn't expect this episode to play so heavily into Hope and Klaus' relationship and it was sad to see Hope experiencing so much pain as she was tortured by the Necromancer, forcing her to admit that she worried and feared for where her father's spirit may be now that he's passed on. Danielle has been knocking it out of the park as Hope this season and this episode was one of her strongest acting performances to date. Plus, I admit, I got pretty teary-eyed watching her struggle to connect to Klaus during the duration of her existential torment.

LEGENDS OF TOMORROW, "Legends of To-Meow-Meow", December 10, 2018, Actors: Maisie Richardson-Sellers and more, The Scene: Charlie realizes she was the missing element
Winston: This episode as a whole was amazing, but I can't explain the amount of pride I felt in Charlie when she realized that she was the missing variable, all of these changes and she never considered that she changed the team. It solidified that she belonged with this crew, powers or not, and was very reminiscent of last year's time loop episode with Zari. I was not a fan of Charlie up to this point, but consider me sold.

MURPHY BROWN, "AWOL", December 13, 2018, Actors: Candice Bergen, Jake McDorman
The Scene: Avery tells Murphy he's going to Afghanistan
Giulia: Avery tells Murphy he's going to Afghanistan to find her source. It was a very sad yet sweet scene. We get to see Avery reclaiming his space in the world as a journalist, while Murphy behaves like any mother would. In that scene, she is worried about her son and what might happen to him. I really loved it, it was a beautiful moment.

OUTLANDER, "Blood of My Blood", December 9, 2018, Actors: Caitriona Balfe, David Berry, The Scene: Claire contests Lord John's reasons for coming to visit
Laura B: Instigated by Lord John, Claire contests his reasons for coming to visit, as she tends to his illness. Although this first scene between them is really the start of beautifully evolving conversation with other similar scenes following this one, mirroring Lord John's literal trajectory of going through the motions of acquiring and recovering from the measles, I thought this scene was so politely hurtful and emotionally devastating, as Claire walks away stating she can't help but to be the way she is, because she was born that way and a few moments later the camera focuses back on Lord John, with tears streaming down his face, softly saying, "So was I." The acting, directing, and the choice of dialogue between these two was so powerful and teaches us an important lesson about listening to each other. It was masterfully done and amazing to watch!

SEAL TEAM, "Prisoner's Dilemma", December 12, 2018, Actors: David Boreanaz, Kerri Medders, Ammon Jacob Ford, The Scene: Jason surprises Emma and Mikey when he gets home
Beth: The entire mission, Jason would tell anyone that questioned him that he was mission focused and he was, he always is. But there is no denying that knowing this is the first time he'd be gone after Alana's death privately weighed on him, especially when he tried to keep the schedule they'd agreed on. So to see Jason pop up and surprise his kids was amazing, he was home and it was taco time. They still have a long way to go to heal, but Alana would have been proud to see her family in that moment.

SINGLE PARENTS, "The Magic Box", December 12, 2018, Actors: Brad Garrett, Kimrie Lewis and more, The Scene: Douglas visits Poppy on Christmas morning
Mads: Poppy was going through a rough time with Rory being away from home at his dad's for the holidays this year and Douglas brings the twins over to spend time with her so she's not alone on Christmas day. It's such a sweet scene and for people who ship Douglas and Poppy (like me), I was squealing a little in delight when they semi-held hands and bonded over their shared loved ones.
Giulia: Douglas and the twins go to Poppy's house to cheer her up. I mean, I don't think I ship a couple more! They are complete opposite, yet they are a perfect match. Doulgas is not afraid of being himself when he's with Poppy, and Poppy knows him better than anyone else. I really hope they'll end up together.
Claire: Doug & Poppy... Brad Garrett and Kimrie Lewis. These two have amazing chemistry. This show gets better with each episode.

SUPERGIRL, "Elseworlds, Part 3", December 11, 2018, Actors: Stephen Amell, Melissa Benoist, Tyler Hoechlin and more, The Scenes: The heroes defeat Deegan & Kara tells Earth-1 Alex about her sister & Lois and Clark get engaged
Justyna: There were many great scenes that would be worth to mention in the article, some of them already covered by the rest of SpoilerTV team, even more of them to be highlighted in the comments. My choice for the SOTW would be the final confrontation and the defeat of Deegan. Both Jeremy Davies and Tyler Hoechlin did a wonderful job with bringing the character to life but this one is all about the heroes. I absolutely loved that effect of time slowing down after Barry and Kara travel in the opposite directions, joining their powers to give others a chance to stop Deegan. Lois, Brainy and J'onn show up to help, but in the middle of the fight Lois gets hit by the Book's powers and is slowly falling to the ground as Superman does his best to reach her on time. That's when Oliver appears, equipped with an arrow enhanced by the Monitor and shoots Deegan in exactly the right moment. The music in the background of the scene works wonderfully with everything happening on the screen and the performances combined with special effects make this one so memorable to me. The moment means even more after seeing Oliver's conversation with the Monitor, another powerful part of the hour, because the viewers realize that there's a sacrifice that Green Arrow just agreed to make in order to save Barry and Kara, along with the Earth. Heroes rise and the villain falls, also revealing his Doctor Destiny's face. Quite a scene to end this Elseworlds fight. Kudos to cast & crew for all their work on this year's crossover!
DJRiter: Kara tells Earth 1 Alex about her "Alex". There are not enough words to describe how magnificent I think this scene is. It features two of the very best of the CW, Melissa Benoist and Chyler Leigh at the top of their games. It is criminal how underrated and at times underappreciated these two incredible actresses are at playing these characters. This short scene was THE standout moment of an otherwise disappointing and lackluster crossover event if not one of the very best moments of the 2018 television season. Any scene with these two actresses in it is outstanding but there is just something special about this one, from their body language and facial expressions to their timing and delivery. As the love and respect Kara has for her Earth 38 sister clearly shows, you see her using her greatest superpower, her heart and her words to reach out and connect with a somewhat jaded Earth 1 Alex. This scene illustrates, yet again, how powerful the bond is between both the Danvers Sisters and Benoist and Leigh.
Klutzy girl: Lois and Clark get engaged. I love that he created a diamond specifically for her and that he fumbled a bit until she told him to be direct. It was so sweet that Lois didn't even let him ask her and just immediately accepted by kissing him. These versions of Lois and Clark are absolutely adorable (Bitsie Tulloch was a perfect Lois), and I would be thrilled to see a spin-off centered on them.

SUPERNATURAL, "The Spear", December 13, 2018, Actors: Jensen Ackles and more
The Scene: Michael re-possesses Dean
Klutzy girl: The way Jensen transitioned so effortlessly between characters took my breath away, and it was absolutely terrifying to see the angel take over again. And the fact that he's claimed to bury Dean this time so he can't come back is horrifying.

TELL ME A STORY, "Chapter 7: Betrayal", December 13, 2018, Actors: Dorian Crossmond Missick, Michael Raymond-James and more, The Scene: Sam kills Mitch and his wife (picked by Luana)

THE CONNERS, "O Sister, Where Art Thou?", December 11, 2018, Actors: Lecy Goranson, Sara Gilbert, The Scene: Becky confronts Darlene about their relationship
Claire: Becky confronts Darlene about their flawed and faltering relationship. Becky overhears Darlene denegrade her to Harris and calls out Darlene for not being there for her when Mark died. Darlene admits she was wrong, but had been completely overwhelmed by her own life. It is good to see these two finally open up to each other about how much they need one another. Lecy Goranson and Sara Gilbert are both bringing their A game to The Conners. And with a season 2 secured, I'm looking forward to seeing these two sisters try to figure things out or fight it out. Sisters tend to have a real love/hate dynamic...

THE FLASH, "Elseworlds, Part 1", December 9, 2018, Actors: Tyler Hoechlin, Elizabeth Tulloch, The Scene: Introduction of Smallville
Justyna: In between all the insanity of these crossover episodes this may seem like such a small and ordinary moment - the introduction of Smallville and Lois Lane's character in the Arrowverse. But from the second the viewers hear "Save Me" lyrics and see the old Kent farm there's an extra meaning added to this scene. This was such a wonderful way to remember Smallvile. It's been years since the show ended its long run, but it's still one of the fan favorites, and such a big reason behind the very beginning of this DC universe on the CW. I always enjoy a good callback and this one was certainly great. That's not the only thing that happens in this scene, though. We're back with Clark Kent, who we haven't seen in a long time, but we're also introduced to Lois Lane, his love and future wife, and one of my all time favorite female characters. I've been waiting for a while to meet her and I'm glad to say I wasn't disappointed. The actress did a great job with every scene she was in, and Lois and Clark are absolutely wonderful together. This was a lovely moment when we get to see them interact and things only got better from there. Kudos to cast & crew for such a memorable scene, and all their work on this special TV event. It's been a joy to watch.

THE MARVELOUS MRS. MAISEL, "Look, She Made a Hat", December 5, 2018, Actors: Rachel Brosnahan, Rufus Sewell, The Scene: Midge talks to painter Declan Howell
Luana: This scene was a perfect foreshadowing of the realization Midge has by the end of the season, giving yourself completely to art leaves nothing more to give to anyone else. The whole conversation was deep, her expectation was the same as everyone else's, not realizing she could very well be talking to her future self. Even though it is a very famous phrase, no one can truly have it all, life is about choices and Midge is choosing to put her art above anything else, and now she'll have to deal with the consequences. Rufus Sewell was a great guest star here and played the damaged artist role perfectly.