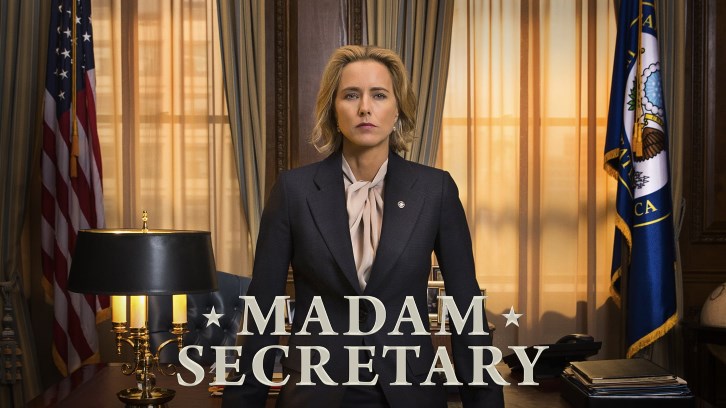 Madam Secretary
"Family Separation: Part 1" was written by the team of Barbara Hall and David Grae and was directed by Rob Greenlea. This is the 100th episode of the series – and the fall finale. Another storyline ripped from the headlines is at the heart of the episode. This time it is asylum seekers being separated from their children. Lee Tergesen guest stars as Governor Barker.
We see Henry (Tim Daly) and Elizabeth (Tea Leoni) doing something unusual. Jay (Sebastian Arcelus) has a very uncomfortable basketball game. Mike B (Kevin Rahm) shows up for a favor. Blake (Erich Bergen) and Nina (Tracee Chimo Pallero) find some common ground.
The focus of the episode is actually domestic, pitting state against federal jurisdiction. Dalton (Keith Carradine) explores all his options. Elizabeth even approaches her nemesis, Senator Morejon (Jose Zuniga). Look for a great scene between Jay and Morejon.
Russell (Zeljko Ivanek) pushes his luck, but uncovers some disturbing partisan politics where there shouldn't be any.
Sara Ramirez returns as Kat. Look for Elizabeth to make a terrific speech. Like all good fall finales, the episode ends with a cliffhanger – that you won't see coming.
Be sure to tune in to CBS at 8/9c on December 23rd!
And a few dialogue teases to watch for…
Wynn – go away!
My spidey-sense told me something was amiss.
Reasonable minds can disagree.
It is a moral outrage.
An ant on the move does more than a dozing ox.
I say fire that bullet.
I know. It's crazy.
This is about who we are as a country.
You can't stop counting!
We kind of rushed it and didn't get exactly what we wanted.
The law is on our side, but these court challenges will take time.
Don't think I don't recognize intimidation when I see it.
Let's just get the footage and we'll sort it out in post!