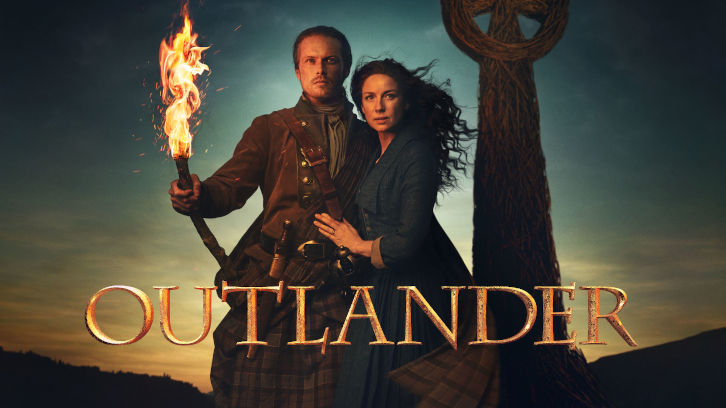 This is one a very few shows I anxiously wait to return each year. I do that expecting the season premiere to come in feeling like a season finale. (Dumb me.) This episode felt quieter than I expected but I loved it nonetheless.
When I was in college I wound up doing some light research (don't remember why) on rights of manhood through the world. The commonalities I found were proof that humans are humans regardless of where they're from or what they look like.
The connection didn't stop in Africa it followed Claire to America. The image of a circle of stones being built on American soil in 2000 BC was so cool and again the connection of the dance. Mind blowing for me.
The connection into the rest of the episode was
the circle
. The first is, of course the circle of stones that brought Claire to the 18th century. The second is the hangman's noose and the third, Claire's wedding rings.
The hangman's noose is waiting for Hayes. Hayes is the same man who was chased up into the sails in last season's episode
The Doldrums
.
Jamie's willing to stage an escape but Hayes will have none of it. At the hanging Jamie does as Hayes wishes and stands where Hayes can see him, the most awful strained "smile" on his face, as he drops to his death.
I didn't expect the Fraser Clan to find a community in America. So I was pleasantly surprised by the fact that Scotsmen surrounded them in the tavern they went to after the hanging. As they remembered their friend with a Gaelic song the people in the tavern joined in.
But it's 1767 and graveyards aren't guarded. While Ian and Jamie did the grave, Ian has a panic attack.
Jamie convinces the boy not to hold his pain in. Jamie mostly just listens without judgment. He assured Ian that he did nothing wrong. He did what he had to do to survive.
It's one of those moments illustrates, for me at least, why Jamie Fraser is one of the great leading men in literature and film.
While James Alexander Malcolm MacKenzie Fraser is an example of a hero willing to take a moment to help a 15 year old boy deal with a trauma, Stephen Bonnet is an example of a heartless amoral villain.
Bonnet was in line to be hanged alongside Hayes. After Hayes died, his best friend, Lesley lost his head. (I can't recall any show or films that's given us male best friends that are as emotional in their grief as the Scots on
Outlander
. I kind of like it.)
Bonnet managed to talk Jamie and Claire into helping him get past the authorities. I have read these books so this sequence was kind of difficult to watch. Bonnet thanks them by robbing them.
Which brings us to another of the circles Claire refers to in the opening voice over. Wedding bands.
For some reason I kept expecting the writers to soften Bonnet here. I mean he shared his nightmare about drowning with Claire. Surely that indicated that they were going to soften the character for the series. This was purely wishful thinking on my part.
Bonnet is cold hearted enough to try and take Claire's wedding rings. Claire does her best to swallow both rings, but Bonnet manages to pry one of them from her mouth, the one Jamie gave her.
The robbery sequence felt disconcerting to me, I think, because of the juxtaposition of the visual action with the mellow jazzy tempo of Ray Charles version of "America the Beautiful".
The Fraser's lose everything of value, including their friend Lesley, in those few minutes.
The ship's departure date leaves them about a month to take care of details and visit Jamie's aunt.
Jamie and Claire hope to entice one of the guests, at an important dinner, to purchase one of the stones. In addition to making the sale, Jamie is offered a huge parcel of land, for free, with the caveat that he would invite tenants to live there and work the land.
Jamie and Claire see the ulterior motive behind the offer. When the American Revolution starts they would be forced to fight on the losing side. Neither wants to be on the wrong side of history again.
Beyond that, Jamie's is looking further into the future. He sees an opportunity to build a legacy for his daughter. So, he and Claire decide that they're going to stay in America.
Ian, at 15, is all for the promised adventure of living in the wilds of America. Jamie, however, wants to live a long life. He's smart enough to know that keeping his sister's son from her puts that goal in jeopardy.
The primary purpose of this episode was to position everyone for the stories this season, but we still got our quiet scenes between Jamie and Claire.
My favorites were the thermodynamics moment and Claire receiving Jamie's gift of the microscope. I appreciated that as Claire is dreaming about the future of America they recognize the flip side of the American Dream. As Jamie notes, "A dream for some can be a nightmare for others."
I like the reason that Jamie and Claire decided to stay in America. It's kind of cool that Jamie sees being a part of the creation of this country as something he can do for his daughter. We got to meet Rollo!
For me it was a very successful season premiere. What about you guys? What did you think about the episode?