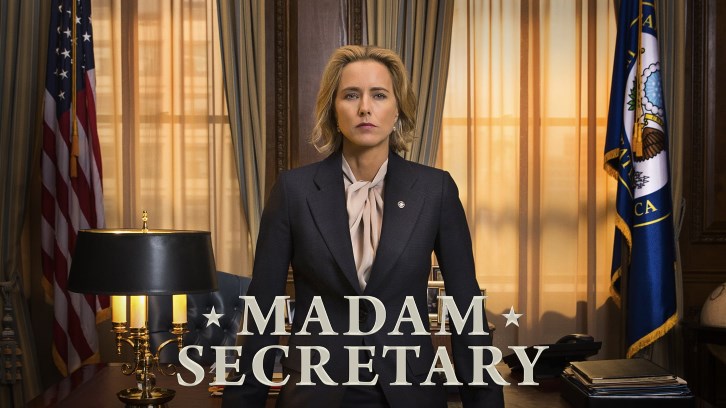 Madam Secretary
"Eyjafjallajokull" was written by Alexander Maggio and was directed by Geoffrey Arend – "Matt's" second time behind the camera and his second collaboration with Maggio. This episode did what the show does so well – it found a new way to add a twist to the negotiations going on behind world-wide events and to thread a symbol – chess – of those negotiations throughout the episode.
The crisis at the center of the episode is the ongoing efforts to raise money to help the Turkish deal with the Syrian refugee crisis. Elizabeth (Tea Leoni) and the entire team have been working tirelessly but have fallen way short of $5 billion that Turkey needs to provide food, shelter, and clothing for the Syrians seeking refuge. Daisy (Patina Miller) points out that donor-fatigue is real, and I really liked the sequence showing Jay (Sebastian Arcelus) reaching out to the French while Kat (Sara Ramirez) approaches Germans. Elizabeth also reaches out to POTUS (Keith Carradine) again, but none of them have any luck, leading Elizabeth to reach out to Chin (Francis Jue). I really love how much of Chin we are getting to see this season.
Chin just happens to be in town for a tech conference, and it's hilarious to watch Jue as Chin clearly really, really enjoys the virtual reality video game he's playing. He turns Elizabeth down but not before planting the seed that will bear fruit by the end of the episode. He tells her that China is investing in being the best in every field – like tech. Elizabeth points out that they aren't leading the field in humanitarian aid, and Chin tells her that he's ok with that before essentially dismissing her.
When Turkey doesn't get the aid they need, they shut their borders and leave the conference. However, Baran (George Georgiou) does offer to keep the borders open even without the aid if Elizabeth will release a political prisoner. Elizabeth stops him in his car as he's about to pull away. When she leans in to plead with him for the children, his security pulls her out and her secret service pull their guns. Luckily, the incident doesn't escalate further.
And, as luck would have it, a volcano erupts in Iceland forcing both the US and Turkish delegations to remain grounded in Ireland when they stop to refuel. I loved the shot of both delegations lined up on the tile floor – like chess pieces as the game is about to start. Just to reinforce the metaphor, and ultimately provide an unexpected solution, the Dutch chess team is also stuck in the airport, heading home from an unexpected defeat at the World Championships in Montreal.
Other pieces join the game. Elizabeth attempts to get Russia to declare a ceasefire to ease the flight of the refugees. They will agree only in the US agrees to sanction Russia's "legitimate" occupation of Crimea.
The only food at the airport turns out to be sandwiches – and the Turkish delegation gets there first and buys them all up – just in case because they don't know how long they'll be there. In a brilliant counter move, Elizabeth has everyone claim all the electrical outlets. Sure enough, when Baran's battery starts to rundown, he comes to Elizabeth and demands access! She agrees to trade for food, and there seems to be a bit of thaw, sparking Elizabeth and Kat to wonder if there are other incentives that they might offer Turkey to open its borders again. They consider a rotating seat on the UN Security Council.
Meanwhile, Anneliese (Marissa Neitling) – the Dutch chess team leader – approaches Jay for his sandwich – or the Dutch are taking all the washrooms! Jay agrees to play her for it. There's a nice shot when they first land at the airport of Jay and Annaliese clearly noticing each other. Does he recognize her because he used to play chess, or is it just mutual attractions? He loses twice, but clearly enjoys it anyway. She tells him that she didn't lose in the tournament – the Russian player cheated.
Now that the Turkish and Americans are sharing resources – and Karaoke – who knew Erich Bergen (Blake) had such a beautiful voice. And I loved that Blake was the only one who could pronounce the volcano's name! When Elizabeth again approaches Baran he tells her that it's too bad they are trapped in the airport – and she points out that at least they aren't cold or starving. While he admits they want the Security Council seat, he also insists on the release of the prisoner again. However, he does let his people join in the singing.
When the skies finally clear, Jay kisses Anneliese good bye and tells the others about the cheating, saying it will be Russia and China in the final. And that's when Elizabeth realizes she has leverage over Chin. She gets Henry (Tim Daly) to look at footage of the match and then enlists the NSA to crack the code the Russian is using to cheat. I liked the scene in which Henry gives her all kinds of ethical reasons to go after Russia – bringing up their cheating at the Olympics as well. China may not care about humanitarian aid, but they do care about being the best in the world at chess. I loved the royal rumble that ensued at the match after the Russian is dragged away!
Elizabeth gets more aid, but is still $2 billion short. However, Baran is finally ready to deal, and agrees to open the border in exchange for the Security Council seat and the promise of the rest of the money in the next year.
There's also a nice discussion of fate and free will in the episode that also resonates with the chess them. You can know all the classic moves but still come up with something original to change the outcome. When Henry tells her that she should be proud of her solution, Elizabeth says it feels more like fate than design. Henry tells her that fate and free will can't be reconciled. The volcano was only one part of the puzzle – her iron will was the other!
On the more personal level, we get some chess-playing with relationships as "players" try to decipher their "opponents" moves and strategies. Matt is concerned about making his long-distance relationship work and obsesses over Ronnie's posts on social media. I liked him going to Henry for advice – under cover of prepping Henry for a speech he's giving in Elizabeth's absence. Henry relates his own experience – and then ends up using that in his speech. He's speaking to thank the spouses of diplomats for sacrificing being with their spouses to support the country. It's also a nice nod to the sacrifices political chess players make.
Finally, Henry plays a bit of chess with Allison (Katherine Herzer), who is suddenly taking booty calls. I kind of loved when Henry it on the phone to Elizabeth and Allison does the walk of shame – and Elizabeth knows what's going on just from what she can hear. Allison insists that Henry doesn't understand relationships in this day and age when he confronts her about what she's doing – but of course, when she ultimately takes Henry's advice and tries to label her relationship, she is devastated when her partner freaks out and breaks it off – turns out she was interested in it becoming something more after all! I am a bit disappointed in this aspect of the show. It seems that we get the "kids" on a rotating basis and that they take turns at being stupid!
In the end, Matt has arranged to meet Ronnie in Hawaii – and asks Henry to secure his vacation time with Elizabeth! I hope that we will also see Jay potentially start a new relationship as well. I wonder if Henry moved the pieces around on the board at home to get Allison to move back out? I really liked how the various aspects of this episode underscored the chess-like machinations in politics and life in general. I also liked that the episode was bookended by the Syrian refugee and her daughter – finding safe refuge by the end of the episode. What did you think of the episode? Let me know your thoughts in the comments below!