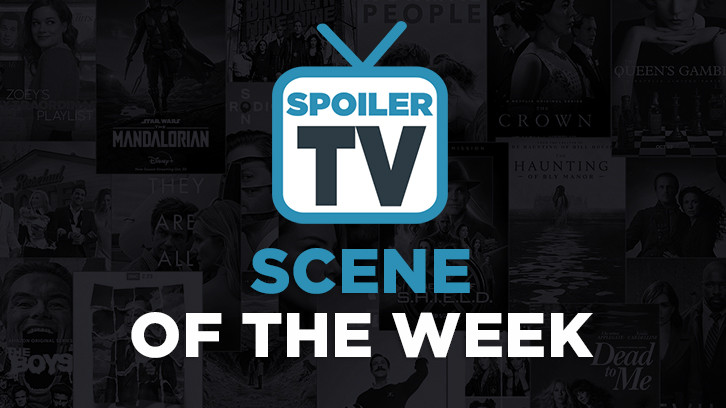 A weekly feature in which we're trying to find the most compelling, best acted, written, directed and just generally great, memorable scenes that we've seen in past seven days on TV.

AMERICAN HORROR STORY, "Could It Be... Satan?", October 3, 2018, Actors: Sarah Paulson and more, The Scene: The warlocks question Cordelia's authority
Klutzy girl: The warlocks question Cordelia's authority after she refuses to test Michael. I love that her response was the very strong and amazing "Because I'm the fucking Supreme!" I've missed these characters - and Coven - so much since the season finished airing, and I'm thrilled to see them again. And Cordelia herself has come a long way since we saw her all those years ago. I can't wait to see her again.
Claire: We need strong female heroes now more than ever. Fabulous season so far, one of my favorites of the franchise.

BETTER CALL SAUL, "Wiedersehen", October 1, 2018, Actors: Bob Odenkirk, Rhea Seehorn, The Scenes: Jimmy prepares to leave & Jimmy and Kim fight on the rooftop
Laura B: Jimmy prepares to leave. I have felt like the season has been teasing us all along hinting at all the possible ways to explain why Kim doesn't appear to be in Jimmy's life during Breaking Bad. And I have been terrified about Kim's and Nacho's futures and waiting for balls to drop. Although not as tragic as I had imagined, I thought this was going to be it, but surprisingly, after Jimmy's big blow-up and Kim more ardently defending herself back, this scene was really moving without saying much at all, and now I'm left feeling dread all over again!
Shirleena: Jimmy and Kim finally have the big fight on the rooftop of the parking garage. Written by Gennifer Hutchison and directed by Vince Gilligan.

GOD FRIENDED ME, "Pilot", September 30, 2018, Actors: Brandon Micheal Hall and more
The Scene: The doctor shows up just in time
Luana: The doctor Miles saved shows up just in time. I did not expect to like this show but it has so many heartfelt moments, some that even gave me goosebumps, and even though I knew what was coming this was one of them.

INTO THE DARK, "The Body", October 5, 2018, Actors: Tom Bateman, David Hull, Ray Santiago, Aurora Perrineau, The Scene: Wilkes kills Alan, Jack and Dot
Mads: While I didn't necessarily want these characters to die, I had grown fond of them over the course of the 90-minutes we spent with them, the final showdown in the morgue was crazy. Up until the last act of "The Body", the episode had been mostly a comedy with horror elements, but the ending went full-on slasher with some pretty gruesome death scenes. Alan, especially, had a brutal death considering he was embalmed while still alive. It was cool to see the episode truly embrace its horror side.

IT'S ALWAYS SUNNY IN PHILADELPHIA, "The Gang Gets New Wheels", October 3, 2018, Actors: Charlie Day, Rob McElhenney and more, The Scene: Mac and Charlie vs. the kids
Mads: Mac and Charlie get revenge on the kids that stole their bike. In a scene that only this show could pull off, Mac and Charlie get into a no holds barred street brawl with a group of literal children. The scene includes both grown men full on punching kids in the face and slamming them into cars, it's aggressive and darkly hilarious. It's one of those comedic scenes that absolutely cross a line twice and that's why the absurdism works so well.

MANIFEST, "Reentry", October 1, 2018, Actors: Melissa Roxburgh, Victoria Cartagena, The Scene: Michaela visits Lourdes
Justyna: I can't begin to imagine how impossible this situation is for everyone. This week we got to learn more about Michaela and the people in her life. The two people closest to her, the ones she could always talk with about anything, barely a few days later (from her perspective) are the ones who cause her the worst pain. And the saddest part is that nobody did anything wrong. There's no one to blame, to be angry with, to stay away from. Both Jared and Lourdes never stopped loving Michaela, but they had to let her go after years of her absence. Michaela truly understands them but she feels more alone than ever before. After discovering just how much her best friend missed her, she decides to visit Lourdes while Jared's still at work. The two seem like strangers now, but it's clear how much they used to mean to each other. It's exactly why Michaela realizes that even though she can't ease her own pain, she can at least help her friend. She assures Lourdes that she's not a fraud, that they're exactly where they're meant to be, so at least one of them can finally let go... Such a heartbreaking yet still heartwarming moment. Beautifully acted by both actresses. Kudos to cast & crew for their great work on the show so far.
Aimee T: When Michaela tells Lourdes she had already decided to reject Jared's proposal (before returning from her family trip). This provides insight into what kind of person Michaela is because we'd already witnessed her lament (to her therapist) that Lourdes "gets to love the man that I can't." So really how truthful was she being in that moment? Michaela is understandably hurt and shocked upon learning her former fiancé and best friend married each other during her 5 year absence/disappearance. However, she shows tremendous heart and self-sacrifice in putting Lourdes' feelings before her own. Lourdes herself is suffering (for various reasons); the guilt of feeling "like a fraud … 'cause you (Michaela) were the one he was supposed to marry." Yet Michaela assuages her anguish, assuring Lourdes "I was gonna give the ring back. I was coming back to say 'no'. You're not a fraud, let it go." A selfless lie told to ease the grief of a friend, but thereby burying her own heartache over losing the man she loves. Moreover, the very next scene is a flashback of Michaela putting on the ring and attempting to text her fiancé an emphatic 'YES!'. Michaela's heart-to-heart with Lourdes and the sacrifice to spare her friend's conscience over her own pain was easily the episode's most touching moment for me.

MODERN FAMILY, "Kiss and Tell", October 3, 2018, Actors: Ty Burrell, Ariel Winter, Nolan Gould
The Scene: Phil overhears Alex and Luke's conversation about sex
Klutzy girl: Alex tells Luke that she's having plenty of hot sex with her fireman boyfriend (after he mistakenly says she's the last virgin) only to turn around to see Phil right there. The looks on both their faces makes me laugh every time, and I die when Alex just slinks away. And I have a feeling this is foreshadowing, although I can't exactly pinpoint why. It was a great, hilarious scene.

MURPHY BROWN, "I (Don't) Heart Huckabee", October 4, 2018, Actors: Candice Bergen and more
The Scene: Murphy infiltrates the White House press briefing
Claire: The scene where Murphy infiltrates the White House press briefing. She gives an impassioned speech and plea to Sarah Huckabee Sanders about Trump's war on the press and all of the lying that spews from this administration. We need Murphy Brown at this moment in history. It was beautiful but also realistic that none of the press stormed out when she asked them to.

NCIS: LOS ANGELES, "To Live and Die in Mexico", September 30, 2018, Actors: Daniela Ruah, Eric Christian Olsen, The Scene: Kensi asks Deeks to wake up in the church
Justyna: I haven't seen the show in a while, so I'm not exactly caught up with the story but I decided to watch the premiere and I have to say I'm glad that I did. This was such an emotional hour for all the characters as they struggled to stay alive and survive in the worst of circumstances. There were several moments I could highlight in the article but the part that hit me the most was Kensi asking injured Deeks to wake up. Daniela Ruah did such a wonderful job in this scene. Kensi manages to drag Deeks through the desert and find a temporary safe place in a little abandoned church. That's where she finally breaks down, desperately asking him to wake up. She tells him that she can carry him anywhere, till the end of his life, but she needs him to open his eyes, even for a moment. She's scared and alone, and the person she loves the most is dying by her side. It's a heartbreaking plea, a prayer for a miracle. A hope that these two will survive anything together. Fortunately, at the end of the episode, they're finally reunited and stronger than ever. This scene, however, is quite a powerful way to continue their story this season. Kudos to cast & crew for all their great work.

STATION 19, "No Recovery", October 4, 2018, Actors: Jason George and more
The Scene: Ben learns Molly died
Luana: This was such a heartbreaking moment, after possibly sacrificing his friend to save this girl she just died, Jason Winston George was amazing here.

SUPERSTORE, "Back to School", October 4, 2018, Actors: America Ferrera, Ben Feldman, The Scene: The end reveal
Klutzy girl: The reveal at the end that Amy and Jonah are together. While I saw it coming, the scene still made me unbelievably happy, and I'm excited to see where their relationship goes from here. The look on his face right before he kissed her - Jonah is clearly head over heels in love with Amy! - is still making me so happy, along with how domestic it is. They're talking about what they want for dinner! He's in love with her when she's pregnant with another man's baby.
JW: The Final Scene: After spending the episode entertaining questions about their "sex stream" and dealing with people asking why they aren't together...we find out that Jonah and Amy are actually seeing each other in secret. Finally!
Mads: The ending discovery that Jonah and Amy are secretly seeing each other.

THE GOOD DOCTOR, "Middle Ground", October 1, 2018, Actors: Freddie Highmore, Paige Spara
The Scene: Shaun tells Leah how he feels
Luana: This was yet again another time Freddie Highmore showed just how amazing he is as a performer. Shaun's anger, hurt and confusion make for an absolutely incredible and heartbreaking scene. There's only so much pain one person can take and Shaun has had his fair share, not to mention the fact that his best friend's fate is up in the air. Just stunning.

THE GOOD PLACE, "The Brainy Bunch", October 4, 2018, Actors: Ted Danson, D'Arcy Carden, Maya Rudolph and more, The Scene: The final scene
Saloni: The final scene with the Judge, Janet and Michael. Maya Rudolph was excellent! Her comedic timing and dialogue delivery stole that scene. The writing was superb. All in all a great scene.
Milo: The final scene between The Judge, Janet and Michael. This was a standout for me. I loved the comedic moments - the jokes that Michael's arrival on Earth was responsible for the success of Brexit and The Greatest Showman (damn you, Michael!) and everything played out really well.

THE LAST SHIP, "Tropic of Cancer", September 30, 2018, Actors: Eric Dane, Marissa Neitling, The Scene: Kara overrides Chandler
Ellys: Past and Present Commanding Officers of the Nathan James found themselves in conflict after an unexpected, shocking defeat in battle. Admiral Tom Chandler wanted to pursue the enemy anyway, despite the damages their ship had incurred. He was never one to run from a fight. His track record aside, this would have been disastrous for the Nathan James, with the crew reeling from what had just happened and the enemy only minimally weakened. As the Commanding Officer on Duty, Kara stood up to to Chandler, reminding him that she was responsible for the integrity of the ship and the protection of those on-board. She would not let him make this decision. Marissa Neitling and Eric Dane nailed the intensity of this difficult but powerful scene.

THE PURGE, "Rise Up", October 2, 2018, Actors: Gabriel Chavarria and more, The Scene: The carnival turns into a nightmare
Claire: The scene where a carnival which is such a symbol of fun, innocent, childhood dreams has been turned into a horrible, murderous nightmare. To see the ubiquitous lit up stands advertising carnival treats such as funnel cakes and cotton candy alongside a shooting game where the targets are actual people was quite unnerving, disturbing and grotesque. I feel this show is better than the Purge movies.

YOUNG SHELDON, "A Crisis of Faith and Octopus Aliens", October 4, 2018, Actors: Iain Armitage, Zoe Perry, The Scene: Sheldon comforts his mom at the end
Saloni: Sheldon "fixes" his mom's faith crisis by telling her she's the perfect mom for him. This show grew on me more than I care to admit and it's because of scenes like this one. Iain and Zoe were great!