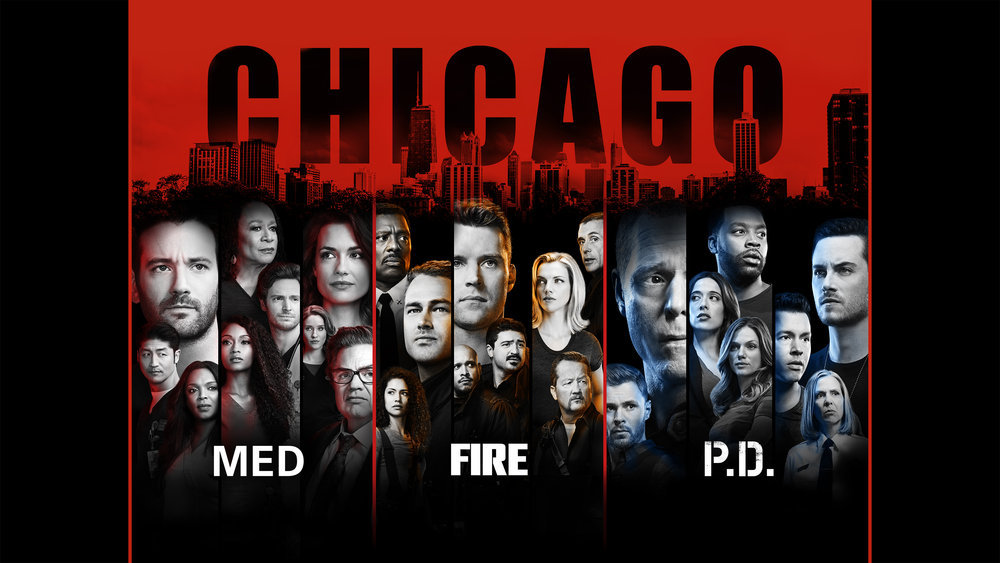 After last week's explosive crossover episode, it seems like things have settled back done. There are some ripple effects like Stella not receiving the all clear to return to truck after undergoing surgery, the Upton and Ruzek hookup, and the memorial for the late Patrick Halstead, but all in all, things are pretty status quo. That isn't necessarily a bad thing. Drama can't, and shouldn't, be cranked up to a 10 every episode. If things were high stakes all the time but no consequences, that would get old very fast. We've become accustomed to the characters usually escaping death by the skin of their teeth, so if that happened every episode, that would be even more repetitive and annoying than some of shows' usual tropes.

Chicago Med
WILLINGLY STUPID
| Just when you think Will has finally caught a break, he goes and does something stupid like this, or at least will based on the promos for the next episode. Things started out simple enough. During the late Patrick Halstead's wake, he runs into a friend whose father isn't feeling well. Will is interested at first, until he remembers said friend's father, named Ray Burke, has a banquet hall. Seems easy enough; just perform a simple home visit for an old friend's father in exchange for a discounted deal at a banquet hall for his upcoming nuptials. Nothing too sketchy about the quid pro quo, except then Ray starts leveraging the banquet hall for his continued treatment off book. That maybe should have signaled alarm bells for Will, but by now viewers know he's a leap first, ask questions later kind of guy. Sure, this may be slightly unorthodox, but it's been impossible to find a wedding venue in the first place, let alone a cheap one, so why not. Well, it turns out Ray is a "mobster" who the police have been investigating for a few years. According to Jay Halstead, this guy is who has done very bad things; not exactly the sort of guy you want to get into bed with. I can see this storyline is going in two directions at this point. Either Will will end up working as an informant for Intelligence to finally bring this guy down, or he'll ignore all of his brother's warnings and find himself in too deep before he knows it. Will from the first two seasons probably would have found him getting into some sort of trouble before inevitably reaching out to Jay to get him out of this mess. However, over the past season, we've seen Will grow and mature. He's managed to make rational medical decisions and hasn't screwed up his relationship with Natalie just yet, so he must be doing something right. I feel like this storyline will test just how much Will has grown as a character. If he does plan on doing something stupid, I really hope that he remembers that his fiancée has a son, which means if he could be putting both Natalie and her son in danger. If he wants to play Russian roulette with his life that's fine, but he can't ask, or even expect, Natalie to risk hers and her son because of him. If that doesn't even enter his mind, then his engagement will be short lived. However, if he does end up working with the police, he probably won't be able to tell her anyway, so that would definitely put a strain on things. Either way, Will's sort of screwed.
TO MANIPULATE OR NOT TO MANIPULATE
| Well Elsa Curry, the new intern, certainly know how to piss off the ED staff at Med doesn't she. First it was Choi, and now it's Dr. Charles. I wouldn't be surprised if she got kicked out of medical school, or at least her rotation at Med, because of this. This week Natalie and Elsa treated a woman whose pregnancy unfortunately wasn't viable. The patient had tried to get pregnant for years, and when she finally did, she considered it a miracle. Yet, the fetus had been place outside the uterus and was putting a strain on the woman's heart. In order to save the woman's life, she would need to consent to an abortion, except she refused, believing God would save both her and the fetus. The woman was declared mentally competent by Dr. Charles, so it was her decision to refuse medical treatment if she wanted. She knew not aborting the fetus meant she would die, but she had faith. From the beginning, Elsa make her disapproval perfectly clear, to Natalie, Dr. Charles, and the patient. Talk about unprofessional. Then she had the nerve to ask the mother if she would have the surgery if the fetus had died. Like who even asks that sort of thing? Well it turns out due to a possible machine malfunction, the woman believed her child had died and then consented to the surgery. Only it turned out the fetus was still alive. So the question then becomes whether or not Elsa tampered with the machine. She definitely has the skillset to do so, and Dr. Charles certainly thinks she did. It was rather convenient that at the machine malfunctioned as Elsa was performing the ultrasound, but that doesn't necessarily mean that she hacked into it. She made her feelings about the patient's choices very clear, so she definitely had a motive, but that still doesn't prove anything. She's innocent until proven guilty, but if I were in Dr. Charles' position, I'd watch her like a hawk too. The patient was declared competent, and it was her choice. Whether or not Elsa agreed with that, she, firstly, should have kept her opinions to herself, and secondly, she if hacked the machine, she had no right to manipulate the patient into making a decision the woman otherwise would never have made. Elsa's not even a doctor, and she may already be playing God. As a side note, I'm a huge fan of Lauren Heller, the actress who plays Elsa, and I think she's doing a killer job in this role. I'm more familiar with her comedic work on
Younger
, but she definitely proved she can handle drama too.
HOSPITAL POLITICS
| We knew things were going to escalate between Goodiwn and Gwen Garrett, but I didn't expect things to unfold like that. I figured there would be more hospital politicking bullshit; I didn't anticipate a father committing suicide in the ED, just so he could give his kidney to his son. To backup, a father came into the emergency department with his sick son, who was born with bad kidneys. The son had been receiving dialysis, but that was no longer enough as the son needed a transplant. As it turns out his father was a match, so the man could have donated, except the hospital wouldn't allow it. Why? Well, it turns out the father had technically kidnapped his son and would be returning to prison, so Gwen wouldn't allow it. Apparently, the father wouldn't have enough time to recover before going to prison, and Gwen didn't want to risk the hospital's success rate. It was a cold and calculating decision, as Gwen prioritized the hospital's success rate over the life of a little boy. Choi and Goodwin's hands were tied, and there was a chance another hospital would be willing to perform the transplant, but the father and son were running out of time. The son needed the transplant right away, and the father was going to be escorted out of the hospital by police, so the man grabbed the officer's gun and shot himself in the head. At that moment, the father was all out of options, and the only way he could see to save his son was to commit suicide. The man was essentially forced to kill himself to ensure that his son would live. And the worst part was that Gwen didn't even seem to regret her decision to stop the transplant. Even the new ED chief, who had backed Gwen, was shaken enough to realize maybe they made the wrong decision, but not Gwen. I'm just appalled at her lack of remorse or regret. Like if I was in that positon, I would be wracked by guilt, yet she just seems to brush it off. All the Chicago series' head honchos – Boden, Voight and Goodwin – are involved in a power struggle with some higher up – Gorsch, Brennan and Gwen, respectively – but Gwen topped the list of hated "Big Bads" in "Heavy is the Head." I usually don't wish characters ill will, but I really hope Gwen gets what's coming to her. If she were killed off in some horrible fashion, I wouldn't bat an eye. I'd just be perfectly content with her onscreen death.
Chicago Fire