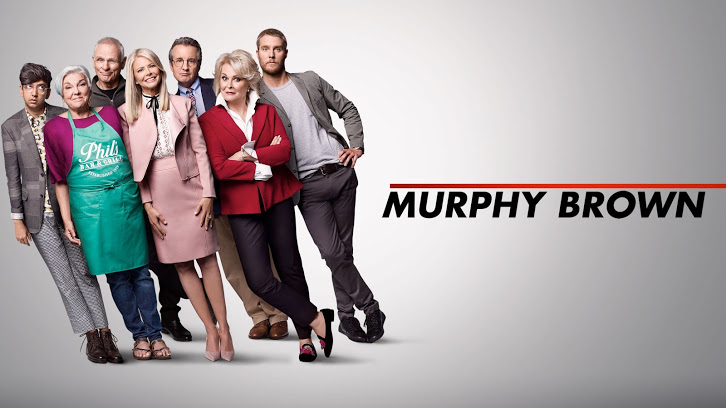 Episode 4 of season 11 premieres Thursday, October 18 at 9:30p/8:30c on CBS; directed by Don Scardino and written by Laura Krafft. Guest starring David Constabile as Ed Shannon (rhymes with Bannon) and Charles Kimbrough as Jim Dial.

Terrific episode this week, a must watch!


After being derailed by last week's 'Murphy Me-Too moment', the show gets back on track with a strong storyline and a very special guest star. We are also introduced to network executive, Diana, played so wonderfully devilish by Merle Dandridge.

Murphy is forced to choose between journalistic integrity and a sure-fire ratings bonanza in the form of former White House aide and right-wing author, Ed Shannon. Described by Phyllis as: "kind of blotchy, looks like he's slept in his car for a week."

And it is from the ubiquitous voice of reason and calm that we hear these timeless words of reason and integrity: "If you put that human mudslide on the air you are creating a perfect example of false equivalency; a disease that is sickening today's journalism."


But Murphy has much more to worry about than integrity like keeping her new show on the air and all of the people who count on her for their livelihoods, employed. And the thought of taking this guy down, on the air, is quite appealing.

Is there a compromise to be found between this human mudslide and integrity of a rock and a hard place?

In a 'major' spoiler, we find out that Phyllis was once a cop for the NYPD; a wink to Tyne Daly's EMMY winning turn on CBS's Cagney & Lacey.

Favorite quotes: "You do not have to give equal time to a man who says that Tom Hanks runs a shadow government."

"Jeff Sessions before Murphy interviewed him, he used to be 6 foot tall and now he sleeps in an acorn."

"You're an old, white guy afraid of losing his place at the table."

"Truth? I'm surprised that you can say that word without bursting into flames."

"Thank God there were no smartphones when I was drinking."

"4:30 in the afternoon, time for bed, it's like we own a Dunkin Donuts franchise.

And finally, I will never tire of Mile's self-deprecating humor: "I'm a 5 foot 7 inch Jew with small calves and colitis."