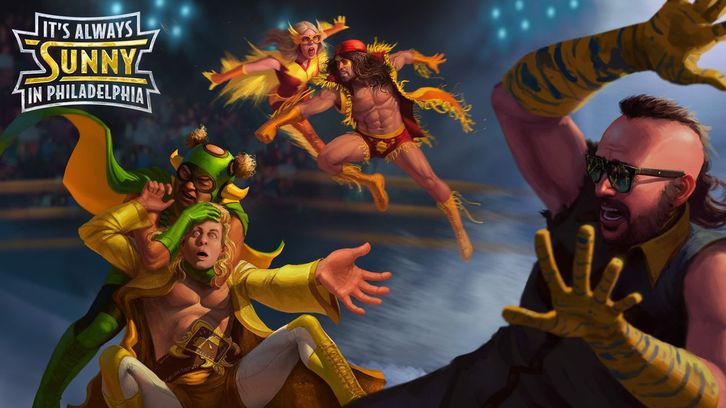 Clip show is a scary term for any television viewer because it means we're not getting a new episode, we're just having to rewatch scenes we've already seen before and can revisit anytime thanks to streaming. But, alas, it's basically a rule for all sitcoms to eventually have a clip show, so here goes It's Always Sunny with there's. While they tried to put their own spin on it, it still felt like nothing entertaining actually happened, save for one good parody.
Bored because they have to wait for their phones to update, they start reminiscing over old times and the glory days, like when Frank sewed himself into a couch naked, climbed out like a newborn baby, and exposed himself to everyone. Clip show one, and 30 seconds of not new content. Sigh. They laugh over it.
Dee's memories are about the characters that she created. She trying to make everyone laugh by playing them. But of course, they don't laugh until she falls on her face. Clip show two is about all the times she's gotten hurt. All the times she fell, got set on fire, passed out, and elbowed in the face. Clip show three is the best of the best of the gang as they remember it. Like when Charlie sat on Santa's lap to confront him about sleeping with his mom and then bit his neck, cutting brake lines, puking blood on dates, Dennis implying a threat to rape women, dressing like chickens, mistaking an ostrich for Dee, Charlie with his abuser Uncle Jack, Mac driving into a wall, their big number at the class reunion, Dennis and Mac leaving Philadelphia for good ... Except, wait a minute. That last one didn't happen.
This is where it gets interesting. They start messing with the clips and making different things happen in them according to whoever reimagines it. This leads to clip show number four, all the times no one knew what was happening. It's a quick montage of all of the past times characters have said they don't know what's happening, and there are way too many to name. Then, they really don't know what's happening when they mistake their lives for the lives of the characters on Seinfeld. It's a funny meta joke about how It's Always Sunny in Philadelphia is like Seinfeld. Everyone laughs over the memory, but Dennis points out it's not real. Everything they're thinking of didn't happen to them, it happened on Seinfeld.
Dennis leads them to believe they can change reality through skewing memories. Charlie makes up the waitress telling him she's pregnant, and then she ends up coming into the bar with a baby and a second Charlie. Charlie 1 and Charlie 2 argue about who has the higher voice. How the shrewishly high voices of two Charlie Kellys combined didn't destroy every glass in that bar is beyond me. Oh, and Frank gives himself hair. They realize they are not altering reality, they are just in someone's memory: Frank's.
This realization pulls us back to reality. Or does it? Dee no longer has her cut from when she fell and Mac reveals he's not living with Dennis. Did they truly alter reality? Nope, they're just in Dennis' head. He wants to make that part of his life a reality. Out of this Inception-like nightmare, they are awake again. Or are they (?). They do the top spinning trick from the movie, but the top keeps spinning, and spinning, and spinning ...
This episode was one helluva mind trip. Watching the gang interact with each other is always entertaining, but in episodes like this, that's not always enough, especially when its interceded with stuff we've already seen. That Seinfeld part was great, though. Watching Charlie as Kramer and Dennis with the Seinfeld haircut was the funniest part of the episode for sure, almost makes it worth it. Almost. Here's hoping for some new memories for the gang next episode.