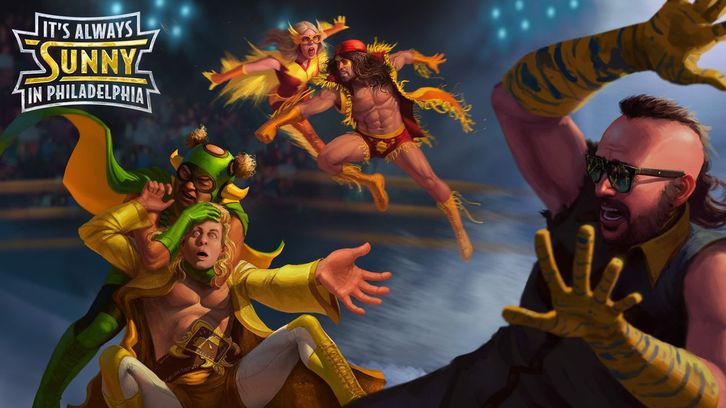 In another bottle episode, the gang takes on another current political issue; transgender rights and bathroom usage.
The gang are in full Jimmy Buffet gear, pumped up to go to his concert and hear The Pina Colada Song. Boy, are they going to be disappointed when he plays his actual song Margaritaville instead. But, they put the kibosh on leaving for the concert when the gang finds out Mac has been using the women's bathroom. It's more comfortable for him and he thinks it's okay for him to use it because he's gay. He doesn't quite understand the difference between being gay and being transgender. Charlie might know a little bit more about that, though, because it turns out Charlie's been using the women's bathroom. And, he's been passing himself off as a woman to use it. Why might he do this? Not just because he's kept it cleaner, but as a child, his mom used to dress him like a woman so he could go into the women's bathroom with her and this traumatic experience become a part of his routine. This begs the question for the gang, it's okay to let transgender women use the women's bathroom, but does Charlie count because he identifies as a woman at the time of pooping?
This complication leads them to their first solution for the bathroom problem. They decide to change the bathroom sides so basically anyone can use any bathroom. They fight over what should be on the signs. Mac's idea is to use a picture of penises. It's rejected on sight. Charlie and Frank make a sign that's pretty much a racist, sexist children's drawing. Dee suggests they just put up a picture of a toilet. That's all they really need; just a sign that it's the bathroom. Just when they think it's solved, Dee decides to use the former men's bathroom. It's as disturbing for them as it was for Dee to see Mac and Charlie using the women's. They're back to square one.
Solution number two is to separate the bathrooms based on which bodily function you need to do. After a needlessly long discussion, they come to the conclusion it won't work. The other ideas include turning the bathrooms into enclosed rooms/partitions with screaming music to cover the noises so nobody knows who is in the bathroom with them or what they're doing. Then they decide to segregate the bathrooms where the minorities (female Dee and gay Mac) get the clean bathroom and the majority (straight, white, cis boys Frank, Charlie, and Dennis) get the crappy one. But, by Philadelphia's demographics, it turns out Mac and Dee are part of the majority group and Frank, Charlie and Dennis are in the minority group, so the latter would then get the good bathroom. Dee and Mac are upset enough at this show of legitimate discrimination that they don't want to go along with this plan. They are back to square one. And not one of them is going to the Buffett concert.
Hours later, they end the episode the way they started it; discussing Jimmy Buffett. They come to the rational, reasonable conclusion that although everybody is different outside of the bathroom, inside of the bathroom we are all the same. We are all disgusting, pooping animals. Why should anyone care who they are doing it next to? It's the same shameful act. Their final solution: Turn the bathroom into the Animal Shithouse. Brilliant.
This was another episode in which the crew had to strongly rely upon good gang interaction as opposed to more actionable, outside of the bar antics, and it works. It really did. I thought it wasn't as entertaining as some of the earlier episodes, but I really liked the way they approached this issue and the conclusion they came to. Plus, Frank in a bathroom with a gun and Charlie going all Norman Bates, you can't beat that.