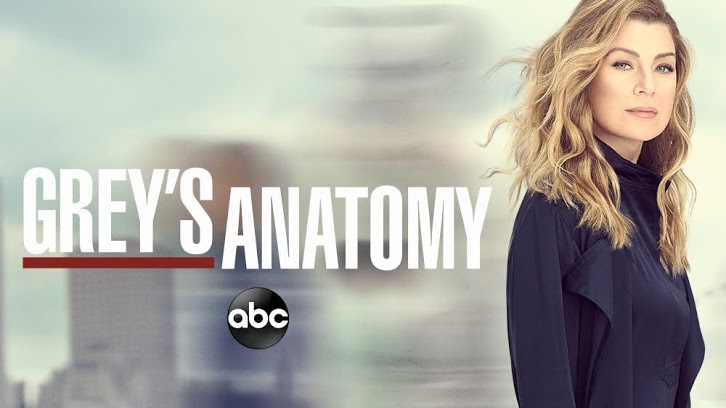 Hello everyone and welcome to the Grey`s Anatomy Season 15 reviews! This season will be covered by myself and STV pro Marko. It's no ordinary season either, because it's the "Season of Love", and we're here to channel our inner Dr. Helm and get caught up in adoration.

This was technically a Station 19 crossover episode, but it's reaching quite a bit to call it that. Herrera and Dean from the other show dropped a woman and her son off at the hospital. They hung around in the waiting room, because Dean wanted to ask Maggie out.
We knew she would reject him nicely, but he sweetly says she can find him just a few blocks away. Should she ever wind up without a boyfriend. Don't think I didn't engage in some wishful thinking for a minute. The way Dean gushed about "her self-assuredness, her compassion for children, and her very nice eyes." Keep them options, girlfriend! Magic aside, the patient they brought in, a woman named Natalie, had a serious heart condition. Despite Bailey and Maggie's best efforts, survival was unlikely. Maggie grew more and more upset when Natalie's husband wouldn't tell their son Max that his mom wasn't doing well. It wasn't a secret she felt comfortable with. Herrera's contribution to this episode was reminding Maggie why it might be best to not reveal the truth.
"As wrong as it feels, is it your business?"
DeLuca offers to look after Max and shares part of his own history. He tells him about how Carina called him to say that their mother was dying. He flew home to find out she had already been dead when Carina made the call. But her explanation for why she lied was really moving.
("I couldn't have you find out without me being there to hug you." )It's a super sweet story and a lovely moment of character development for DeLuca. However, Max can read between the lines. He runs away in distress, runs so far that he runs right off Grey's Anatomy and into Station 19. (A separate episode worth checking out, as it hints at a new crossover love story for DeLuca that I am completely on board with.) The moral of this story for Maggie is that secrets hurt people. She tells Meredith about Teddy and the baby. I'm so glad she got it off her chest. Since keeping that secret was her only iron in the fire, story-wise, I wonder if she gets sidelined now until Jackson's back or if she'll get a new medical challenge to wrangle.
"Our job is to build a boat strong enough so, when they decide to,
they can sail back to us safely."
Meanwhile, Amelia is so insanely lovable that it's impossible to not root for her. Caterina Scorsone has slowly been remaking Amelia into this new character, ever since the tumor, and this new Amelia is a joy to watch. This episode focuses on Amelia's motherhood. She hasn't quite put a label on what she has with Betty, but we know the symptoms. Amelia suspects that Betty used drugs again, and she flounders around a bit trying to figure out what to do about it. Eventually she trots Betty into the hospital to do a drug test. (Which results in a highly amusing scene with Glasses).
When Betty writes Amelia off, Amelia and Owen have a conversation about their respective moms. Amelia talks about how her mother didn't seem to want to parent her at all, after her father's death. For Owen, it was the opposite. His mother became father, mother, judge, jury, and executioner. This was another great interaction between these two, who seem to be growing up together. It also inspires Amelia to ask Owen's mom for advice on how to help Betty. In a really beautiful scene, Evelyn Hunt encourages Amelia to bring out that tough love. And when Amelia asks if Evelyn has an opinion on her and Owen reuniting, Evelyn responds that of course she does. She doesn't say what that opinion is. But she kisses Amelia on the forehead. Debra Mooney always so stellar.
"Change the there to the wrong their to soften the blow."
Speaking of awesome people who also happen to be moms, Meredith goes on her first date. First, she dazzles several people near speechless by wearing her hair down and wearing makeup to work. Ellen Pompeo always glows, but I can play along and pretend she was suddenly "glammed" up. She's also wearing a new outfit, one of the five that her matchmaker "Mrs. Santa Claus" (as Amelia described her) told her to go out and get. Before going, Meredith places a bet with Alex about how long it will take her to escape if her date is bad. It turns out to be good though. The man John (Josh Radnor) is cordial and not creepy. He asks intelligent questions, and things move along nicely. It turns out it's a mistake that they met, because he was apparently there to meet someone else (also named Meredith? and he had a picture already?), which didn't make any sense. That bit aside, they both compiled cordial apology texts to their real dates and fled the restaurant. It was going really well, and I was even starting to picture their second date. Then he dissed single moms, calling them desperate. He realized right away he'd said "that one wrong thing", and Meredith walked away after letting him know that she didn't have just one kid...she has three. And she doesn't view her kids (adorable Ellis sighting at the start of the episode by the way!) as holding her back one little bit. It's actually a relief that her first date didn't work out, because what's the fun in that?
Elsewhere:
More talk of Carina leaving this week. I don't remember hearing she's a series regular, so I won't be surprised if she does go. This episode gave me real hope that DeLuca might become an actual full-fledged character. We just need to learn what his professional ambitions are.
Alex and Jo had a tiny little argument that resulted in her yelling just a little bit about their sex life at work. Also, she knows Link. He knows her as Brooke, and they share a big happy hug in front of Alex, who spent the episode putting his "Chief" designation to the test.
Alex basically slices a patient open in order to create a medical "emergency" so his insurance will cover an operation he needs. Dr. Qadri and Weber have concerns about this, but the young man is so grateful that it doesn't look like this will be a bigger issue for Alex. Hopefully this Link business will be played up for humor rather than flaring up Alex's known jealous side.
Post-Op Questions:
Did you want a bigger crossover?
Have you watched Station 19 yet this season?
Are you rooting for Amelia and Owen to get back together?
How about that date?!