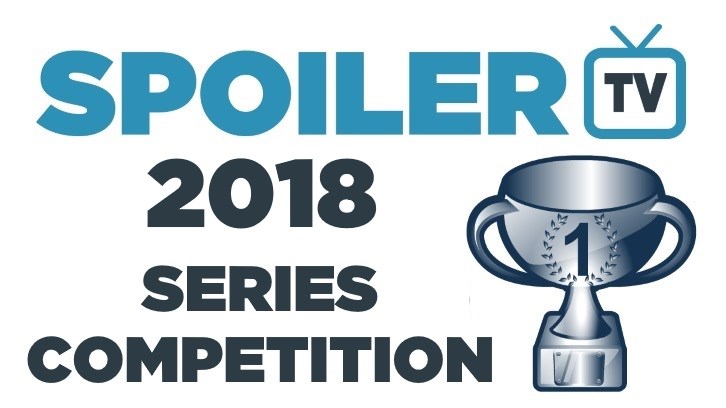 Well, now. The 2018 Series Competition is guaranteed to have a brand new winner for the first time since 2015 — and that year, we didn't discover that until the quarter-final stage. But with Supernatural, Outlander, and three-time holder Person of Interest crashing out in the last 16, a fifth show will claim the title of SpoilerTV's Favourite Series on Friday. Buffy's win over Person of Interest ends its stranglehold over this competition, halting a run of 21 consecutive poll victories. Will we ever see such domination again? Only time will tell. For now, we have just eight more shows remaining. This could be a thrilling week.

Timeless condemned three-time winner Supernatural to its first-ever finish outside the top ten. To have never previously done that in eight years is hugely impressive, but this could be a sign that its popularity is slipping. Beneficial to Timeless, of course, which is into the quarter-finals for the first time at its second attempt. It's not likely to be easy today, though, because you'd imagine Lucifer's fans will be eager to push into their first semi-finals. This is already the show's best finish — comfortably so, too — and it will be a hell of a battle.

Buffy did what no show has done since 2014: it knocked out Person of Interest. Based on that alone, it quite clearly has the ability to go all the way. This is its fifth appearance in the quarter-finals and only once, in 2013, has it progressed further. On paper, Brooklyn Nine-Nine might be the weakest of the eight shows, but you wouldn't know it from recent performances. It defeated Outlander for the second consecutive year to reach the quarter-finals again, and the Starz drama must be sick of the sight of Brooklyn's finest. How much further can it go? Last year, it was eliminated in the semi-final. It's on the toughest side of the draw, but you'd be a fool to back against it.

Game of Thrones did well to beat LOST although with far fewer votes than its supporters would surely hope for. The poll had comfortably the lowest number of votes from the third round, and it will take something much stronger to topple Shadowhunters. The most-nominated current show has started well and defeated The X-Files to be here today, although that poll had the second lowest number of votes from round three. It's been a curious competition for both shows, and this contest will be just as curious.

Major Crimes continues its impressive run of form in recent years by making its fourth consecutive appearance in the quarter-finals. Sherlock proved to be no real match for it and that was no surprise. How will it fare today? The 100 only just made it past Psych in the third round but that says more about last year's runner-up than it does The CW show, you'd say. Could be a compelling battle.

A reminder of the rules:

1) Two shows will go into battle in a poll, where after exactly 24 hours, the leading show will win the battle and will progress into the next round. Each poll will open at 12pm ET on a given day.
2) Vote for your favourite and spread the word with your friends & fans.
3) One vote per person per poll.
4) Comment on what you voted for on in the comments below.
5) Have fun. This is a friendly & competitive competition. Please do not start attacking other fans or fangroups in the comments, because this really isn't what this competition is about.


Click here to view the draw in a new window
Don't forget to Facebook, Tweet, and share the poll with your friends! The more people that you get to vote, the better chance your favourites will win!
Remember to check back on Monday for the semi-finals!