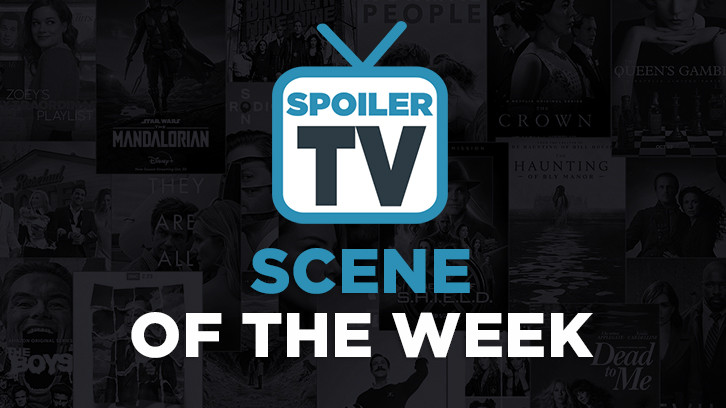 A weekly feature in which we're trying to find the most compelling, best acted, written, directed and just generally great, memorable scenes that we've seen in past seven days on TV.
BETTER CALL SAUL, "Talk", August 27, 2018, Actors: Jonathan Banks and more
The Scene: Mike calls Daniel out at a therapy session
Laura B:
This was an interesting hodge podge of an episode that had some seriously intense moments with cartel scenes and really nice long takes, but was made a bit light with the hilariously stoic way Mike does everything; ultimately keeping Better Call Saul from slipp'n too far into the 'bad' side.
CASTLE ROCK, "Past Perfect", August 29, 2018, Actors: André Holland, Jane Levy, Mark Harelik and more, The Scenes: Jackie saves Henry's life & Henry visits the Lacy Home & Gordon murders a couple from the next room
Laura B:
What a perfectly insane murder scene! I wasn't expecting more horror-gore coming from the direction of Gordon, but perhaps I should have considered the actress that plays his wife, Lauren Bowles was a witch on True Blood!
DarkUFO:
Gordon murdering the couple having loud sex next to his room.
Claire:
The scene where Jackie Torrance (Jack Torrance's niece ala The Shining) saves Henry Deaver's life from the crazed Gordon and she does it with an ax. I love all of the Stephen King easter eggs in Castle Rock; my favorite show of 2018!
Marine:
Henry visits the Lacy Home and fights with Gordon and his wife.
CHESAPEAKE SHORES, "Once Upon Ever After", August 26, 2018, Actors: Laci J. Mailey, Emilie Ullerup and more, The Scene: Jess tells off the Pecks
Ellys:
Any fears that Jess would succumb to the manipulation of David's parents were put to rest. She confronted them with their secrets and stormed off the premises, but not without letting them know she was keeping the designer gown they gave her. She and Bree raced out front to speed off in a taxi, and it was easily one of the most hilarious and victorious scenes on TV this week.
FEAR THE WALKING DEAD, "The Code", August 26, 2018, Actors: Aaron Stanford, Lennie James and more, The Scenes: Jim's introduction & Morgan escapes the walkers
Ellys:
There are people the apocalypse has taken everything from, and there are people who have given up everything. FTWD's newest character belongs to neither of those groups. He's an entrepreneur who resorted to growing hops on the roof of his brewery when things went bad. Jim was about to break into the big time when the world came crashing down, and his goal is to get back what he lost and rebuild civilization while he's at it. Aaron Stanford brings laughs and hope as he gifts us Jim, who might paradoxically be a plucky chicken.
DarkUFO:
Morgan escapes the walkers who surrounded him on the car roof.
PREACHER, "The Light Above", August 26, 2018, Actors: Dominic Cooper, Betty Buckley, The Scene: Jesse kills his Gran'ma
Milo:
This was what the show had been building towards for its entire third season and it executed the death admirably, not holding anything back. Betty Buckley put in a terrific performance right to the end to the point where you even started to feel sorry for her character despite all the bad things she's done. Ultimately though, it ended up being a hollow victory for Jesse in more ways than one.
SHARP OBJECTS, "Milk", August 26, 2018, Actors: Amy Adams, Eliza Scanlen, Miguel Sandoval and more, The Scenes: The final reveal & Curry and Willis find Camille on the floor
Justyna:
Such a terrifying discovery in the final minute of the show. Even though I was familiar with the book ending, this was still a powerful and memorable reveal. Especially under these circumstances. Watching closely everything that Adora has been doing to her daughters was truly scary. For the first time on the show Amma actually appeared as a sympathetic character to me. It was easy to feel sorry for her and hope for her to finally escape her house. What makes things even worse is the relationship that started growing between Camille and Amma. Camille cared for her sister, she sacrificed her health and freedom to give Amma a chance to run away. And just when they were finally free, the terrible truth is revealed. The one good thing that came out of her time back home - saving her sister and taking her to St. Louis - ended up being a real nightmare. It's hard to imagine how broken and confused Camille must be feeling in this closing moment. Her article and the beautiful sentiment she shared there, echoed in my mind while watching this reveal. "As for me, I've forgiven myself for failing to save my sister and have given myself over to raising the other. Am I good at caring for Amma because of kindness, or do I like caring for Amma because I have Adora's sickness? I waver between the two, especially at night when my skin gets to pulse. Lately I've been leaning towards kindness." To go from feeling happy for the first time in her life to shock and despair in a single moment is the most heartbreaking ending for Camille. And with Amma's entrance the viewers are left in shock... Kudos to cast & crew for their incredible work on the series.
Milo:
The final scene was chilling and acted as a memorable end to this terrific miniseries which I'm so glad is not getting a second season. It was a quiet, understated and haunting ending that stuck with me for a long time after I saw it.
Claire:
The end scene when Camille finds the teeth in Amma's doll house and Amma walks in and says: "don't tell mama." That was so chilling yet low-key which is how the entire season has played out.
DarkUFO:
Final Scene with the reveal.
Mads:
I loved how the show did it, I imagine for people who didn't read the book it was quite a gut punch and I can't stop thinking about how well cast Eliza Scanlen was as Amma.
Laura B:
A bit of a different ending from the book, might have been a smart choice, as the abruptness of the way the scene cuts off after Amma so cooly admits to what she's been up to really allowed the audience to live in the twist with Camille one last time. A perfectly done WTF moment was the right choice for this adaptation.
Luana:
Curry and Willis find Camille on the floor. This was such a small and yet important moment, this is not something they decided to end with but it is perfectly clear that from now on Curry and Eileen will be there for her, she will finally learn to be loved in a way that's not hurtful to anyone. This show was a work of art and something that absolutely needed to be made.
THE SINNER, "Part V", August 29, 2018, Actors: Elisha Henig, Carrie Coon, Brennan Brown and more,The Scenes: Julian flips out at the inmates & The group therapy of the cult
Samantha:
Julian flips out at the inmates. Elisha Henig is a talent. He's been mesmerizing me ever since the 2nd season began, so perfectly able to strike the balance between that childish vulnerability and those moments where we can see there's something lying underneath. Each episode is giving us little pieces of that and here we had Julian flipping out at his fellow inmates for lying on beds in similar poses to how he left Bess and Adam. We still don't know the exact reason as for why he killed them, but it's clear he does have some regret over it and the reminder of what he's done triggers these moments of rage.
Mads:
We discover more about the cult's strange practices during a rather sinister group therapy like incident. Vera becomes a stand-in for another member's wife and is antagonized to the point of abusive violence and a near-rape as he takes out all of his pent-up frustrations on her under the watchful eye of Lionel who doesn't raise a finger to help. Carrie has been fantastic all season and continues to play her cards close to her chest. Vera is a complicated woman but it was interesting to see the woman she once was as compared to the woman she is in the future.
WYNONNA EARP, "I Fall To Pieces", August 31, 2018, Actors: Greg Lawson, Katherine Barrell, Melanie Scrofano, Tim Rozon, The Scenes: Nedley tells Nicole he'll always be there for her & Wynonna rescinds Doc's invitation into her home
Samantha:
Most of this episode was extremely humorous save for the last 5 odd minutes and this scene was so sweet. Nedley has always been the father type figure of Purgatory and has been shown to be close to Nicole before, but now we know exactly why. It had been a little obvious that Nedley was the one to save Nicole, but that didn't make the moment of him chastising the fact her parents let a child go alone to a concert any less heartwarming. Nedley telling Nicole she's always had a big, strong heart which makes her perfect to be the Sheriff almost made me cry, as did telling her he'd always be there for her and of course that hug. Even though Nedley's time as Sheriff is up, I hope we do get to still see him on screen.
Klutzy girl:
It killed me that Nedley thinks of Nicole as a daughter, and I hope we get to see more of their relationship going forward.
Luana:
Wynonna rescinds Doc's invitation into her home. I hated the decision to make Doc a vampire but this scene was amazingly performed and heartbreaking.
YOUNGER, "Lizability", August 28, 2018, Actors: Laura Benanti and more
The Scene: Quinn announces leadership changes
Luana:
I love Quinn and I love Laura Benanti, and I can't wait to see how the company works run by more women, I hope they find a way to keep Charles around but this is an exciting change for next season.
Now, for the second part of the article - our SpoilerTV Team's all-time favorites in 3 categories. "We have to go back."
1. FAVORITE SCENE FROM A SERIES FINALE
ALIAS, "All the Time in the World", May 22, 2006, Actors: Jennifer Garner, Michael Vartan and more
Giulia:
Sydney and Vaughn on the beach, with baby Jack.
BREAKING BAD, "Felina", September 29, 2013, Actors: Bryan Cranston, Aaron Paul
Beth:
Jesse refuses to kill Walt when he asks him to. Walt had saved Jesse at the last moment, but he once again wanted to control the situation and place that burden on his former partner. After everything he had been through, Jesse refused to let Walt control this situation and walked away on his own. It was so powerful and the perfect way to end that dynamic.
BUFFY THE VAMPIRE SLAYER, "Chosen", May 20, 2003, Actors: Sarah Michelle Gellar and more
Popcultureguy:
The final battle underneath the school, particularly when The First-as-Buffy starts taunting an injured Buffy and she badass-ily orders The First to "get out of my face".
CHARMED, "Forever Charmed", May 21, 2006, Actors: Holly Marie Combs, Brian Krause and more
Klutzy girl:
The entire family gathering for a happy reunion after Wyatt's powers are restored and Leo is returned to Piper, their boys, and her sisters. It was so nice seeing everyone together and reminds me why I love the show and the Halliwells.
DESPERATE HOUSEWIVES, "Finishing the Hat", May 13, 2012, Actors: Teri Hatcher and more
Joey:
The last five or so minutes. I just rewatched this scene to make sure it's what I wanted, and it really is a fantastic ending. We got a beautiful montage of where everybody ended up after they left the neighborhood and were treated to last-minute appearances by the ghosts of Wisteria Lane as Susan drove out of the neighborhood, accompanied by one final Mary Alice voice-over. And, to top it all off, we were introduced to one final mystery via the woman who moves into Susan's home, showing us that everybody has something they're trying to hide, and sometimes we never know what that secret is.
ENLISTED, "Alive Day", June 22, 2014, Actors: Geoff Stults, Chris Lowell, Parker Young and more
Dahne:
Everyone comes to the beach to support Pete. Pete Hill heads to the beach, suffering from PTSD and feeling guilty that he is still alive when many of his fellow soldiers are dead. Sergeant Major Cody and Pete's brothers interrupt his thoughts to say that it is okay to remember but it is also okay to celebrate being alive. Then one by one, his brothers and fellow soldiers show Pete how he has changed their lives for the better and remind him of how far he has come in 13 episodes. This may be the single most heartwarming and touching scene I have ever seen in a comedy and the perfect way to close out a show that ended way too early. I still miss you Hill brothers and company.
FRINGE, "An Enemy of Fate", January 18, 2013, Actors: John Noble, Joshua Jackson
Justyna:
There's so many great shows that come to mind when I start thinking about memorable series finales. Some of them are already mentioned in the article, others not this time. While I could highlight moments from Person of Interest, Lost, Friends, Parks and Rec, 12 Monkeys, Nikita or one of the other goodbye stories I've been rewatching recently, writing this special article made me think of the very beginning of SOTW and ending of one of my all-time favorite shows - Fringe. And the first scene that came to mind from this finale is the goodbye between Walter and Peter in the lab. I loved the last moment of the series, Walter's choice and the last stand, but it's the relationship between these two - father and son - that's always been a heart of "Fringe" for me. And this moment was a perfect example of that. Complete with one of my favorite quotes. From a man who loved so many little things, but one person above all - "You are my favorite thing, Peter, my very favorite thing." The music, the actors, the words. Such a beautiful and emotional moment. Always in my memories.
GRAN HOTEL, "Cólera", June 25, 2013, Actors: Yon González, Amaia Salamanca
Samantha:
Julio and Alicia reunite. Their relationship is basically the reason why you watch the show, and boy did they have a crap load of drama and hurdles to overcome. It's a well known trope, to have one person claim they're going to leave and the other person go after them only to be too late. Grand Hotel was a show of soapy delight so of course in the finale, Alicia would faint from an unknown pregnancy and run after Julio only for him to have already walked off. Of course she'd call out for him and look all hopeless and devastated, wondering if she really had missed him and of course for a few seconds I did wonder the same thing and prepare to throw my PC out the window. Of course he came running back up the hill and the two of them reunited, before turning their backs on the hotel for the last time. It was honestly the perfect moment and a well deserved ending.
JUSTIFIED, "The Promise", April 14, 2015, Actors: Timothy Olyphant, Walton Goggins
Milo:
There are so many good finales it's hard to pick just one but I'm going to have to go for Justified's "We Dug Coal Together" moment between Raylan and Boyd. It was the perfect cap-off to the series with its trademark usage of excellent dialogue and illustrated just how awesome these two characters were and how badly they're missed.
LOST, "The End", May 23, 2010, Actors: Matthew Fox, John Terry
DarkUFO:
Vincent (the dog) comes and lays down next to a dying Jack.
Laura B:
Jack reunites with Christian in the flash sideways - Lost still is my favorite show of all time and the series finale is no different. This scene was what was truly underneath the show in terms of the interpersonal story and journey of Jack Sheppard. Jack finally was able to understand and forgive his father after having this extraordinary experience in an astral plane between life and rebirth and where, despite the fact that specific quantum mechanics of Island are not made clear, there was enough information to figure out the bigger picture, but moreover, it's that the Island was about reincarnation through multiple iterations of the timeline, where we witnessed one group spiritually progress together, but none so painfully beautiful as Jack.
MAD MEN, "Person to Person", May 17, 2015, Actors: Elisabeth Moss, Christina Hendricks and more
Eve:
Every character had an ending fitting for who they were and their growth throughout the seasons. Stan and Peggy realizing they loved each other, Joan starting her own business, everyone we cared about received some kind of closure. That final scene with the iconic commercial 'I Want to Buy the World a Coke' sealed the deal. This is how you end a great series.
NEWHART, "The Last Newhart", May 21, 1990, Actors: Bob Newhart, Suzanne Pleshette
DJRiter:
Final scene – Vermont inn-keeper Bob is knocked unconscious by an errant golf ball and wakes up as therapist Bob, sleeping next to his original TV wife, Suzanne Pleshette, declaring he'd had the weirdest dream. This is comedy genius and the fact Pleshette's part in it was kept secret until taping was nothing short of amazing. You can tell how much the audience loved the ending, by their reaction when Pleshette sits up in bed and turns on the lamp on the nightstand. One of the greatest comedic moments ever.
ONE TREE HILL, "One Tree Hill", April 4, 2012, Actors: Sophia Bush, James Lafferty, Bethany Joy Galeotti and more
Jamie:
Haley and Nathan dance in the rain. I have loved all of their rain moments but this one had to be the sweetest. They've come so far and they've always been this show's constant. There were many moments in the finale that made me nostalgic but this one was my favorite.
Mads:
The final scene of One Tree Hill, one of my favorite shows of all time, and although Lucas and Peyton were sorely missed it was still really emotional to watch a majority of the gang reunited years later to watch Jamie's basketball game in the very same gym where so many of our favorite Ravens had grown up.
PERSON OF INTEREST, "return 0", June 21, 2016, Actors: Jim Caviezel, Michael Emerson and more
Jimmy:
Reese and Finch farewell each other as Reese takes his last stand to allow The Machine to end Samaritan, transmitting itself to a satellite. This series will always hold a special place in my heart for too many reasons to list, but the showrunners made sure their characters held true right to the end, and as well as being a stunning and fitting series finale, the final moments the two main characters in Reese and Finch shared together was particularly noteworthy.
Abi:
The entire finale was just sublime and stayed true to the characters throughout. It's one of the few TV finales I've cried at but Reese sacrificing himself for his friends, The Machine and the safety of the public just made everything come full circle as he finally found a purpose.
THE LEFTOVERS, "The Book of Nora", June 4, 2017, Actors: Justin Theroux, Carrie Coon
Luana:
Nora tells Kevin about her trip to the other side. In perfect harmony with the whole series, the finale was amazing, brilliantly written and it delved into the characters without making the mystery the main event. There is a mixture of theories about what the story meant and whether it was true or not, but everyone agrees it was mesmerizing, as this gem of a show often was.
THE MARY TYLER MOORE SHOW, "The Last Show", March 19, 1977, Actors: Mary Richards, Lou Grant and more
Claire:
The final scene of The Mary Tyler Moore Show. The group (Mary, Lou, Ted, Murray, SueAnn and Georgette) are leaving the newsroom office for the last time and are embraced in a loving, hilarious group hug. They scuttle as a group to grab a box of tissues; not wanting to let go, just yet. When they finally do, Mary takes one wistful, last look at the darkened newsroom while the group sings "It's A Long Way To Tipperary." Every time I rewatch it, I cry and laugh at the same time and it's been over 40 years since the finale premiered! Not many tv shows stand the test of time (Friends for example), but MTM always will...
THE VAMPIRE DIARIES, "I Was Feeling Epic", March 10, 2017, Actors: Paul Wesley, Ian Somerhalder
Marko:
Damon and Stefan reuniting with "Hello Brother!" The Vampire Diaries was always at its strongest when it focused on the very twisted and unhealthy relationship between Damon and Stefan. But under all that resentment, anger, pain and blood was their true and sincere love for each other. The twinkle in the eyes when they saw each other again was just heartwarming.
2. FAVORITE ROMANTIC SCENE OF THE LAST DECADE (2008-2018)
BONES, "The Parts in the Sum of the Whole", April 8, 2010, Actors: Emily Deschanel, David Boreanaz
Abi:
This is how you do a 100th episode. Centring the episode around flashbacks to their first case whilst also furthering the central relationship of the show was great, but oh so heartbreaking when it was one step forward and two steps back. When Booth is confessing his feelings to Bones and she tearily tells him that they can't be together, well it just gets me every time. So emotionally frustrating but also in character for both of them, it was a great step in their slow burn romance.
BROOKLYN NINE-NINE, "Jake & Amy", May 20, 2018, Actors: Andy Samberg, Melissa Fumero and more
Milo:
Jake and Amy's wedding. This was a perfectly good moment that was executed really well, but then that's par the course for Brooklyn Nine-Nine. The show has handled romance as a whole really well, allowing both characters to grow off the back of it rather than drag it down after the resolution of the "Will they/won't they" drama that has ruined so many shows in the past.
BURN NOTICE, "Long Way Back", August 6, 2009, Actors: Jeffrey Donovan, Ben Shenkman
Dahne:
Michael kills Strickler for betraying Fiona. While others celebrate kisses and sex and weddings in this category, my choice is an action scene in which only one half of the couple is even in it. Throughout several episodes, Michael has been pushing Fiona away because Strickland can get Michael his CIA job back. It all comes to head when Michael chooses Strickland over Fiona in the previous episode. Then Fiona is kidnapped and set to be sold to one of her many enemies. Michael finds out that Strickland is behind it and in the middle of Strickland's monologue about how Michael will never get his job back if he's still connected to Fiona, Michael claims, "Fiona is not my past." It is the ultimate admission that Fiona really is the most important thing to Michael and that changes everything for them both. For a couple that surmounted so many obstacles and setbacks, it was great to see Michael finally clear on how he felt about Fi and be willing to risk everything for her.
CASTLE, "Always", May 7, 2012, Actors: Nathan Fillion, Stana Katic
Jimmy:
Season 4 Finale. Kate knocks on Castle's door and share a passionate kiss, which finally sets them on the pathway to becoming a couple. Though the series began to head downhill in its later seasons, it was pretty satisfying for the fandom to finally see two characters with amazing chemistry and superb actors turn a long awaited corner.
CHUCK, "Chuck Versus the Cliffhanger", May 16, 2011, Actors: Zachary Levi, Yvonne Strahovski
DJRiter:
Chuck and Sarah get married. The romance between BuyMore geek Chuck Bartowski and super CIA agent Sarah Walker was one of the sweetest there was on television. These two went through so much and fought through so many obstacles to get together, so when they finally said, "I do" surrounded by friends, family and spy colleagues the fans cheered.
CSI: NY, "Green Piece", March 11, 2009, Actors: Carmine Giovinazzo, Anna Belknap and more
Beth:
Danny and Lindsay get married. After all the moments I wrote down, this one just makes me happy when I think about it, so that is why I chose it. The way they got married fit the couple perfectly and I am always a sucker for a playback of a couple's greatest moments during a wedding!
EUREKA, "Just Another Day", July 16, 2012, Actors: Erica Cerra, Niall Matter
Klutzy girl:
Jo proposes to Zane in the series finale, mirroring the original Zane's proposal a few seasons earlier. I absolutely love that he accepted with almost no hesitation, told her he loved her, and that he'd marry her "in any timeline" after having previously said in confusion that he'd never marry her after the timeline switch. It was just the perfect callback, and I'm glad one of my favorite couples got a happy ending.
GRAN HOTEL, "El camarógrafo", November 21, 2012, Actors: Amaia Salamanca, Yon González
Samantha:
Julio and Alicia make love for the first time. It's really hard to describe why this scene is so damn good in all the ways, unless of course you've watched the show. Literally from the moment Julio first sees Alicia these two had chemistry, and sitting through a season of obstacles, fleeting looks, friendship building, Alicia getting married to Diego knowing full well her heart belonged to Julio? It was basically all worth it just for this scene. Perfect music, perfect atmosphere, and of course Alicia still playing with him.
GREY'S ANATOMY, "Freedom", May 22, 2008 / "Elevator Love Letter", March 26, 2009, Actors: Ellen Pompeo, Patrick Dempsey
Marko:
Derek proposes to Meredith in the Elevator with scans of all their surgeries. If U don't call that romantic, you ain't got no taste. The MerDer relationship with all its faults is still one of the greatest love stories ever to grace our screens. Their chemistry was giving life to the show.
Mads:
Derek proposes to Meredith in an elevator! The entire scene was perfect, though I could probably choose from several pivotal and iconic MerDer moments, I think that one especially takes the cake.
Popcultureguy:
Meredith makes a big gesture to Derek by using candles to map out their dream home and they finally, finally, FINALLY get back together for reals.
HOUSE, "Joy", October 28, 2008, Actors: Hugh Laurie, Lisa Edelstein
Eve:
House and Cuddy kiss for the first time amidst a fight in the episode 'Joy'. It was a great scene, not too cringe-worthy or sweet. The scene was created in the concept of who those two characters were and how they related to each other. It's a damn shame it all ended horribly wrong in the end. The writers should have continued the path they chose in season 5. No living together, no baby in the mix, domesticating House and Cuddy was the worst they could do. They should have kept the angst, tension and chemistry that was displayed in that scene.
LOST, "The Candidate", May 4, 2010 / "The Incident", May 13, 2009 / "The Constant", February 28, 2008, Actors: Josh Holloway, Yunjin Kim, Daniel Dae Kim, Henry Ian Cusick, Elizabeth Mitchell, Sonya Walger
Joey:
I'm a sucker for the tragically romantic, so I'm going to go with scene when Jin refuses to leave Sun on the sinking submarine. Though their story never gets as much attention as Penny/Desmond or Juliet/Sawyer, the Sun/Jin romance is certainly one of the greats. After Sun was ready to walk out on him before boarding flight 815, they were able to reconnect with each other on the island and conceive a child. After watching Jin "die" from an explosion she escaped, she spent years off-island raising their child alone, only to discover he was still alive and returned to the island after all this time. Finally reunited, they're set to return home on a submarine that explodes, pinning Sun down. Once it's clear she cannot be saved, Sun begs Jin to leave, but he refuses, stating that he'll never leave her again. They then hold each other as the submarine fills and it becomes one of the most tragic/touching scenes on the show, especially when you go back to the pilot and realize just how far they've come together. Man, LOST is such a great show.
Laura B:
A tragically romantic scene, Juliet's death was SO gut-wrenching, because of the relationship she had with Sawyer, which made him a better person. Echoing my other LOST scene comment, this was a story about spiritual progress and it was evident as Sawyer tried to hold onto her as the vacuum of the swan-dharma site sucked her down, that his love and character became truly endearing.
DarkUFO:
The Constant - Desmond Calls Penny.
OUTLANDER, "The Wedding", September 20, 2014, Actors: Caitriona Balfe, Sam Heughan
Jennise:
Jamie sees Claire in her wedding dress. The lead up to this wedding had me grinning ear to ear. Claire only agreed to the wedding as a matter of self protection. She spent the night before getting completely wasted. Jamie claimed everything he was doing was for his mother, but in actuality Jamie was in love and wanted his wedding to be perfect. So he (and his clansmen) set about making it perfect. The moment when Claire stepped out in her wedding dress, as Jamie says, 'suddenly the sun came out.' The subtle lighting effect just underscored that moment.
SHADOWHUNTERS, "Malec", March 29, 2016, Actors: Matthew Daddario, Harry Shum Jr. and more
Ami:
Alec stops his wedding and kisses Magnus. I mean, there were a LOT of scenes I could've chosen for this category, but I gotta stick to my home turf! This scene ended up breaking the internet, no joke. Fans who had never even heard of the show, the book series or even the characters were suddenly congratulating the fandom for this big scene. Not only does Alec use this opportunity to come out to the entire Institute and his family as gay, but he also decides his own future, by kissing Magnus and revealing his feelings. It's big, it's elaborate, it's shocking and it's perfect - I can't think of a more elaborate romantic scene! And a big shoutout, of course, to the music in this scene - Ruelle's song 'War of Hearts' quickly became the fandom's anthem, and I couldn't love it more!
THE GOOD WIFE, "Closing Arguments", May 17, 2011, Actors: Julianna Margulies, Josh Charles
Giulia:
Alicia and Will kiss and decide to spend the night together (THANK GOD, I should add).
THE OFFICE, "Niagara", October 8, 2009, Actors: John Krasinski, Jenna Fischer and more
Claire:
One of my favorite Pam and Jim scenes from The Office. During their wedding in season 6, Jim tells their family and friends gathered at the rehearsal dinner that he knew that waiting for Pam, he was really just waiting for his wife. The look on Pam's face when she heard this was beautiful and this scene encompasses the core of their relationship; friendship, love, mutual respect and patience. And even though it was in a room full of people, I thought that it was one of the most romantic scenes on tv ever. I think that Jim and Pam will go down in history as one of the great tv romances of all time...
THE VAMPIRE DIARIES, "Heart of Darkness", April 19, 2012, Actors: Nina Dobrev, Ian Somerhalder
Jamie:
Damon & Elena kiss at the motel. This was such a highly anticipated moment. This was back when I was still a huge Delena shipper (it faded around season 5). This was the first moment Elena gave into her feelings for Damon and my favorite Delena moment. It's a shame Jeremy had to interrupt them.
YOU'RE THE WORST, "Other Things You Could Be Doing", December 2, 2015, Actors: Chris Geere, Aya Cash
Luana:
Jimmy stays. After a whole season of Gretchen being depressed and Jimmy not knowing how to deal with it, he's about to leave and he decides to stay with her, this gesture alone is such a surprise to Gretchen that something in her starts to heal a little bit. The show is hilarious but when they decide to go deep it's especially sublime.
3. BEST TV GAME CHANGER SCENE
AGENTS OF SHIELD, "Turn, Turn, Turn", April 8, 2014, Actors: Brett Dalton and more
Jamie:
Ward is Hydra. I can't think of a single moment that shocked me more than this one. I never saw this coming and it completely changed the course of the show. This is the moment that made Agents of SHIELD one of my favorite shows and it hasn't changed since.
ALIAS, "Phase One", January 26, 2003, Actors: Merrin Dungey and more
Giulia:
We find out that Francie has been killed and replaced by a doppelganger.
BUFFY THE VAMPIRE SLAYER, "Innocence", January 20, 1998, Actors: Sarah Michelle Gellar, David Boreanaz
Dahne:
Angel becomes Angelus. I debated this one for a long time, but in the end, I went with the first thing that came to mind. I loved Buffy in the first season, but Angel losing his soul and becoming Angelus turned the show into an obsession for me. Not only did it create an iconic character and one of my favorite TV villains, but it also had a major impact on Buffy, which led to my favorite TV episode of all time, Becoming - Part 2. It's the beginning of taking everything from Buffy in order for her to see that she can find the strength she needs inside of herself. It also completely blindsided me and was the epitome of the "high school is hell" motif that Buffy perfected.
CORONATION STREET, "Episode 9450", May 7, 2018, Actor: Shayne Ward
Samantha:
Aidan Connor killing himself on Coronation Street a few months ago. It's hands down the most powerful moment of television I've watched in years. The episode was wonderfully directed, and by the time that moment came, when Aidan was all alone, crying, having completely given up on himself and the world and knowing exactly what he was going to do next? It had me in floods and absolutely broke my heart. There is a massive stigma around male suicide and Kate Oates the soon to be departing producer got a lot of heat for daring to cover such a storyline in a soap, especially before the watershed. But the storyline has raised a lot of awareness for male suicide and helped bring people together, which was the whole point of doing the storyline.
DOCTOR WHO, "The Day of the Doctor", November 23, 2013 / "Twice Upon a Time", December 25, 2017, Actors: Matt Smith, David Tennant, Peter Capaldi, Jodie Whittaker and more
Justyna:
Once again, there are so many shows I could highlight in this category, probably even more than I can think of at the moment. But reading about all the choices mentioned here made me think of one more - The Doctor(s) saving Gallifrey. The entire 50th anniversary was quite an event for all the fans of the show but this is the moment that changes it all. The painful, unmeasurable loss has been such an important part of the Doctor's life since the show came back in 2005. The story about his planet which he had to burn to save the universe was always mentioned but the details never told to the viewers or the companions. The focus of the story in "The Day of the Doctor" being the last stand of Gallifrey would be powerful enough. But the creators did something I never saw coming, they let the Doctor save it. It was one of the most impossible and the most hopeful things I've seen on TV and I absolutely loved it. It gave the main character a new direction, a new purpose, truly reinvented the story and even showed a glimpse of the next Doctor. Definitely one of the most memorable game changers for me.
Ami:
The Doctor regenerates into a female for the first time. I can't think of a better 'game-changer' scene than this. We knew it was coming, but it was still heart-stopping. I was already a big Jodie Whittaker fan through Broadchurch, so I was ecstatic when I woke up and heard the announcement that she would be the next Doctor. And yet, no matter how much I tried to prepare myself, I still sobbed through the entire episode. But her regeneration? That change and final speech, from Peter Capaldi to her? Doctor Who has given us some great regenerations, but none of them come even close to this one. Having a female Doctor wasn't even a possibility in the past, and now it's our future, and I'm so excited for the next few seasons!
FRINGE, "Letters of Transit", April 20, 2012, Actors: Joshua Jackson, Georgina Haig
Laura B:
Peter recognizes Henrietta - A special season four episode that was the backdoor pilot to season five, is one of my all time favorite episodes of television ever! It was neat to jump ahead in time and not know what happened to any of the main characters and learn how Henrietta fits into the 'Fringe' family, as she and Simon go on a fun journey with Walter to search for the former Fringe team, but I remember having goosebumps not just at the cool future reality somehow dominated by Observers, but when Peter recognizes Etta as his daughter and that then Olivia's her mother, and Walter her grandfather! The way the episode flipped the story with evil Observers and daughter missing her parents was SO COOL!
GAME OF THRONES, "Baelor", June 12, 2011, Actors: Sean Bean and more
Mads:
I gotta go with Game of Thrones, before the Red Wedding we had Ned Stark's death at the very end of season one. Yes, book readers knew it was coming, (maybe) but I'm sure many people didn't expect that the show would actually follow through on it. This was before it became commonplace for shows to kill off main characters, in fact, it was the decapitation heard 'round the world and set a major precedent that has helped shape and define the last several years of television. I don't think it's too bold a claim to state Game of Thrones killing Ned at the end of season one swept in an entire new era for television where more and more shows were willing to take the risk in killing off a lead for the shock of it, for better or for worse.
LOST, "Man of Science, Man of Faith", September 21, 2005 / "Through the Looking Glass", May 23, 2007, Actors: Matthew Fox, Evangeline Lilly, Henry Ian Cusick
DarkUFO:
It's revealed that Desmond is in the Hatch.
Popcultureguy:
We realize that the Jack flashbacks we've been seeing are actually flashforwards as Jack screams at Kate that "we have to go back!"
MAUDE, "Maude's Dilemma: Part 2", November 21, 1972, Actors: Beatrice Arthur and more
Claire:
I think that Norman Lear was one of the biggest game changers in television history; and also a genius. In the 70's with shows like Maude (one of my very favorites), he touched on women's rights, birth control, abortion, divorce, misogyny and more. And this was the 70's! After the rural purge of the late 60's tv, Lear's realistic and timely shows such as All In The Family, Good Times and One Day At A Time were all game changers. But the game changer scene I chose was from Maude, season 1 titled "Maude's Dilemma." At 47, Maude finds herself pregnant and chooses to have an abortion. I can't even imagine the backlash that they faced, but the producers chose to showcase this issue with care, concern and thoughtfulness. The episode aired in 1972, the same year Roe v. Wade was passed and now 46 years later...
PERSON OF INTEREST, "God Mode", May 9, 2013, Actors: Jim Caviezel, Michael Emerson, Amy Acker and more
Abi:
God Mode. There are so many moments from Person Of Interest that could easily be counted here; the introduction of Samaritan, the 'death' of Shaw, the death of Carter, so many moments, but the one that sticks with me is one of the first major twists we saw. In the season two finale we see 'God Mode' activated. The Machine guiding Team Machine in the defeat of Decima operatives by directing their shots and also by giving them details of escape routes and so forth. It's one of the major moments that still stands out for me and is a recurring theme from there on until the end of the series.
SHARP OBJECTS, "Milk", August 26, 2018, Actors: Amy Adams, Eliza Scanlen
Eve:
As this is a recent one it came to mind immediately. Camille finding the teeth in the dollhouse. I hadn't read the books so this was a real WTF moment for me.
SONS OF ANARCHY, "A Mother's Work", December 10, 2013, Actors: Katey Sagal, Maggie Siff
Beth:
Gemma kills Tara with a meat fork. Their dynamic was always one of the most interesting on the show and Sutter foreshadowed several times that Gemma would be the death of Tara, I just never thought he'd actually go there. It changed everything and doomed several characters going into the final season. I was immobile for 15 minutes after the credits rolled processing what I just saw.
SUPERGIRL, "Human for a Day", December 7, 2015, Actors: David Harewood and more
DJRiter:
Hank Henshaw reveals himself to be Martian Manhunter, J'onn J'onzz. At that moment Hank Henshaw grew from potential villain into hero. The moment in the season one episode between David Harewood and Chyler Leigh remains high on my list of all time favorite moments of the series and in my opinion marked the birth of one of the foundations of the show, the "space family" relationship between Hank, Alex and Kara.
THE GOOD PLACE, "Michael's Gambit", January 19, 2017, Actors: Kristen Bell, Ted Danson and more
Joey:
Eleanor figures it all out. I still get goosebumps when I remember this moment. The show already impressed me by being a comedy with a tight story and weekly cliffhanger, but the masterful reveal that they are actually in the bad place blew me away and cemented my respect and adoration for this show.
Klutzy girl:
The Good Place revealing that the characters are actually in the Bad Place will forever be an amazing revelation. In hindsight, it was obvious, but at the time it was a shocking reveal that changed the course of the show.
THE VAMPIRE DIARIES, "Founder's Day", May 13, 2010, Actors: Nina Dobrev, David Anders
Marko:
Katherine revealed to be alive and trying to kill John. "Hello John! Bye John!" Katherine Pierce was a Queen from the minute she put her heel down in Mystic Falls and Nina Dobrev's shift in personality was nothing less than brilliant.
THIS IS US, "Pilot", September 20, 2016, Actors: Milo Ventimiglia, Mandy Moore, Sterling K. Brown and more
Luana:
The timeline reveal from the Pilot. As far as shocking reveals go, you would not expect this one to be one of the most effective and earth-shattering in the last few years, but it completely changed the nature of the show, the focus. It was brilliantly executed and it was the first taste of what would become must-watch TV, a new kind of storytelling in a landscape filled with reboots and revivals that was a welcome breath of fresh air for many.
TWIN PEAKS, "Part 8 / Gotta Light?", June 25, 2017, Actors: Kyle MacLachlan and more
Milo:
The bomb is dropped. This whole episode was a game-changer for me, and that scene stood out as a highlight. Gotta Light was a tour-de-force, a unique beast that could only come from the mind of David Lynch himself as we traced back the route of evil to the launch of the bomb in a way that was gloriously directed with some excellent cinematography. Out of most of the television scenes from the last few years it's this one - or more specifically, the whole episode, that has stuck with me the most - and it's a perfect moment from a near-perfect series.
WESTWORLD, "Trompe L'Oeil", November 13, 2016, Actors: Jeffrey Wright, Anthony Hopkins and more
Jennise:
Bernard is NOT human. The reveal that Bernard was not human completely blew my mind. I wasn't following spoilers on the web. I didn't suspect until the show began laying out the evidence. Definitely a game changer for me.