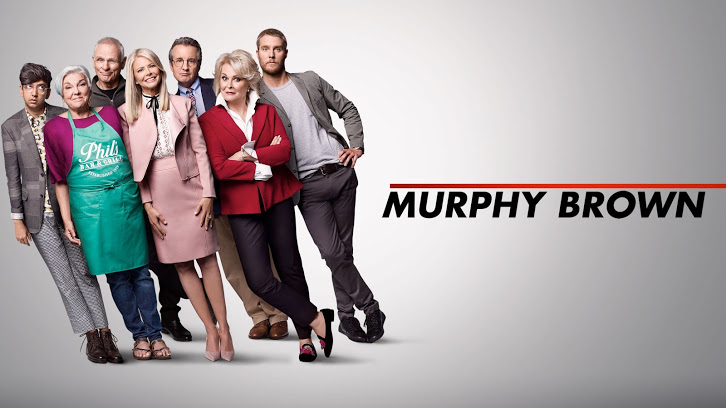 The premiere episode, written by the incomparable Diane English and directed by Pamela Fryman, premieres Thursday, September 27 at 9:30/8:30c on CBS. Starring Candice Bergen, Faith Ford, Joe Regalbuto, Grant Shaud and Tyne Daly.

Season 11 picks up on November 8, 2016. It doesn't even feel as if twenty years have passed...

Two words: Love it! It isn't perfect, but it's pretty close. The writing is tight and hilarious. The actors fall seamlessly back into their characters and Murphy's liberal, idealistic journalist son, Avery, played by Jake McDorman is a terrific addition. He and Bergen have a nice, comfortable chemistry.

We need Murphy during these chaotic political times. She agrees and Murphy, tiring of yelling at the tv, decides it would be best to yell from inside the tv. They gather the old gang to produce a morning show, Murphy In The Morning, that competes with Avery's new show on the WOLF network.

The funniest part is trying to convince a broken Miles to join the team. Mile's breakdowns were and still are some of the funniest parts of Murphy Brown. Miles was always my favorite and Grant Shaud such an underappreciated talent.

Though Murphy's first show quickly devolves into an ugly, on-air Twitter fight, you just know that "old Murphy" will always come out a winner.
My one problem with the show is the character of Pat. He needs more development. Some of my younger co-workers were offended at this portrayal of someone of their generation. He does come off as a one-dimensional, stereotypical trope.

Phyllis (Tyne Daly) is running her brother Phil's ubiquitous D.C. bar and the set for the bar and for Murphy's townhouse are almost identical to the originals. Frank is still chasing the ladies, Corky is entering a new phase of life, Murphy is preparing a fight to bring respect back to the journalistic profession and Miles will be just fine, eventually...

There is a sweet nod to the much missed Robert Pastorelli's Eldin.

I've missed the gang and most especially Diane English and her profound writing talent.

Heads up: there is a MAJOR guest star in this first episode whose identity they wouldn't even reveal to us, the media...
.
"Old" Murphy is back and I can't wait to see what she does next.

Favorite quotes: Two years on The View nearly killed me. Everyday was like an episode of Game Of Thrones!"

"Just think before you tweet, shows have been cancelled for less!"

"They've got a voice and it's orange and lives in the Oval Office and is Facebook friends with Putin!"

"Miles, I know you live at The Watergate, but is one of the requirements that you have to look like Nixon during his final days?"

Watch out for the team's on-air interview with the newly appointed EPA Director! I laugh just thinking about it.
I've read that a few of the actors from the show have deleted their social media accounts ahead of the premiere. From what I've seen, that is NOT a bad idea. Murphy and the gang are back and ready to fight...