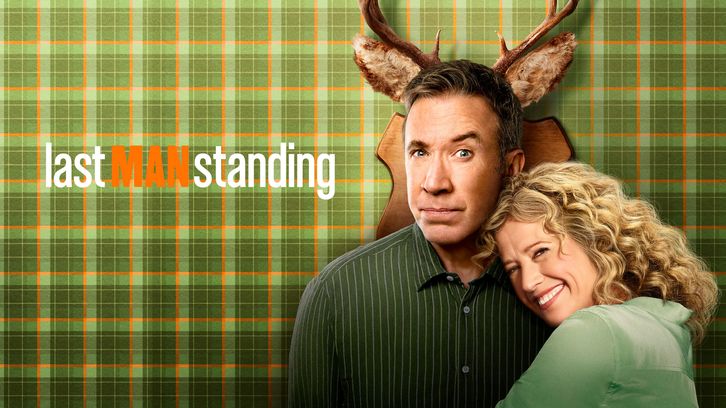 Written by Jack Burditt and Kevin Abbott and directed by John Pasquin. Season 7 of Last Man Standing premieres on Friday, September 28 at 8pm on FOX, with a previous release on Twitter.

Starring Tim Allen, Nancy Travis and the fabulous Hector Elizondo.

The season opens with the Baxter family welcoming youngest daughter, Eve, home from the Air Force Academy.

Most of the original gang is back with the exception of newcomers Jet Jurgensmeyer as grandson Boyd and Molly McCook as middle daughter Mandy. Let's just say, I miss the original Mandy...

Chuck, Ed and Kyle(Mandy's husband) are back, working at Ed's Outdoor Man. Sadly, Kyle seems to have lost some of his lovable exuberance. And the running joke of him trying to figure out what is 'different' about Mandy simply isn't funny...

Kaitlin Dever's youngest daughter Eve will only be a recurring character and for this I am grateful. Though, she was previously one of my favorite characters, her nasty demeanor is just a little too much for me this time around.

Most of the episode revolves around the family's differing views on our current political times and crises. And Tim and Boyd are building a cool, new dirt bike and not a birdhouse...

I was looking forward to this revival after its impromptu one year hiatus. I loved how Tim Allen's Mike and Nancy Travis's Vanessa were different on every level; especially their political views, but they made it work. Above all for them, family came first.

It's not really working for me this time. They are knocking the viewer over the head with all of the: "when are you people just going to accept the fact that he won and the election is over?" They are trying too hard.

And the ongoing, running jokes about tv shows being cancelled and picked up by other networks was funny the first time, but I stopped counting after ten of these jokes.

I did love Mike's interaction with his liberal and completely devastated son-in-law, Ryan (oldest daughter Kristen's husband.) Trying to console him about the election: "politics and politicians are always changing" was nice, but it quickly devolved into a tasteless joke about President Obama. Almost, Tim, almost...

When Boyd goes missing, the family comes together to find him. They realize that they can't let politics rip them apart. "Conflict is okay as long as we don't turn mean on each other." What a nice sentiment...

I'm hoping that this will be the last episode with such a deluge of trumpism. Hopefully, they are only trying to prove a point about how the current political climate is causing major rifts in families and friendships; a cautious tale.

Loved Mike telling Ryan to turn off the tv! This is good advice and what I felt like doing as I watched this episode.

Least favorite quotes: "Ryan can't take Boyd to Canada, they'll be separated at the border." Ugh...

"Love this new and improved America!"

Favorite quote: "Ryan won't move the family to Canada, everyone threatens that these days." "But, Mike, he's Canadian!"

It ends with Mike, hoping to convince Ryan not to take his family to his home country of Canada, handing Ryan an application for American citizenship. Isn't the trump administration limiting all new immigration, though?

Also, thought the whole early release 'thing' on Twitter was weird, maybe looking for a little presidential approval???

I am optimistic that the show will find its way back to what it used to be and maybe just needs a little time. Just a suggestion: not too left, not too right, but somewhere in he middle. If not, this is going to be a long season for me...