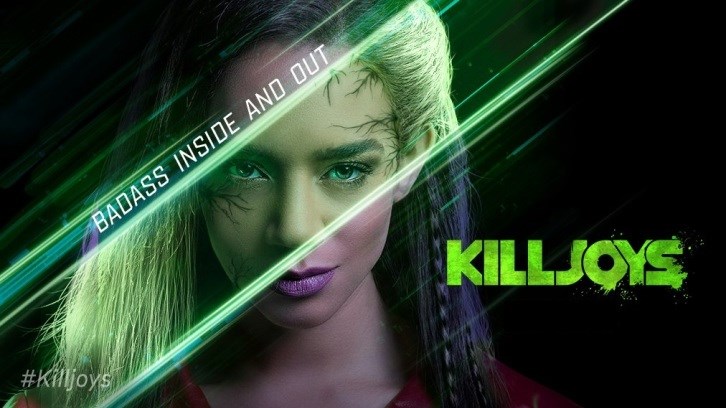 Killjoys
"The Kids Are Alright" was written by Julian Doucet and was directed by Stefan Pleszczynski. John (Aaron Ashmore) has misgivings. There's a great "pillow-fight." Somebody loses someone close to them. All the kids aren't alright…
Look for another awkward family reunion – and one happy one. Delle Seyah (Mayko Nguyen) proves surprisingly useful. There's another mention of Pawter. There's a super fun meta-moment.
Time is running out for Aneela (Hannah John-Kamen). John is not happy with Dutch and D'Av (Luke Macfarlane). Turin (Patrick Garrow) makes sure Awesome Team don't get swollen heads. John has some fun at Fancy's (Sean Beak) expense.
Zeph (Kelly McCormack) stands up for Pip (Atticus Mitchell). Dutch has a mission for Pip and Zeph that takes them to Eulogy to see Fairuza (Anna Hopkins). Pip wants to talk, but Zeph doesn't, but we still learn some interesting things about her origins. Pip does something that Zeph doesn't like.
D'av and Dutch head to Leith. They need costumes and both have new hairdos. There's a quick wardrobe change. John does something dangerous. Fancy and D'Av make a bet. Zeph is furious with Dutch.
Don't forget to tune in to
Syfy, Friday at 10/9c!
There's only one episode left and things are really heating up!
Here are lots of dialogue teasers….
Like snot-bubble hard.
Perhaps pirates, scavengers…
You're goddamn late.
You have a heart now. That's new.
I'm your guy.
I hate hippies.
I'll put both of you in a corner.
How is this even science.
Can't lie for shit and gullible as mittens.
That wasn't very sportsmanlike.
Heroes gotta hero, right?
Even shadow symbols are stories.
These robes are so… breezey.
The Hullen took our homes, but not our goddamn hearts.
He may be big but he's made of marshmallow.
Right through the heart, Papa Bear.
Are rooms here by the hour?
It's hard when a younger, cuter model comes along.
I will kick you in the box.
Sequels are the best.