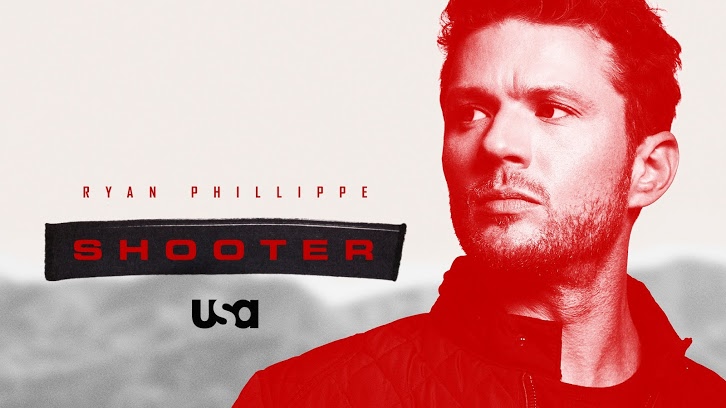 First of all, I'd like to point out a major flaw in my perception during my previous review. Despite the several times I missed the episode, I somehow missed that Red Bama, Jr. was, in fact, murdered by his father. Oops. I was fully expecting him to show up in the Alpha Boys house at some point, but I was so very wrong. Unless, hear me out, he only dug the grave to make Atlas think he killed Jr., and he's actually out there in hiding somewhere. Maybe? Nah, probably not. Oh well, onto our refresher before the new episode.

Character Catch-Up

Bob Lee and Julie: They were forced to deal with aftermath of Sam's attack, as well as his ensuing death. Along the way, Bob Lee was able to discover the tape the Bamas had been after the whole time, which ended up being a full confession by Earl Swagger.

Nadine, Carlita, and Harris: They attempted to blackmail Gold, quite unsuccessfully. Also, Carlita made a deal to get herself off the Atlas kill list in exchange for handing over the card they stole from Titan.


Debriefing

Alpha Dog
Fresh off of Sam's death, Bob Lee is on a mission to track down Red Bama, Jr. Julie attempts to turn his focus to Sam's funeral, but he departs anyway and vows to track Bama down and be back in time for Sam's funeral. This isn't looking too viable, though, as he needs to go to a white nationalist organization in DC. When Julie sees he's leaving, she calls him out on all of his nonsense, but he's in mission mode and cannot be swayed. In DC, he meets up with what I'll now call Team Memphis to stock up on some supplies. They also try to get him to slow down, but more so because they want to try to get information from these white nationalists, the Alpha Boys. He also does not listen to them and continues down his path. He gets a tour of the Alpha headquarters while being given the runaround regarding Bama Jr's whereabouts. He gets coerced into fighting a jacked fellow with the promise that he can fight Jr if wins, but after his obvious victory (despite some foul play), Jr is nowhere to be found. When he confronts the leader, he is hooded and taken to a room where he is later greeted by Red Bama, Sr., who informs him that he's already killed his son, so Bob Lee's search is for nothing. Bob Lee is then tortured for a while as Bama asks who else knows about the explosives he found in the house earlier. Before he can be killed, however, Nadine and Isaac show up with the FBI to raid the house and save him. After he's fixed up at the hospital, he calls Julie to tell her he won't make the funeral, but he'll be home as soon possible. Julie, however, tells him not to return until he's sure he won't leave again. This was heavily influenced by her sister's strong push to make a change "for Mary". I still don't trust her at all. She's pushing to get rid of Bob Lee way too hard. Maybe just an overly concerned sister? Who's to say when it comes to Atlas?
Team Memphis spends their time trying to figure out how to use the information gleaned from Earl Swagger's tape. While most of them plan, Carlita meets with her Atlas contact to give a status update on when she'll be handing over the card to get herself off the kill list. If she doesn't get it soon, though, she'll certainly be killed. Nadine and Isaac later set up a meeting with the President's Chief of Staff, Gold, and leave Carlita and Harris at the hideout, during which time Carlita drugs Harris and steals the card. Oh no! At the meeting, Gold is shown Earl's video before Nadine and Isaac demand he remove Brooks as a candidate, but he instead runs away to leave them to the attack he's set up. It doesn't work, though, and Isaac catches Gold and murders him. To avoid a murder investigation, Atlas makes Gold's death look like a suicide. They then receive Bob Lee's picture of the explosives and are able to convince Margo to send a team with them to the compound. As they discuss the fact that no explosives were found in the house and aren't concerned at all that they haven't seen or heard from Carlita and Harris, Carlita meets up with her man and hands over the card, who agrees to take her to Russo, a man she's been wanting to see for some time now.
Orientation Day
Bob Lee, Nadine, and Isaac return to their hideout and Bob Lee becomes to first person to audibly express concern, or at least mild interest, in Harris's absence. They find his phone still on a desk and Isaac sprints to get the card, only to discover it's missing. Isaac assumes Harris is in on the job, but Bob Lee follows some beeping to a room Harris has been locked in, along with a beeping GPS device. They debate whether the tracker will lead to a trap, and it's decided that Bob Lee and Isaac will follow the signal while Nadine and Harris stay and work on Brooks. Nadine stumbles upon Brooks's next public appearance and purchases every ticket so that she and Harris can privately meet with Brooks. They confront him about Atlas and it seems as though he hasn't been involved with them since the Phoenix days. They attempt to convince him he's being used as a pawn by Atlas and tell him to step down from running for Chief Justice, showing him Earl's video when he hesitates a bit, threatening to leak it if he refuses. They later learn of bill being voted on that would make all Atlas documents open to the public and the votes are currently split down the middle, meaning Atlas is trying to use Brooks to break the vote and turn it down.
Meanwhile, Carlita is taken back to the Atlas training facility where we are treated to flashbacks of her time in training and given a glimpse into the would-be romantic relationship between her and the man she's been dealing with, John Wheeler. We even get to see that she knew our old pal Jack Payne, who seems like he was always just not great. As Carlita sits down to chat with Russo, they are informed that Bob Lee and Isaac have been spotted in the vicinity, which Carlita claims is a gift she brought with her. The boys are eventually apprehended and placed in separate rooms. Bob Lee is treated to various sound bites from his family, which is made possible by numerous listening devices Julie discovers throughout the house, the first of which she finds in Mary's teddy bear. As Julie locates all of the devices and decides she and her sister need to leave with Mary, Bob Lee is subjected to some mind games by Russo. Russo tries to convince him to kill Isaac for everything he's done and gives him the gun to do so, but Bob Lee predictably turns to gun on Russo and, predictably, fires blanks at him. Russo then laughs and says, "If it ain't loaded, it ain't lethal, right?" How does he know that phrase?! How dare he! Bob Lee knocks him out and starts fighting his way through the facility as Isaac confronts his demons as he is forced to look at a board detailing all the things he's done in his life. While Carlita sits waiting for Russo, John opens the door to let her out, but refuses to go with her on her mission. He loves her, but not enough to completely betray Atlas. Only a minor betrayal. She ends up running into Bob Lee and is able to convince him that betraying Atlas truly was her agenda the whole time. She sets a timer on some bombs she's placed throughout the entire compound and loads up some real ammo before they set off to confront Russo. They drop in on the room he's speaking with Isaac in and restrain him. She gives Bob Lee the key around Russo's neck and tells him that's what he wants, and he gives her the loaded gun as he and Isaac head out. She conveys that she's upset with Russo because he put her on the kill list after she'd done everything asked of her, then shoots him in the head midway through him telling her she won't kill him. He was very wrong. Bob Lee and Isaac use the key to find hard files on Atlas, including a tape recording that proves Brooks is the one who murdered Earl Swagger. As we see John planning something insidious with a school bus, our gang watches Brooks announce on TV that he's still running and that there have been attempts to blackmail him that should not be taken seriously. Bob Lee then vows to kill him.
Outcome
I. DON'T. TRUST. JULIE'S. SISTER. I can't say that enough. Those listening devices were certainly in that house before Sam's funeral, and nobody else could have been so thorough in the placement of the devices. Sure, somebody could have broken in and planted them, but it's much more likely her sister just casually placed them while she's been living in the house. She's also way too adamant about Julie getting rid of Bob Lee and is only slightly understanding of Julie's feelings. Also, Atlas got a man to straight up murder his son, I have no doubt they can turn someone's sister.
All that said, I'm very excited for these last batch of episodes (ever). These two episodes did a fantastic job of building the momentum and it should be fun to see what Julie's life on the road with Mary and the probable devil will be like. I just hope they'll be able to leave us off on a satisfying ending. Hopefully they didn't have a giant cliffhanger planned. With just three more chapters left in our tale, I hope you're as geared up for tonight's episode as I am. Here's to another exciting chapter!
Was Carlita able to win you over? How do you feel about her and John's relationship? Can somebody please just agree with me that Julie's sister is actually an Atlas demon? Sound off in the comments below!