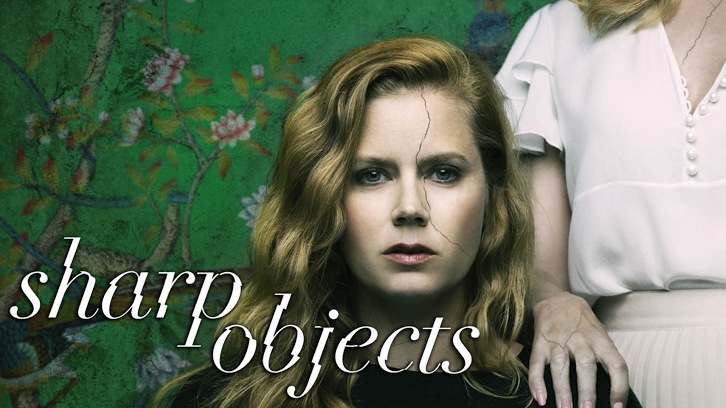 "Time to drop the illusion."
"What illusion?"
"That anything can be okay."
After her night out with Amma, Camille dreams about the dollhouse and wakes up hungover, with some bruises from the night before and in a nightgown that suggests her mother undressed her while she was asleep. It appears the story Amma told their mother is that Camille fell trying to protect Amma from the steps out front. Adora insists on taking care of them both but Camille refuses, Amma, on the other hand, says she likes getting wasted because then her mom takes care of her and feels she does something nice for her mom too, but Camille tells her not to play along. In the background, Marian's ghost is lurking around every corner, worried about her big sister.


"You can never be as good as someone dead."
Willis is still on his mission to find out what happened in Camille's past and he finds a nurse that took care of Marian when she was sick, nurse Beverly says Marian had been passed around to different doctors and everyone had a different opinion about her illness, she says she complained and it cost her her job, she tells him the diagnosis was Munchhausen's by Proxy Syndrome, but not Marian's, Adora's, meaning she needs to make someone else sick, to be the one to care for them and save them, to be seen as a hero. Back at the house, Amma says she doesn't want her mother's medicine, that she's not really sick, and Adora says Camille is a bad influence and she manipulates her by saying if she doesn't need her medicine maybe she doesn't need her at all and starts tearing apart her dollhouse until Amma caves and goes to bed, to get her medicine. It's disgusting and it feels especially creepy after learning what happened to Marian.


"It hurts me that you don't trust me to do the best for you."
The investigation seems to be zooming in on John Keene and there's a warrant out for his arrest but he appears to be missing. Camille having seen him drinking often asks around for a bar that's not as popular as the one they normally use and indeed she finds him there, drowning his sorrows, getting ready for his life to be over. He welcomes the company, he's devastated but trying to remain lighthearted, he says in a superfluously joking way that he doesn't have anywhere else to go other than to the woods to go kill himself. He feels so defeated that he's considering using what he knows of the case to make up his confession just so it will all be over, he says the story that a brother misses his little sister so much that he wants to die is just boring, so why not make up something else. Camille is now seemingly convinced of his innocence and learns a new detail from him, apparently, someone painted Natalie's fingernails because she would've never done it herself.


She feels for him and wants to keep him company, maybe to stop him from doing something stupid, so when he says he wants to turn himself in, she says he shouldn't be drunk when he's interrogated because they'll eat him alive so they go to a motel to wait until he sobers up. Their chemistry increases being drunk and so close together, he says he saw one of her scars before and he asks to see them all, she's reluctant at first but she seems tired of hiding, in the book she realizes she doesn't need to hide from someone courting oblivion as ardently as she was. He reassures her and starts undressing her, he reads the words on her skin one by one and she feels uncomfortable, too vulnerable, but then he kisses them and hugs her, like he can't believe he found someone as broken as him. Then she's touched for the first time in fourteen years and though he is very young there is something about these two misfits that just clicks.


"You read me."
Then they talk a little after, he says Natalie used to bite people and that everyone stayed away, except Adora, he says she never gave up on broken girls, which sounds ironic given how Camille feels she gave up on her. At that moment, Vickery and Willis kick in the door, and it's awkward as hell. Richard is disappointed and she can't stand it, she begs him not to hate her but he says he doesn't think she's bad, only that one bad thing happened to her and she blamed all her shitty life on it; which is a little unfair, one bad thing, one accident is not the same as being raised by someone who can chip away at you, every day a little bit more, make you feel worthless. In his defense, he can't really know the extent of it all, Camille immediately goes in autopilot trying to get a boy to like her again by sucking him off but he pushes her away, he calls her a drunken slut and he leaves, but at least he leaves her Marian's file so she can learn the truth.


The file was full of information requests from Jackie who was trying to find out what happened to Marian, so she goes to her, to find out what it was she wanted to know. Jackie says she felt something was off when Adora cremated Marian's body, she says deep down she knew Adora was making Marian sick but she thought no one would believe her so she stayed silent, which is really no good excuse at all. Suddenly images start running through Camille's mind, a memory of her mother biting a little baby, an image of Adora in a white dress in the woods. Horrified she runs off, she calls Curry desperately trying to tell him what's on her mind but he can't understand, he only gets that she's distressed so he tells her to come home but she says she has to fix it first. Back at the house Amma is looking worse and asks her mom why she wants her to stay little and be like Marian, and Adora has such a villainous expression that it's honestly hard to watch. So, by the end of the episode, we're left with Camille going to the house hopefully in time to stop Adora.


"I need to take care of it."

What did you think about the episode? What do you think will happen next? Let me know in the comments.