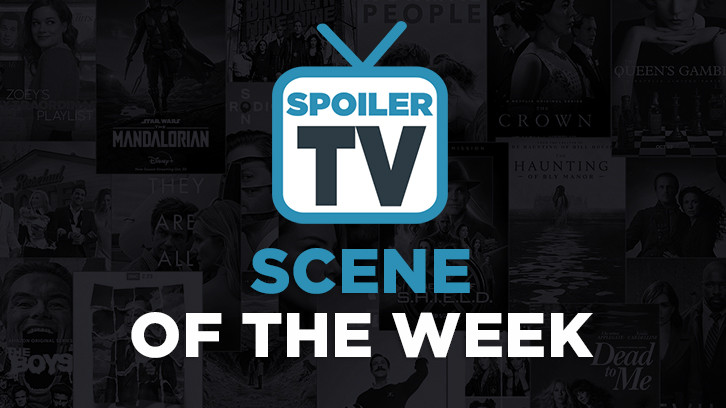 A weekly feature in which we're trying to find the most compelling, best acted, written, directed and just generally great, memorable scenes that we've seen in past seven days on TV.

BETTER CALL SAUL, "Something Beautiful", August 20, 2018, Actors: Michael Mando, Rhea Seehorn, Bob Odenkirk and more, The Scenes: Nacho's surgery montage & Kim approaches Jimmy about what Chuck left for him
Laura B: Michael Mando doesn't get enough credit for playing such a relatable, emotionally empathetic young man stuck in the midst of drug cartels, but Better Call Saul has yet to get really gruesome the way I presume Breaking Bad more often did and this is the first time 'Saul' showcases excruciating gang violence on such seriously emotional level. But just the way these scenes were filmed from the van to carrying Nacho to the makeshift surgery room and watching the vet work, was intense and added a more horrific cloud hanging over the show, especially when contrasted to hummel espionage adventure scenes. It feels almost inevitable that Nacho won't make it out of the season alive, which I could easily understand, despite that I wish no one had to die, and especially if Kim lives, but at the same time I worry, because it would be more devastating the other way around and I feel like somebody will have to die for the stakes to feel real and for this transformation into Saul Goodman to be more complete.
Shirleena: Kim approaches Jimmy about what Chuck left for him in the will. Jimmy signs the agreement letter that he won't contest the will, and so he will get the five thousand dollars. Chuck also left Jimmy a personal letter. The letter was lovely, Chuck told Jimmy how proud he was of him and was happy that Jimmy found a place in the world. Jimmy read the letter like he was reading the sports page out loud to Kim, instead the last words of his brother. That broke Kim's heart and left her in tears.

CASTLE ROCK, "The Queen", August 22, 2018, Actors: Sissy Spacek, Scott Glenn and more, The Scenes: Ruth accidentally shoots Alan & Montage of Ruth reliving her past memories
Nirat: There are so many things I want to say. Words like a masterpiece and unforgettable come to mind. This truly was a canvas for the sheer talent of Sissy Spacek and the ways in which brilliant writing, music, and direction for television come together. If this episode and Sissy Spacek, in particular, aren't recognized by the Emmys (and all awards in general) then they aren't worth watching. This is why we watch TV, to feel moved, to be shaken to our core, this episode did this more times than I can even mention here. Sissy Spacek shined in every single scene. Not once was there a moment when I wasn't in awe of her. Vocally, I marveled in the way she uttered words, be it sweet whenever she was in the past with Henry or terrified during that great scene with Molly in the present or that frightful scene in the woods with Matthew Deaver, she uttered every word with conviction. It made you connect with Ruth on a deeper level and what a joy it was to just hear such passion in a performance. Physically, Sissy's facial expressions stole the show. When past Ruth smiles lovingly at herself whilst reading with younger Henry, a passing reminder that things were once good, or laughs with such happiness in that moment of pure bliss with Alan we are reminded how much a smile can capture an audience. We so rarely see a love story with older characters, ones where they are genuinely happy too! So having those Alan & Ruth scenes were just lovely. Watching Ruth watch herself pack her bags and undo them was heartbreaking (especially knowing she was trapped in an emotionally abusive marriage). The shots of Ruth realizing there were no bullets in the safe or just being terrified in the hallways were soul-crushing. Her face crumbling in fear/pain in multiple shots were one of many award-worthy aspects. The direction and music throughout this episode were so complimentary to the performance. The way the music could be sweet and somber adding value to a scene whilst slowly shifting spookier, to something very unsettling was phenomenal. Ruth pushing past her former life encounters in such a tight space, evoking claustrophobia, coupled with that use of sound was masterful. So unnerving and disturbing, it really made you glad when she shut the door and was free, for a while at least. Ruth moving from past to future, whether it was just a camera shot of the hallway light becoming sunlight and then switching to the woods or having Ruth exit from sheriff's office seamlessly into the kitchen were little details that made the episode so splendid on a production/editing and directional standpoint. Every single time Ruth went into her closet I was so afraid The Kid would come and get her and it's because, again, of incredible acting and transcendent music/camera work. There are so many treasures throughout this episode of the past informing the future, moments in which we see that add substance to the characters we already know. The ones with Alan are particularly lovely, knowing he was such a good man, wanting to take care of not only Ruth but also Henry was so honorable, despite the circumstances, and seeing that pay off in the final scene with time wearing down his body but not his heart was nothing short of exceptional. Scott Glenn has been amazing in this role, along with Sissy Spacek and together they were truly a divine pairing. "See I can get lost in the past, these are my breadcrumbs, if I find a chess piece in the icebox, well, I know it's now, not then, and I can find my way out of the woods", this piece of dialogue was evoked with such purpose, yet again, another showcase of stellar talent. It essentially was the finest narrative device to highlight how Ruth coped with her dementia, which is so clever when you think about the meaning of chess, itself a game, and in some ways, trying to live with your mind is a game. Nothing is ever easy and it makes you fight to win, to function. The way in which dementia was depicted throughout this episode was nothing short of extraordinary. To see it in all its horror and how difficult it is to live with was something else. It was conveyed so respectfully. I feared many times that those chess pieces would be manipulated by a certain kid and therefore to terrorize Ruth but the real devastation was that it was no-one but her own mind, and in many ways, that was far disturbing. Especially with how things ended with Alan, of which I didn't expect, I thought it might've been Wendell since she sent him away and I kept thinking he'd return and be caught in the crossfire. The final shot where Ruth rests her head on Alan's chest as he holds her saying, "I'm not going anywhere", was so emotional and made all the more powerful as the shot shifts to the background and in the foreground, two chess pieces become our sole focus. A king and queen, one fallen, one still standing, a powerful metaphor for the tragic outcome of this devastatingly remarkable episode. What a brilliant way to close the episode. This will go down as one of my most favorite pieces of television, very rarely does something have such an effect on you, and very rarely does it linger in your mind afterward, The Queen was this.
Laura B: Ruth accidentally shoots Alan. Sissy Spacek has been making a huge comeback these past few years and it's so evident with this Emmy-worthy performance that she should be in high demand! I loved the way the whole episode was filmed and I could have chosen any scene including the chess piece montage that felt like she was traveling in time and with the deep red color of the chess pieces no doubt pointing again to The Dark Tower and Crimson King, but for me it was the result of this head-spinning state of existence that made it so tragically compelling, as Alan was "the one" on so many levels. Who knows what will happen now?!
Milo: If Sissy Spacek doesn't get Emmy recognition next year, it'll be a serious oversight. She was incredible and it feels harsh that we can't nominate the whole episode for her scene of the week.
DarkUFO: Montage of Ruth placing her chess pieces around the house and reliving in her past memories.

FEAR THE WALKING DEAD, "Close Your Eyes", August 19, 2018, Actors: Alycia Debnam-Carey, Alexa Nisenson, The Scenes: Charlie begs Alicia to kill her & Alicia and Charlie eat dinner
Sam: Charlie begs Alicia to kill her. This was a well-acted scene by both Alycia Debnam-Carey and Alexa Nisenson. Charlie's so scared of becoming a walker she just wants Alicia to kill her, and it's a weight put on Alicia's shoulders that's too much to carry. She struggles with her hatred of Charlie, wanting to be someone her family would be proud of, and putting Charlie out of her misery. The way she breaks down after she imagines her family is heartbreaking and the fact that she can't kill Charlie leaves them both in such a sad place.
DarkUFO: Alicia and Charlie eat dinner, and Charlie asks Alicia about her past.

KILLJOYS, "Baby, Face Killer", August 24, 2018, Actors: Luke Macfarlane, Jaeden Noel, The Scene: Jaq chooses his name
Justyna: It's been quite an emotional season for D'avin so far. While looking for missing Dutch, he almost lost his little brother, only to be faced with an impossible choice and forced to deal with Hullen Johnny as a consequence. Just when things could have gone back to "normal", he suddenly became a father to a child unlike any other. In a matter of two days, the child became a teenager and D'avin never had a chance to take a moment to step back and learn how to be a good father. So he's spent the entire hour trying to carefully approach this new member of the family, doing his best to protect him and help him find himself in their insane world. As worried as he was to say the wrong thing, he managed to connect with the kid and when the time came he told him exactly what Jaq needed to hear. Jaq: "Is there something wrong with me? ... what am I?" D'avin: "You're my son." Just like that, he made a scared teenager feel safe and not alone. For the first time, Jaq felt like he did belong somewhere after all. So he chooses a new name for himself - Jaqobis, just like his dad, who's been there for him all along. It was a lovely and heartwarming moment. D'avin was always protective when it comes to his family but I really loved watching him taking care of Jaq during the hour, even when it meant confronting Dutch. Great work by Luke Macfarlane and Jaeden Noel. Kudos!

PREACHER, "Schwanzkopf", August 19, 2018, Actors: Dominic Cooper, Jonny Coyne, The Scene: Jesse vs. The Allfather
Milo: There were many excellent scenes in this week's Preacher but my vote has to go to this showdown between Jesse and The Allfather, which happened so quickly that it felt so surprising to see him taken out of the game in the cold open. But Preacher has more than enough villains to keep the show busy, and seeing The Allfather destroyed by Genesis and Jesse reclaiming what had been kept from him for so long after all this time was a satisfying and memorable start indeed.

SALVATION, "The Manchurian Candidate", August 20, 2018, Actors: John Noble, Jennifer Finnigan, The Scene: Nicholas threatens Grace's daughter
DJRiter: The magnificent John Noble returns to Salvation as Darius' Uncle Nicholas. He's as brilliant as his nephew, but infinitely more dangerous. It's revealed he's one of the leaders of Q17, a group of rich and powerful people who orchestrated the assassination of President Mackenzie, among other things. But, he was never more menacing than at the party Darius throws to flush him and his group out. In a private conversation with Grace, he oozes charm and sophistication as only Noble can do, while smiling a slick, deadly smile he begins to tell her things about her daughter he shouldn't know. The evil radiated off of him as he seemed to delight in tormenting her and slyly threatening her daughter. Finnigan's stunned reaction was perfect and you see her go into protective mother mode. The entire exchange gave you chills.

SHARP OBJECTS, "Falling", August 19, 2018, Actors: Amy Adams, Miguel Sandoval
The Scene: Camille finds out what happened to Marian
Luana: Amy Adams' performance is mesmerizing, she's devastated, trying to explain to Curry what she has learned but she can barely speak, things are ramping up and this promises one thrilling last hour to come.

THE AFFAIR, "410", August 19, 2018, Actors: Joshua Jackson, Mare Winningham
The Scene: Cole's mother comforts him at the cemetery (picked by Luana)

THE SINNER, "Part IV", August 22, 2018, Actors: Carrie Coon, Bill Pullman, The Scene: Vera gives Harry a "session"
Laura B: Vera begins to initiate a traumatic ritual practice on Detective Ambrose. The scene was so delicious, as Carrie Coon's and Bill Pullman's characters continue to play cat and mouse, trying to size each other up, but ultimately after Ambrose being left alone in the woods and seemingly Vera having some information about this relating to Ambrose's childhood, Vera carefully, but meticulously, creeps in and gets under Ambrose's skin, as she questions him and begins to nearly cup his heart close to his chest, while using some kind of device similar to a metronome. Then Ambrose loses time and wakes up in room where this murder case all started.
DarkUFO: Vera gives Harry a "session".