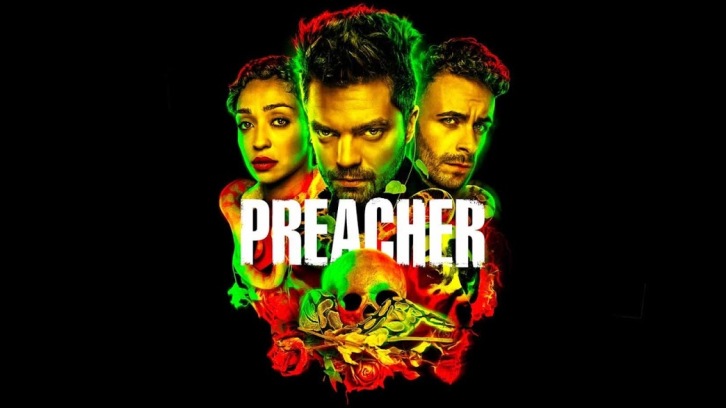 Preacher 3.08 "The Tom/Brady":
Directed by Wayne Yip & Written by Mary Laws & Kevin Rosen


Preacher
, the show upped the ante for a solid hour of entertainment. Of course, Jesse and Herr Starr's planned coup was never going to work, and despite a rather entertaining elevator brawl that saw Jesse unleash hell against the disposable Grail operatives only to shoot The Allfather in the stomach rather than the head, causing a mere flesh wound that he didn't seem to be impacted by at all. I did like the novelty touch of the elevator leading to different floors that weren't part of The Grail's organization, and it allowed for an unexpected moment of humour once a perfectly ordinary worker was trying to get on board. If that scene greeted me when I was waiting for a lift, I'd probably take the next one too. But at the end of the day, Jesse is now in huge trouble as he needs to come up with a way to escape before Genesis is taken from him.
It seems like The Grail has come up with a way of creating a disposable line of Humperdoos and now they are sending one after another into a room where they have created a machine to extract Genesis from Jesse. In a rather crude way, the place for the other half of Jesse's soul that The Allfather deems to be safe is up his own ass, something that Jesse is decidedly uncomfortable with getting it out of him. But none of that matters as The Grail are seemingly in control, and The Allfather at least doesn't seem swayed by Jesse's speeches about the fact how he is the only one that's worthy to wield The Grail.
Preacher
would be able to put together, and the culmination of an incredibly bizzare moment of hapless slaughter turned out to be successful, putting Jesse and Starr in a very tough situation indeed. Starr may have placed a gun inside Jesse's clothing, but given how Jesse is tied up at the moment, it is decidedly hard for him to get to.
This episode didn't feel like the most coherent hour of
Preacher
ever but that can be explained by the fact that a lot of the groundwork was being laid down for the next two episodes to come. We get caught up with pretty much everyone in this episode, from Gran'ma to Hitler to Cassidy, people who normally wouldn't feature in an episode with this much time spent on The Grail get their moment in the sun.
Gran'ma wants Tulip gone so it's an easy deal to make for her and The Devil that satisfies both parties. He dispatches The Angel of Death to get Tulip but makes a crucial mistake in not giving The Angel a depiction of what Tulip looks like. A brown haired woman on a plane back from Osaka in a Grail Uniform is all she has to go on, and it comes as no surprise when Tulip plays a get-out-of-jail free card in the unfortunate Lara Featherstone.
And it turns out that Lara is not the only one going there. Eugene is still rambling on about being chosen by God, but Hitler - still posing as Hilter, has been keeping busy during his time on Earth and has seemingly amassed some followers. One of these recognises that he's in trouble once he borrows a phone from Lara, and The Saint and The Angel of Death may not find it as easy as it seems to get their subjects back to hell.
I wouldn't be surprised if we didn't see them again before the finale though, but in what capacity I don't know. Both bees and the gun in Jesse's jacket feel like a big case of Chekov's Gun moments waiting to happen, after all, why bring them up if they're not going to be used?
What did you think of The Tom/Brady? Let me know in the comments below and be sure to check out the next episode of Preacher, airing this Sunday on AMC.