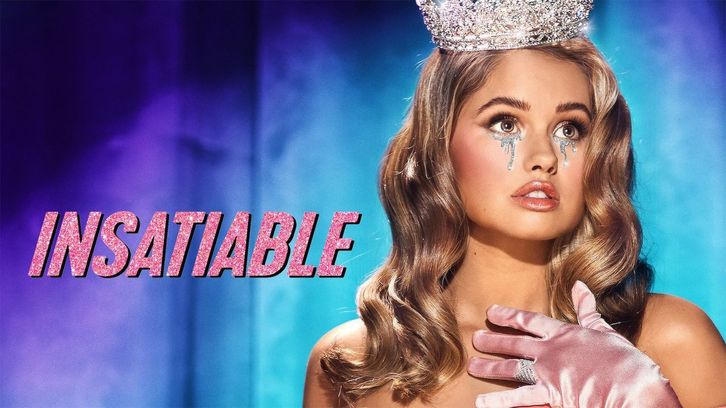 INSATIABLE premieres August 10th on Netflix

There has been a lot of controversy surrounding the new Netflix show "INSATIABLE" since the first trailer was released a couple of weeks ago. Plenty of articles and opinion pieces have been written, there is a petition to cancel the show as well as statements from some of the cast members to try and ease the concerns from would-be fans. First, I would like to point out that the team here at Spoiler TV does not support fat shaming and bullying of any kind. We have had good discussions about the show in our private forum, and many of the writers have expressed different opinions on what they feel the show represents and where it could have done better. Also, others don't care for it at all, and there is nothing wrong with their position. I put my name down to preview way back when no one really knew much about it other than the brief synopsis that Netflix had released. My work here is to give you a short spoiler-free preview of what you will be watching if you choose to partake in the binging. Having said that, writing this preview in no way means I endorse any form of fat shaming.

I do not understand why many people interpreted this to be a teenage show from the information put out when CW passed on it, but I digress. Some might have differing opinions about this classification, but after watching the twelve episodes twice, I can say this, it is not merely a show about teenagers. Do they deal with teenage issues, of course, they do, and several cast members are in high school, but their stories don't necessarily revolve around it. Despite all the humor that the show tries to incorporate in its storytelling, it deals with many different complex subjects but not in the best of ways. They stumble through topics on
poverty, sexuality, homophobia, abortion, ephebophilia, alcoholism, drug abuse, abandonment, infidelity, betrayal, ménage à trois, body image
plus many other issues that humans go through every day.
Let's talk about the elephant in the room; Fat Shaming, which has been the topic of many meaningful discussions that have been going on in social media. The show tries to deal with the main character's perception of life after she gets to a smaller size. Since this is done from her point of view, we learn about her struggle with weight and the steps she has taken in the past to be thinner. Through her young life, she developed a sort of coping mechanism because of the bullying she endured, and this new body serves as a weapon that she can use to revenge on those that wronged her. She quickly realizes what hasn't changed is how others treat her, and as you watch the episodes, you learn how much her internal struggle regarding her weight affects her personality and behavior which, contributes negatively or positively to the interactions she has with others. Do we hear the term
"Fatty"
in the episodes? I would be a liar if my answer was
NO
however, the frequency is negligible in my opinion, but I would have preferred if the word wasn't used at all. Several other words associated with being heavy and are more hurtful are thrown around carelessly. This makes it harder to watch the show. There are also instances where characters engage in disturbing cringe-worthy dialogue about food which can cause more harm than good and contribute to eating disorders.
The audience learns about the majority of the characters and their backstories through two points of view. Patty (
Debby Ryan
) and Bob Armstrong (
Dallas Roberts
) are the main narrators through the entire season. Bob is a flamboyant disgraced lawyer from a wealthy family who also dabbles as a pageant coach. He is married to Coralee (
Alyssa Milano
) a stay at home mum who runs a charity,
WMBS
pronounced "wombs." They have two children, a teenage son Brick (
Michael Provost
) who is a wrestler and a daughter Cat (
Claire Dunn
) who we do not meet but is a marine and is currently deployed. Patty lives with her mother Angie (
Sarah Colonna
) a complicated alcoholic. Nonnie (
Kimmy Shields
) is Patty's best friend who is also friends with Choi (
Daniel Kang
), who attends the same school and works at a convenience store.
Bob Barnard (
Christopher Gorham
) is Bob's very handsome middle school classmate and the District Attorney. He is married to a doctor Etta Mae (
Carly Hughes
) and has a teenage daughter Magnolia (
Erinn Westbrook
), who competes in beauty pageants and is Patty's rival and a proverbial bully. Then there's Dixie Sinclair (
Irene Choi
) a mean-spirited petite aggressor who is the adopted child of Regina
(Arden Myrin
), a blonde that will stop at nothing to ensure her daughter is crowned in all pageants. Other minor characters include Roxy (
Chloe Bridges
), a child that Barnard had with Stella Rose, Christian (
James Lastovic
) a disturbed, teenager whose father is a pastor named Mike (
Michael Ian Black
). Beverly D'Angelo makes an appearance as Stella Rose, a pageant coach who has a history with both Bobs. All these characters are familiar with each other, and there is a lot of interaction all through the season which was a great way to keep the plot moving.
Episode one is terrible despite the post-production edits that were done after the pilot. I wish Netflix had scrapped it or reshot it with a different script. This would have gotten them where they needed to be without the
"Fatty"
business but, here we are. From half of episode two, there is a shift in tone, and the story is more character driven and moves away from directly dealing with the weight issue but it still lingers. Episodes six to ten feel like a completely different show, with some depth and character growth. The characters begin to shed the façade, and we see them in a new light across the board.
So, a little bit about Insatiable…
Patty gets into an altercation that involves punching and a broken jaw with a
"homeless man"
over a pastry. Her mouth is sewn for three months, and this prevents her from eating. Any smart person can read in between the lines; In simple terms, Patty's eating was restricted aka she starved for three months. The result was this body she had been longing for, which our society has hammered into her is the "ideal" body for a teenager. All this happens very quickly in the first few minutes of episode one, but it doesn't occupy the show too much but resurfaces at the end of
episode ten
(Trigger warning). She is on a mission to use this
"new"
body as a weapon to revenge all the terrible things her classmates put her through. Nonnie is Patty's sounding board and overall therapist who is sensitive, kind and smart but is dealing with her own issues that have nothing to do with weight but everything to do with Patty. We see her drop everything when Patty calls and the relationship they have feels a little bit one-sided. However, this changes gradually as Patty continues to fall deeper into her own world of revenge and Nonnie finds a different group of friends. Nonnie has one of the most emotional scenes in the show that the writers build up in a beautiful way.
Bob Armstrong is asked by his father to represent Patty in a court case. He immediately connects with her beauty which brings back memories of his pageant coaching days. Bob wants to get back into the business after a prior incident that caused him to be shunned by the community. For Bob this is redemption, and for Patty this is revenge. Bob has a complicated relationship with his father, and through the course of the season, we get bits of information about his childhood and why his relationship with his own son Brick mirrors that of his and his father. Coralee Bob's wife is from the poor side of town but is now a well-trained Stepford who has perfected the art of "fake it till you make it." Bob and Coralee love each other, and in episode five, six and eleven we see an emotional encounter that makes you like them despite all the other shenanigans going on between them. My thoughts about Coralee are mixed after watching the show the second time. Alyssa Milano's southern accent as Coralee was very distracting and it does not get any better through the episodes.
Bob Barnard is Bob's nemesis, they have a love/hate, hot/cold relationship all through the season. Barnard is very competitive and pushes his daughter Magnolia to win pageants. The level of participation from him is ridiculous but very entertaining. There is a scene where the two men sing, and Barnard adds an extra spin that was fun to watch. Women love him, and they go out of their way to impress him including Coralee. Barnard's wife Etta Mae is a busy doctor who is emotionally unavailable. Their peculiar communication helps the viewer put two and two together about their marriage arrangement. A lot will be revealed about Bob, and Gorham's performance is terrific. Magnolia, Barnard's daughter, and Brick, Bob's son, are a couple with a very complex relationship. Magnolia struggles with the pressure from her dad and feels abandoned by her mother. There is a scene where drugs are involved and could be a trigger for some viewers, so I urge caution when you get to
episode nine
. Westbrook and Gorham have an emotional conversation in episode ten that leads to Barnard revealing a secret that he had kept hidden away for many years.
The Sinclair's, Dixie and Regina are the obnoxious schemers whose primary purpose is to create chaos and boy! Do they cause mayhem? Irene Choi is excellent in her role, and her ability to make Dixie so ridiculous will leave you feeling sorry for her. No one pushes Patty and Bob's buttons like Dixie and her mother. They meddle until we finally see Patty breakdown and let out a secret that she damages her relationship with Bob. The show takes you on a bumpy ride, and things get heavy in episode ten. There is a lot of heartbreak and Patty spins out of control into a very miserable dark place that was painful to watch. (Trigger warning)
The last two episodes are a doozy…
This is a dark show that did not need to be made. You might connect with some of the characters and not with others. Dallas Roberts was amazing, he gives a great performance from the pilot to the end. He was funny when he needed to be but also dug deep when his scenes required emotions. In all honesty, the show was about Bob as much as it was about Patty. Another character that I have not talked about much was Pastor Mike. Michael Ian Black shines in this role where he serves as a moral counselor with questionable behavior. His scenes are hilarious but not over the top.
Final Word:
I tried to avoid "spoilers" in this preview for the sake of those who will watch. I am open to answering questions, but I am not going to try to persuade anyone to watch the show. This is obviously a forum for readers to express their opinions and everyone is welcomed to do it but let's keep it civil :-)
Insatiable Season One airs on Netflix August 10th