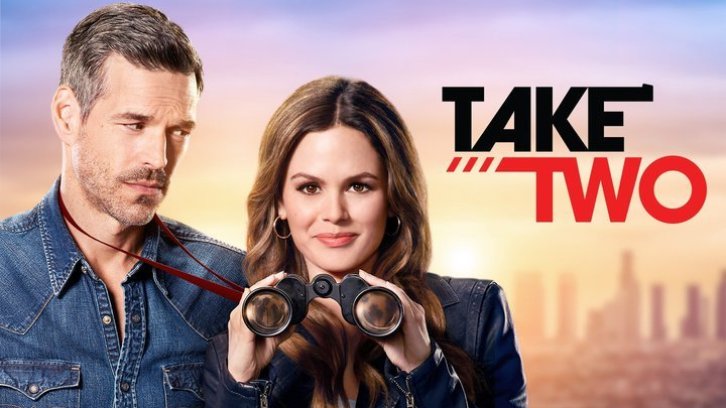 There are few shows on TV right now like Take Two. Light-hearted and fun, lacking intensity, full of innocence, Take Two isn't going to break new ground. And that's okay.
Our main characters' pasts may be dark, but it doesn't tarnish the now.
Sam has been through rehab, she has struggled with drugs and alcohol, yet she's a ray of sunshine.
And Eddie, while we know little about him beyond he once worked as a cop, likely has some dark backstory lurking in the shadows. He may have a wall up, but Sam is slowly breaking it down and letting light back into his life.

Episode four, Ex's and Oh's, opens with Sam working on updating Eddie's Valetik Investigations website. He's a technophobe, she says, and it's foreshadowing to Sam's own close call with technology.
Sam's ex, Dylan, turns up, the man who dumped her on live TV after he was caught cheating. His place has been robbed and his laptop taken. Problem is, there's video of he and Sam having sex on that laptop, video he told her he had deleted.
Sam is less than impressed by this.


Sam: "You can help me hide a body, right?"
Eddie: "Yes, if it comes to that."
Sam unspools in the car, worried the tape will ruin her career, that no one will take her seriously again. She wants a drink but Eddie won't allow it, talking her through it before she has an anxiety attack.
Eddie: "We're gonna do everything we can to get that video back."
Sam: "You swear?"
Eddie: "I swear. And then, we'll kill your ex and bury the body."
Dylan has managed some growth since breaking up with Sam and now works with charities. Sam struggles to believe it. The break up didn't go well. After he dumped her on national TV, she broke into his apartment and set his bed on fire. Sam definitely hasn't always dealt with things in healthy ways in the past. Now she has Eddie, who is helping to keep her grounded. These two are really good for one another.
As Eddie and Sam dig deeper to unravel the story and solve the case, what appeared to be about a sex tape suddenly becomes about a lot more. Sam begins to accept Dylan has changed or is at least making the effort to be a better person. No surprise the bad guy ends up not being Dylan, but his manager, Brock. There's still predictability here, but the case isn't as cookie-cutter as some procedurals. There's also a Castle vibe in the style of the storytelling - and it works well.
The chemistry between Sam and Eddie is still building, so too is their free, flirty, fun way of interacting with one another. While the show is starting to push the ship, perhaps what they should be doing is letting this friendly, almost sibling-like relationship keep happening organically.
Sam notices Eddie and Christine's back and forth, but Christine notices Sam and Eddie's in return. She sees how Sam softens Eddie and she likes it, because she hasn't seen a lightness in Eddie for a while. He may argue there's nothing going on between he and Sam, and at this point he's likely right, but Chris wonders if maybe he should just give something with Sam a try. It's sweet, but it feels like a conversation that should take place in later seasons. Not in episode four.
If I had to describe the first four episodes of Take Two in one word, it would be: adorable.
And while it was faltering a bit in its late timeslot, on July 19th it airs at 8pm.