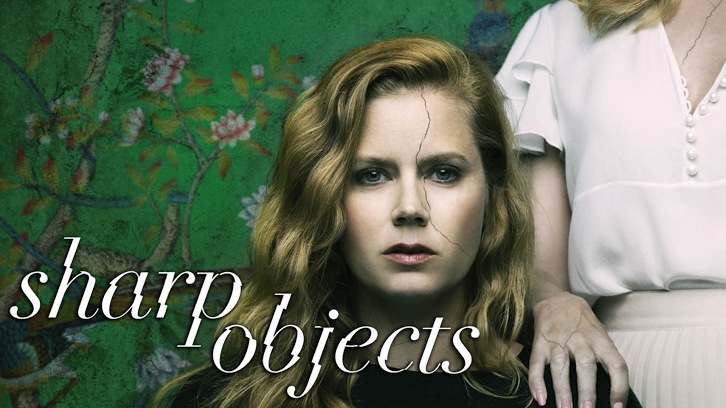 Based on the bestselling novel of the same name by Gillian Flynn, SHARP OBJECTS stars Amy Adams as reporter Camille Preaker, who returns to her small hometown to cover the murder of a preteen girl and the disappearance of another. Trying to put together a psychological puzzle from her past, she finds herself identifying with the young victims a bit too closely.
"A town so suffocating and small, you tripped over people you hated every day. People who knew things about you. It's the kind of place that leaves a mark."
Some stories are purely about entertainment, they make you want to know where it all ends but they might not leave you with a lot on the journey, some do manage to leave you with characters to fall in love with, and some do neither. But some are very hard to make fit in a box, as is the case for this eight-part limited series.
On Sharp Objects the story is there, there is an investigation, possible leads, and eventually a revealed killer and a few twists. This limited series is masterfully crafted, written, directed and it has some amazing performances by a stellar cast. That alone makes this show worth watching, but it is not only that, Sharp Objects is a study on the darkest corners of humanity. No one here is good, at their very best, they're only broken beyond repair and not a burden on this world, though sometimes they are both.
You will not leave this story unscathed, and sometimes, that's okay, sometimes that's exactly the mark of a story that transcends entertainment and becomes an experience, something you will carry with beyond the last credits. As is it to be expected, from this story, the fact that it's an HBO production and the author is the wonderfully twisted Gillian Flynn, Sharp Objects is moody, dark, and captivating.

"A limp sort of evil"... "Sometimes that's what happens. No cigarette burns, no bone snaps. Just an irretrievable slipping."
Our heroine is Camille Preaker, a journalist that has done everything to stay away from the ghosts of her hometown but is thrust in the middle of a murder investigation there. She could be described as depressed and overwhelmed by life itself, but she keeps pushing through. She describes herself as a second-rate journalist and attributes it to the fact that she doesn't relish picking through people's privacy (though she's often forced to do so). But her mind is sharp and dark, as are her thoughts, and she's determined to get to the truth.
"I'm here. I don't usually feel that I am. I feel like a warm gust of wind could exhale my way and I'd be disappeared forever, not even a sliver of fingernail left behind. On some days, I find this thought calming; on others it chills me."
With her family though, things are more complicated, there's is a heartbreaking past they're all trying to leave behind, though they can't seem to avoid reveling in it. While she investigates, she will stay in her family home with Adora, a dramatic mother who's always oscillating between overprotective and resentful, and Amma, a younger half-sister she doesn't even know, who shows different faces depending on who she's talking to, as do many teenagers.
"I just think some women aren't made to be mothers. And some women aren't made to be daughters."
Amy Adams is, of course, mesmerizing, but that cannot be a surprise to anyone, except those damn award judges, seriously, I'm tired of this woman getting snubbed, she's easily one of the greatest actresses of her generation (sorry, rant over); but the rest of the cast definitely holds its own, Chris Mesina, Miguel Sandoval, Matt Craving, they are all amazing here and even the smaller roles are played by some very skilled performers.
Full disclosure, I have read the book so I will not be engaging in theories as to not spoil anything. But be my guest and debate amongst yourselves and I will answer anything I consider not to be too spoilery. Also, the quotes featured here are from the book, not the show, but they offer insight into the story because even if they're not spoken, they are evident in every shot of this wonderfully crafted experience.
"Sometimes it is all too loud."

Sharp Objects premieres SUNDAY, JULY 8 (9:00-10:00 p.m. ET/PT), on HBO. Are you excited about this one? Let me know in the comments.