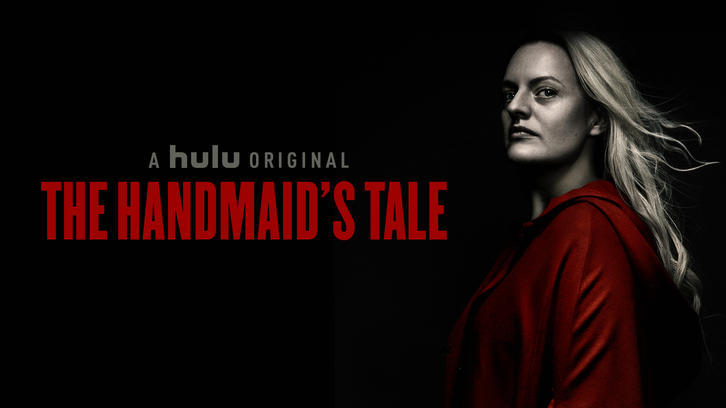 The Handmaid's Tale
"Smart Power" was directed by Jeremy Podeswa with teleplay by Dorothy Fortenberry. Things don't go well for Gilead in this episode, and there are a lot of unexpected conversations and meetings. Once again, I was struck by the careful writing and how so many scenes echoed others in previous episodes. It's almost impossible to single out actors for special mention with a cast this talented. Yvonne Strahovski (Serena), Max Minghella (Nick), and Elisabeth Moss (June) deliver amazing, nuanced performances throughout the episode, but Ann Dowd (Aunt Lydia), Amanda Brugel (Rita), and O-T Fagbenle (Luke) has some terrific, emotional scenes too.
The episode begins with June in her room, musing that the house could have been an Air BnB with the right warning: "owners super polite, but creepy as fuck. Some rape required." Or it might have been a house for women in reduced circumstances, and June muses about her own reduced circumstances. She feels lucky to have the chair she's sitting in and feel the baby kick. It seems she's once again at a low point as she muses that it's no good to want the impossible – Luke or Hannah.
Rita comes to tell her that they've been summoned. Fred (Joseph Fiennes) is there with Nick helping him and another guardian – Isaac (Rohan Mead). Fred tells her that he's going on a short trip and Mrs Waterford will be going with him. June asks where and he tells her Canada. The terrorist attack has given them the opportunity for diplomatic relations. Fred tells her that Isaac will watch over the house – and the baby. June seems to distrust him instinctively from the beginning. He's a reminder of the fact that her life could be a lot worse. He's also an example of the younger generation – like Eden (Sydney Sweeney) – who have grown up indoctrinated.
Fred finds Serena in the greenhouse, tending to her plants. She tells him that the grey mold is back – and this is a nice symbol for Serena's life. Fred remarks that she's an attentive mother – the plants are symbols of her children. Serena tries to beg off on the trip, saying she's worried about the baby. Fred, of course, isn't going to let Serena out of his site any time soon. Strahovski is wonderful in this scene as you can almost see her skin crawl as Fred touches her. Fred insists that Serena is a big part of building their future. People think that women are repressed in Gilead – and you can almost she the "d'uh" look on Serena's face. He tells her that they need to see a strong Gilead wife – the virtuous woman. Serena barely holds it together.
Eden brings Nick cookies for his "international journeys." She sees it as a great honor, and Nick brushes it off – he's just the driver. We're reminded of her naiveté as she remarks that she got the chocolate for the cookies because Rita had a token for it – she's never seen a token for chocolate before! She tells him she'll miss him and he again brushes her off, saying it's just a few days. He really does need to start playing the game with her better! Especially as she seems to get along very well with Isaac while Nick's away.
Serena comes to June and asks how she's doing. June tells her good but tired. June is clearly still thinking of Serena as a friend. Serena comes and sits across from June and puts her hand on her stomach. She addresses the baby as she says, "God will watch over you, my love." June might as well not even be there. June tells her that they'll be fine – completely missing that Serena doesn't care about her. As she turns to leave, Serena drops the bomb. June will be leaving the house as soon as the baby is born. June is completely shocked and stammers that the Handmaid stays until the baby is weaned. The grey mold is back on Serena's heart though, and she tells June, "I think we've all had more than enough of each other, don't you?" June agrees – but is clearly still shocked.
We see Moira (Samira Wiley), Luke and Erin (Erin Way) watching the news as the Waterfords land at the Toronto airport. Moira immediately recognizes Waterford – and we've been reminded that he knew Ruby. Luke is suddenly a lot more interested and sits right in front of the television – he's clearly distressed.
The three go to Rachel Tapping (Krista Morin) and insist that Waterford be arrested as a serial rapist. Tapping is apologetic but reminds them that this isn't their country. She tells them that they've planned protests.
Serena's entire trip is a reminder of what she has lost. What she's willingly given up in her quest for a child. We watch her looking out the window at ordinary life on the streets of Toronto. A group of women, looking at their cell phones; women just going about their business; a couple kissing on the street. The couple kissing actually makes her catch her breath – we've seen repeatedly that she misses intimacy. When she's give her schedule of events, it's all pictograms – no words for a Gilead wife to read!
Fred is met by Stuart (James Gilbert) – the Prime Minister? – and Deputy Ministers Claudine (Carinne Leduc), and Kevin (Jose Arias). Fred is all slick diplomacy as he speaks impeccable French with Claudine. However, Kevin is having none of him. He makes a point of saying that he and his husband used to enjoy visiting before Gilead. Fred hopes that tourism will soon be back and Kevin tells him that he'll return when both he and his husband are welcome – both are clearly repulsed by the other.
Serena goes off to tour a greenhouse, and Genevieve (Clark Backo) accompanies her. She clearly has little use for Serena and asks if gardening is a common pastime for wives, checking to make sure that she's using the term correctly. Serena says wives often have different passions. Genevieve says she heard that Serena liked knitting – and Serena is back toeing the party line when she says she very much enjoys it. Serena tries to make small talk and asks what Genevieve is passionate about – and all Genevieve can come up with is her work – something we know she has in common with Serena. Serena walks on by herself and it's clear that she is very unhappy.
June is walking with Janine (Madeline Brewer) and the two are talking about the baby. Janine is happily fantasizing that Mrs Putnam (Ever Carradine) is going to let her see Charlotte again. June confides in Janine that Serena has told her she has to leave as soon as the baby is born. Janine gets very upset on June's behalf and Isaac steps in. He tells Janine, "Shut your mouth, Unwoman" to which she unwisely tells him "Suck my dick," which earns her his rifle butt in the face. June is forced to leave Janine on the ground as Isaac drags her home.
Serena gets another dose of how the outside world views them as she waits for the elevator in the lobby of the hotel. A woman (Nola Martin) and her child (Taylor Belle Puterman) also show up to wait for the elevator. The little girl is clearly in awe of Serena and how she is dressed, asking her if she's a Princess. Serena is pleased at first. The mother apologizes, and Serena tells her that it's fine, her daughter is precious. But when the elevator arrives, the mother won't get on the elevator with Serena – in this society, Serena is the dangerous woman. To her credit, Serena sticks to her guns and wishes the woman "Blessings" as she gets on the elevator, turning the other cheek.
Serena retreats to the bar for a glass of wine. A man (Sam Jaeger) at the bar lights up a cigarette after offering one to Serena, and the bartender tells him he can't smoke it there. Serena takes her wine to a table and he follows her. She is convinced that he's a journalist – and tells him that his intel is out of date – she quit smoking. He tells her his name is Mark Tuello and he's not a journalist – he works for the American government. He tells her that he helps people and he'd like to help her by offering her a new life.
Serena tells him no thank you, but he continues that he could have her on a plane to Honolulu within the hour. She could writer her story in her own words. Serena knows that getting a Commander's wife would be great propaganda for them. Mark goes on to tell her that they know now that the fertility problem isn't the women – they aren't being punished for their "sins." He assures her that she could have a baby of her own. She tells him she has a child on the way, but he points out that that isn't her baby. She responds that she'd never betray her country, and Mark points out that she already has. He tells her it was nice to meet her – he didn't think they'd ever get the chance. He leaves her the cigarettes and the matches… and she take them. An interesting sign that she's considering what he said.
June returns from the shopping trip with Isaac, and Rita wants to know where the chicken is that she asked for. All Isaac tells her is that shopping got cut short. Rita seems like she wants to argue about it, but it's clear to her – as it was to June – that this guy is dangerous. She mutters she'll just make beans. Isaac unceremoniously tells June to go and take a nap – he's clearly enjoying telling the women what to do. Uncharacteristically, June asks Rita to bring her a glass of warm milk. But it's just an excuse to get Rita up to her room.
June tells Rita that Serena is making her leave right after the baby is born and wants to know if Rita thinks that's best. Rita tells her it doesn't matter what she thinks. She tells her that Isaac, who is just 20, can tell Rita to do anything he likes – or break her jaw! – and she can do nothing about any of it. She is clearly afraid. And so is June. June tells Rita that she wants her baby to know kindness – and they both know the baby won't get that from the Waterfords. She asks Rita to be a godmother to the baby. Rita is clearly moved and tells her that she'll do what she can – but how much will that be? When Rita leaves, June tells the baby, "I got you someone." She doesn't have to feel like she is leaving the baby all alone.
Back in Toronto, Luke is at the protest outside the hotel. Protestors are carrying pictures of their loved ones and holding candles. Luke has a huge picture of him with June and Hannah. When Waterford gets out of the car, Luke rushes through the barricades, thrusting himself in front of Fred so that he can't ignore him. It also gives Nick and Serena a glimpse of June's real family.
Luke calls Fred out for raping his wife – and Fred takes a line from the current American government, saying "we all know the media doesn't care much about the truth." Of course, he doesn't specify what the truth is. Luke tells him to remember his face because he'll remember his, and one day all of this will be over. It's clear that Luke will be coming for Fred.
Fred and Serena retreat to their hotel room. Fred prattles on about having made progress that morning in the talks. He finally notices that Serena is upset and asks if she's worried or thinking about "the husband." Serena says no, but it's clear that she's lying. Fred tells her that it was unpleasant, but they have to soldier on. And why wouldn't he want to?
Nick finds Luke in a bar, and Luke – who is getting drunk – tells Nick to leave him alone. But Nick tells him that he knows June, and she's his friend. Luke asks if she's alright, but again denies that she's "fine" when Nick says she is. Nick tells Luke that June is pregnant – and Luke loses it. Both actors are terrific in this scene. Here's absolute proof of what June has been going through. Nick lies, however, and tells Luke that the baby is Fred's. I don't believe he did it because he's afraid of Luke. I think he did it out of love for June. This way, if she ever does get out, it will be a lot easier for Luke to deal with her being raped than willingly sleeping with and falling in love with another man. And while their relationship started out as rape, it certainly progressed from there. In addition, Nick needs Luke to trust him. Luke eventually asks about Hannah – and Nick can't tell him anything. Nick does give him the letters – and thank God he got those away from himself and Eden!
Nick tells Luke to "get them out." Luke then gives Nick a message for June. He tells him to tell her that Moira got out and is living with him. He also tells Nick to tell June that he loves her and he'll never stop. It's clear that he means he won't stop loving her – and trying to get her out. Though he hasn't really done much to that end yet. Nick tells Luke his name. It's another sign of trust and connection. Luke has the power over Nick, knowing his name. He could blow the whistle on him. Once again, naming is a powerful theme in this episode.
Aunt Lydia comes to do June's physical. She mentions the problems with Isaac. June makes light of it, saying she spoke out of turn. Aunt Lydia puts it down to hormones. June takes another chance and asks Aunt Lydia if she can be honest with her. She tells her that she was talking to Janine because Serena has told her she has to leave right after the baby is born and she's worried. It's clear that Aunt Lydia is shocked, but she also says it's the wife's prerogative to decide what's best for the child.
June insists that she only wants what's best for the child too. It's also clear that June is carefully choosing her next words – how honest can she be with Aunt Lydia? She reminds Aunt Lydia that this house can be "difficult" and children need a safe place. Aunt Lydia becomes offended and says that she knows what a child needs. June then asks Aunt Lydia if she was ever a godmother, and hits a sore spot. June backs off that line for the moment and instead says that it's her experience that a man who would hurt a woman, would hurt a child. Now she has Aunt Lydia's full attention. June tells her that she's saying her baby needs protection. We have to really hope that Aunt Lydia doesn't think that June is simply talking about Isaac hitting Janine.
Aunt Lydia is completely sincere when she says that she would never let anything happen to a baby. In essence, June is asking Aunt Lydia to be her baby's godmother. Aunt Lydia is probably the only person who can take precedence in this case. June smiles and her eyes fill with tears, she is also obviously sincere when she says "praise by" this time – and Aunt Lydia is also moved by this. Dowd and Moss are just terrific here. As she leaves, Aunt Lydia confesses that she was the godmother to her sister's child, but he died at only 4 days old. June says she's sorry, and Aunt Lydia says it wasn't her fault – which it likely wasn't – but it's also clear that she feels guilty about it. And that guilt should help to ensure that she does protect June's baby – it also helps to explain why she's so obsessed with the children.
Moira, Luke, and Erin are sitting around reading the letters. Moira laments that they didn't contain C4 – she'd like another bomb. And it's Erin who points out that the letters could easily go boom all on their own…
The next day Fred and Serena are greeted by Stuart who tells them the meetings are off and the Waterfords are being escorted directly to the airport. They are no longer welcome in Canada. He tells the about the letters being uploaded to the Internet – and that they believe the women. Fred calls him a coward on his way out. Claudine asks Serena how she lives with herself. And tells Serena to look at what they've done to her. And Serena has had a good chance to see exactly what she's done – both to herself and to June.
The car has to drive through an angry mob – and we get another really terrific crane shot. Fred is angry, Nick looks worried, and Serena is clearly upset. Moira makes it to the side of the car – she's carrying a sign that says "My name is Moira," and she confronts Fred with it. It's a powerful moment of naming as she takes back her own agency. She tells him "It's not Ruby" – and this is also powerful as we remember her punishing herself in the club in an earlier episode when she has sex with a random woman in the bathroom and calls herself Ruby when she won't let the woman return the act. She's also more evidence for Serena of just how many women there are who have been affected – and had their lives irreparably changed.
After the protest, there's a party of the Americans at Moira, Luke, and Erin's apartment. Luke still looks pensive. Moira gets a phone call and announces that the Gilead delegation is officially out of Canadian airspace. Everyone starts singing
America the Beautiful
.
June is watching from the window as they come home, and Nick looks up and sees her in the window. Fred tells Serena what a mess, and he's worried that he'll never hear the end of it. He thanks Serena for coming with him. He tells her that they are lucky in a lot of ways. Serena agrees, and they go to their separate rooms.
Serena unpacks, and she seems dissatisfied as she hangs up all of her green clothing, adding to the orderly rows of sameness. It's a direct contrast to the scene last season when they first moved into the house and she was so excited to hang up her uniforms, seeing them then as a freedom from having to choose. Now she has a better realization of that loss of choice. It also echoes Aunt Lydia's admonition to June about freedom from choice. As Serena unpacks, she also unpacks the matches that Mark gave her. She turns them over in her hand – and matches are a great symbol. If she left and wrote an expose, she could be part of burning Gilead down. Instead, she throws the matches – and her freedom into the fire in exchange for the child she's always wanted.
Finally, Nick comes to June. She asks how it was, and he tells her good. He tells her that the letters from Jezebel's got out and that they made a difference. June is clearly shocked, thinking they'd been destroyed. She hugs him and thanks him.
She also sees he's troubled and asks what's the matter. He tells her that he met her husband. I was really happy that he told her everything, from Luke going after Fred and calling him out to Luke getting the letters out. June is shocked and thrilled. Minghella is terrific in this scene. Nick goes on to tell her that Luke said he loved her and that he'd never stop. June is crying by this point and thanks Nick for bringing her the news – and really the gift of knowing Luke is alive and well. I thought he might forget about Moira, but he also passes along the news about her and her living with Luke. This makes June laugh as she muses that they'd kill each other.
Nick tells her that he should go. If this doesn't prove he's a decent guy, I don't know what would. He's starting to worry about Eden – and that she'll be wondering where he is. Nick tells June that he loves her before he goes – in case we thought he'd suddenly stopped. It was a nice way to underscore just exactly how much he's sacrificed himself. He kisses June on the cheek before he goes.
June laughs – she's been given hope again. She tells us that Moira is Hannah's godmother – and the theme of women protecting women threads throughout the entire episode. June also brings us back to the possible and impossible from the beginning of the episode. Moira set out and it seemed impossible that she could get out – yet she did it! June looks at the camera and says, "I know I should accept the reality of you being born here… but fuck that!"
This was another great episode. I loved the contrast between what – and who – Serena is willing to sacrifice to have a child, and the women who step up to protect them. We see again the importance of naming and taking back your own identity. What did you think of the episode? Who gets your vote for best performance? Let me know your thoughts in the comments below!