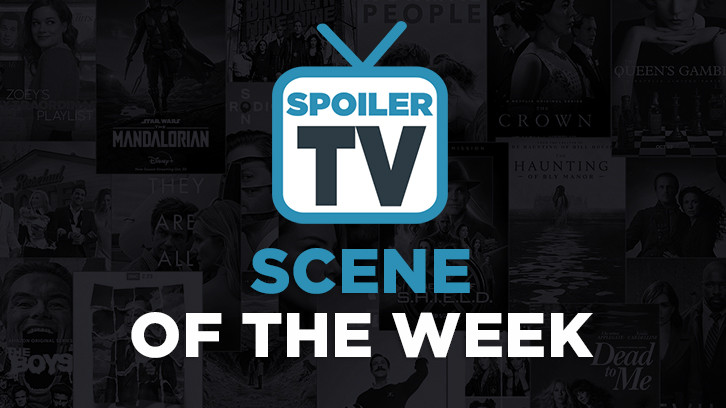 A weekly feature in which we're trying to find the most compelling, best acted, written, directed and just generally great, memorable scenes that we've seen in past seven days on TV.

ARRESTED DEVELOPMENT, "Premature Independence", May 29, 2018, Actors: Will Arnett, Ben Stiller, The Scene: Gob and Tony talk during the trick
Laura M: Oh my god. What a mess this season is. The only thing I was praying for, the only thing that could save this season was Tony to finally resurface and save GOB from his pure agony. Sure enough, when it's time to do the closet switcheroo, Tony pulls through. I love the quiet moments where the two of them talk things through. It's so painfully obvious that GOB is head over heels in love with Tony, and I think Tony loves him back but is scared to confront those feelings. And of course we get that disgustingly juicy cliffhanger. I have my theories about who planted the cement, and I hate that I have to wait so long to find out! Also, Happy Pride to GOB! I'm so proud of him for finally being himself after all these years of hiding!

CODE BLACK, "Cabin Pressure", May 30, 2018, Actors: Harry Ford and more
The Scene: Angus stands up to the racist (picked by Luana)

COLONY, "End of the Road", May 30, 2018, Actors: Peter Jacobson, Jacob Buster, The Scene: Snyder finds Charlie's body in the aftermath
Laura B: Colony continues to improve moving towards grade A storytelling with an episode so emotionally-charged and politically complicated (and so reminiscent of so many scenes and character dynamics featured in LOST). It's no longer afraid to take risks and prove to the audience that the stakes are high, as Snyder cons the struggling Vincent to make contact with the Occupation, which results in a mass shootout throughout MacGregor's camp where all, but one Bowman makes it out alive. The loss of Charlie is so gut-wrenching after knowing how much Will in particular went through to get him back, but even more demoralizing was Snyder's Benjamin Linus-like tactics to take this path, knowing the risk.

DECEPTION, "Transposition", May 27, 2018, Actors: Ilfenesh Hadera, Jack Cutmore-Scott, The Scene: Kay admits her feelings for Cameron
Klutzy girl: Kay admits her feelings for Cameron to Jonathan, unaware that she's talking to the wrong Black sibling. There was just so much vulnerability and pain from her, and it hurt. And it's upsetting we won't be getting a resolution to anything since the show was cancelled but Kay and Cameron's relationship will always be one of my favorite aspects of it. The two of them love each other so much, and I'm glad Kay took such a huge risk, even though she was confessing to the wrong twin.

iZOMBIE, "And He Shall Be a Good Man", May 28, 2018, Actors: Rose McIver, Malcolm Goodwin, Jessica Harmon and more, The Scenes: Liv gives Dale the cure & The wedding of Clive and Dale
Justyna: This was such a great season finale and there were so many wonderful scenes worth highlighting in the article (the wedding, the documentary, the rescue party) but in the end nothing was more memorable to me than Liv's choice at the end. I was so glad to see the lovely reunion between Dale and Clive last week and their wedding in this hour was such a fun and beautifully done surprise. But when the vows end and the happy couple leaves with the plan to turn Clive into a zombie, Liv stops the two and offers a wedding gift unlike any other - the cure for zombie virus. It's the only one she has and she's ready to take it, especially considering that she was almost executed for her recent actions hours earlier. But watching Clive and Bozzio's wedding, she realizes how much this cure would mean to her friends, the possibility to be together and have children, and she decides to give it away. It's both heartwarming and heartbreaking to watch but I loved seeing everyone's reactions to the news. The tears of joy in Dale's eyes and the embrace between Liv and Clive. Also, of course that Ravi understood what was happening right away. And Peyton's words speak volumes about Liv's character: "Isn't that just like her?" Sacrificing her own life and happiness for the people she loves - that's exactly who Liv Moore is. The strength of this hero should never be underestimated or forgotten. Very excited to see the last chapter of this story in the next season. Kudos to cast & crew for their fantastic work!
Marko: Clive and Bozzio get married, Liv decides to give the cure to them so they could have kids. The weirdest vows you'll ever hear with the most honest happiness you can see on TV. Great finale and phenomenal moment.

KILLING EVE, "God, I'm Tired", May 27, 2018, Actors: Sandra Oh, Jodie Comer, The Scene: The final scene
Saloni: The entire final scene with Eve trashing Villanelle's apartment, both of them on the bed, and then Eve stabbing her. The entire first season has been building up to this moment of free confrontation between the two women and it did not disappoint. They're both honest and even emotional and yet maneuver and manipulate the other. It was a thrilling end to season 1 and Villanelle's escape points to an exciting season 2.
Jamie: These two have such a twisted relationship. Can't wait to see where it's headed next season.

LIFE SENTENCE, "Frisky Business", June 1, 2018, Actors: Lucy Hale, Riley Smith
The Scene: Stella and Dr. Grant kiss
Luana: I mean, sparks were literally flying, I will miss this little show.

LUCIFER, "Boo Normal", May 28, 2018, Actors: Lauren German, Aimee Garcia
The Scene: Ella tells Chloe she has a "ghost" friend
Luana: Hated the casting for this one but the friendship between Ella and Chloe, and the scenes with Dan and Lucifer are the perfect example of why this show is so awesome.

THE AMERICANS, "START", May 30, 2018, Actors: Matthew Rhys, Keri Russell, Noah Emmerich, Holly Taylor, Keidrich Sellati, The Scenes: Philip and Elizabeth say goodbye to Henry & Stan confronts Philip and Elizabeth in the parking lot & Paige decides to stay behind
Bradley: Philip and Elizabeth say goodbye to Henry. Philip and Elizabeth have done some terrible things: they've killed people, lied to people, destroyed marriages, ruined lives. And, over the years, they've struggled with doing many of those things. But nothing was as hard as abandoning their son while they flee to Russia. The phone call in which they say goodbye to Henry is utterly heartbreaking, not just because it's the last time they'll ever speak, but because Henry has absolutely no idea. As Philip looks set to start crying as he tells his son he's proud of him, Henry just assumes he's been drinking. The silence between each line seems to take an age, the audience on edge over whether the call could be about to end. You could not ask for two more perfectly conflicting images: Philip and Elizabeth outside in the cold and the dark, putting on their greatest ever disguise on the worst night of their lives; Henry in a busy-sounding college games room, smiling and smirking as though everything is normal. It's fitting that the last sentence of sentiment, which comes from Elizabeth, is: "I love you, Henry." But it's like a dagger to the heart, a pain that's enhanced a moment later when Henry ends the call with eight simple words: "I'll see you next week. Okay, bye, Dad." Henry has often been the background character or the punchline for jokes; here, he's the most important character the show has ever had. It's gutting, and the absolute perfect ending for that relationship.
DarkUFO: So many great scenes but I'll go with when Stan confronts Philip and Elizabeth.
Laura B: There were a lot of really great scenes in this nicely done series finale. I was so torn between this scene and the beautifully shot ending sequences, but I chose this one, because at least for me, Philip has always been the heart of this cathartic espionage semi-tragic story and so it was Matthew Rhys' monologue pleading with Stan that moved me to tears, and I could not say no to it. It might be true that one could have imagined other endings for this series, but the one the writers chose felt so perfectly on par with what they have always done, something painful, but yet subdued in spite of itself. The Americans was never my favorite series, but it deserved all of the critical acclaim it received for some of the best acting and for its subversive take on the period espionage drama.
Saloni: Elizabeth and Philip see Paige on the train station, realizing she's basically abandoned them. The entire series finale was haunting and extraordinary, including this scene and its execution. First of all, the music choice, U2's "With or Without You," was somehow so fitting. Just when their passports had been checked and you see Elizabeth's relief that they're inching closer to their escape, she looks out the window to see that her daughter, one whom she trained to sort of follow in her footsteps, has left them behind and chosen to live in America. I loved the suddenness of the moment, the true sadness of it, pumped by the song as soon as Elizabeth sees Paige outside. Her face and expressions, as her hands are on the window taking a final look at her daughter, it is all a work of art by Keri Russell. We've rarely seen this character break down her walls and yet in this moment, she perfectly displays the grief of a mother. Losing Henry was still a choice both, Elizabeth and Philip, were grappling with and then losing Paige like this is clearly devastating. I loved that Philip's instant reaction on seeing Paige was to immediately go up to Elizabeth and silently, they comforted one another. I'm glad they showed Paige's lonesome expression as she stood alone on that platform, too. Maybe she chose to stay for Henry, or maybe she realized it's the only home she knows, or maybe it was her fight with Elizabeth in the previous episode, or Philip telling Stan in the parking lot that they've lost sight of why they do this. It all added up and she's made a choice and she has to live with it. A masterful scene.

THE HANDMAID'S TALE, "After", May 30, 2018, Actors: Elisabeth Moss, Alexis Bledel and more, The Scenes: June sees Emily in the market & The Opening scene
Claire: The scene where June sees Emily in the market for the first time since Emily's return to Gilead. The handmaids start introducing themselves to each other with their given birth names. Their whispered words are a small, beautiful step towards freedom. It also made me think of the power of our given names. When Africans were horribly ripped from their families and home and brought to America, they too were given new names by the slave owners. So as much as we like to think that the Handmaid's Tale is pure science-fiction, there is a lot of truth in it and that is terrifying.
Jamie: It's nice to see the handmaids stick together like this and slowly start to dare to break free from all of the restrictions.
Marko: The Opening scene. What a powerful scene. It was beautifully shot and terrifyingly sad.

THE ORIGINALS, "What, Will, I, Have, Left", May 30, 2018, Actors: Phoebe Tonkin, Joseph Morgan, Daniel Gillies and more, The Scene: Hayley's death
Beth: I just want to preface this with the fact that I hated that this happened, the scene broke my heart and angered me because of the implications this has for the rest of the series. With that being said, it doesn't change the fact that this scene grabbed a hold of me and refused to let go until I felt all the emotions of losing a character that I have loved and hated with equal measure throughout this show. The non-verbal acting of Phoebe and the direction of Charles Michael Davis was great. Hayley was pinned by Greta and had a moment of hope (no pun intended) when she saw her daughter's father bust in followed by the man she had deeply loved, Elijah. She then had the devastating realization that Elijah was not there to save her and Klaus was physically unable to because of Elijah. She ran the gambit of emotions silently and took one final slow look at an incapacitated Klaus and then their unconscious daughter and decided the only way to save Hope was to sacrifice herself and she did it without hesitation. Say what you want about Hayley over the course of the series, but one cannot deny her devotion, fierce protection and love for Hope.
Marko: It was a perfect moment and she went out like a bada*s. A really captivating performance by Phoebe who killed it with every fiber of her being. I will miss U Hayley Marshall.

WESTWORLD, "Phase Space", May 27, 2018, Actors: Jeffrey Wright, Anthony Hopkins, The Scene: Bernard finds Ford
Laura B: I think a lot of viewers expected to see Ford again, but some of us weren't sure in what capacity. And although I hope we see Host Ford at some point, I'm definitely going to enjoy this trip down the rabbit hole exploring "The Cradle" and see all that can happen inside the Matrix, errr I mean the mainframe!
Milo: This was a chilling end to the episode. The return of Anthony Hopkins is a memorable one, and even though it was a short scene, it was super effective, portraying Hopkins at his most Hannibal Lecter-esque.