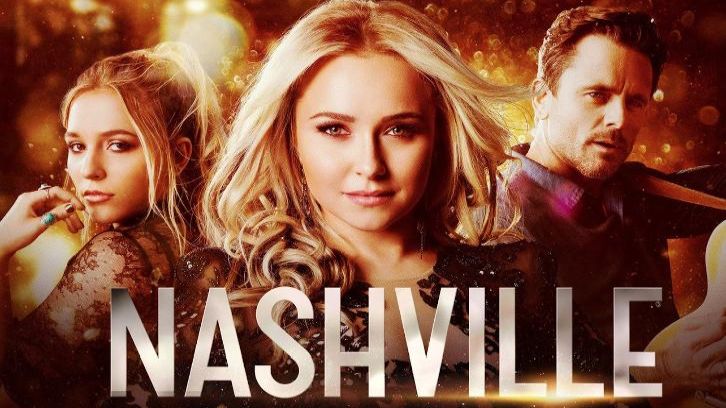 For those viewers who have stuck around, we're almost at the end. "The House That Built Me" is the fifth to last episode ever of Nashville, and as usual, I have conflicting feelings. The best thing about this episode is that viewers get a solely Deacon-centric plotline that provides some much needed backstory about his character, thanks to the introduction of his father. Charles Esten gets the chance to finally showcase his impeccable emotional range for the first time in weeks, a feat which makes the episode worth watching. And while the other main plots aren't as enticing, focusing on secondary characters viewers may not care about, I do applaud the series for tackling such topical issues. While some series' approach to certain issues can feel preachy and out of place at times, Nashville does succeed in their approach. The storylines feel real and organic, which isn't something I say very often. So if viewers can muster the strength to actually watch these storylines unfold, I think they will feel the same. (Or maybe not. Who knows?) So without further ado, let's dive in.


Deacon's childhood and the abuse he and his family suffered because of his father Gideon has always been one of
Nashville
's greatest untapped storyline. For six seasons, Deacon's upbringing has always been referenced, but it wasn't until this season that the writers finally started exploring this storyline. While viewers don't know much about Deacon's relationship with his father, we did get better understanding of their history in "Where the Night Goes." From that episode and previous information, viewers can surmise it was ugly, to say the least. Deacon's father was a violent drunk who beat his own son, so it's not really surprising Deacon wouldn't want anything to do with his father when the man randomly shows up for the first time in decades. Like I said in the introduction, this episode really gives Charles Esten a chance to shine and show his emotional range, something viewers haven't really gotten to see much this season. In fact, I think this may turn out to be one of my favorite storylines this season. While I can't really talk about the specifics that happen between Deacon and Gideon, I can tease that there will be a few flashbacks that allow viewers to get a sense of just how volatile their relationship was as well as the scenes between Charles Esten and Ronnie Cox, who plays Deacon's father, that are electric. There's such hurt and pain and anger in those scenes that it's almost palpable. Viewers get to watch Deacon go through an array of emotions before making a decision at the end of the episode on how to deal with his father's surprise return. It's also worth noting that Gideon's reappearance doesn't just affect Deacon but also those closest to him: Scarlett, Maddie and Daphne. I mean, Gideon is their grandfather, so it makes sense that Scarlett, Maddie and Daphne would have opinions and feelings about this man who they've never met suddenly reappearing in their lives. One of them in particular has very strong feelings about it and does something that is, well, very in character for her.
So since it looks like we're going to be stuck watching Alannah taking up a majority of the screen time, I thought it would be counterproductive to continue complaining, or at least spend the majority of the preview complaining. Do I currently like her? Well, that answer is made all the more complicated by the events of this episode. Per the episode synopsis, Brad makes inappropriate advances toward Alannah – which should surprise literally no one – and she confides in Avery. While I won't divulge the extent of Brad's impropriety, I can reveal the series is tackling the issue of sexual harassment in the workplace, an extremely timely topic right now. While I was watching these scenes, I kept flashing back to the previous episode where Jessie warns Alannah about the kind of man Brad is. In hindsight, this was an incredibly important scene as it potentially raises the issue of whether or not Alannah is partly responsible for what happens to her. To start, I want to clarify that if an individual is sexually harassed or assaulted, he or she DID NOT "ask for it." It is NOT their fault, and they are NOT to blame. While I think victim shaming is abhorrent, I have to wonder if some of the characters on
Nashville
will have a different opinion. None really come to mind, but I think the show would be remiss if at least someone didn't bring up this issue. I would like to see someone try to defend Brad by saying Alannah knew what she was getting herself into. During Alannah's talk with Jessie, the newly solo artist learned got a better understanding of just how difficult Brad could be to work with, but she still hoped she would know how to handle it, even after learning Brad made Jessie's life a nightmare. Well, we get to this episode just how Alannah does handle it when Brad makes inappropriate advances. We know Brad is a despicable excuse for a human being, so it really shouldn't surprise anyone he would sexually harass Shiny New Records' female artists. We expect this of him; the only unknown variable here is what Alannah does. Like I've said, we really don't know the character well enough to predict what she will do.
Some stray thoughts:
- We also spend some more time watching Scarlet try to fix Sean, and after the amount of time the pair have spent together, it's no wonder that his wife is jealous, per the synopsis. And for those of you who have watched the promos, it should be easy to figure out what topical issue this storyline focuses on.
- The episode synopsis also states that the band flounders without Alannah, leaving the guys to consider whether it's worth continuing. While the summary makes it seem like this is a major plot point, there are really only a few scenes that solely focus on this plotline.
So hit the comments below to let me know your thoughts. What do you think of Deacon's father suddenly returning? How will Alannah respond to Brad's inappropriate advances? What topical issue is also featured in this episode?