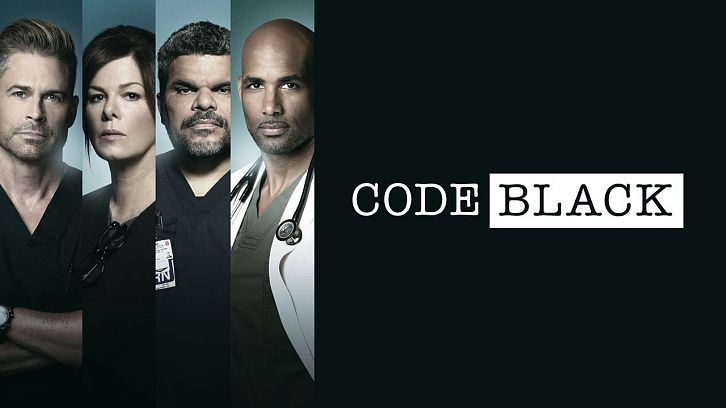 Episode 7 of season 3 was written by Joshua Troke and directed by Edward Ornelas.

Okay, so I have decided that there is absolutely no justice in a world where a quality show like Code Black gets the axe after only three seasons. Though the genius Rod Serling has been quoted as saying that 3 seasons is the perfect number for a series. Just not in this case.

I mean it has Marcia Gay Harden, Rob Lowe and Luis Guzman and was created by the ever so talented Michael Seitzman. This is the man, who when screeners were sent out to media outlets, included the most beautiful note about his beloved show!

It has everything: a great cast, solid writing and directing, action, romance, comedy. But some of the best shows on tv never even make it to season 3. And right now I am looking at you NBC! It's been 18 years since the premature death of Freaks And Geeks. And as you can probably tell, I am NOT over it, may never be.

But I digress. This week's episode of Code Black airs Wednesday, June 6 at 10/9c on CBS. To start with, we have Miles Drentell (oops, I mean the fabulous David Clennon) as Colonel Martin Willis, father to Dr. Ethan Willis. A tough ex-military guy with a good heart, he takes it upon himself to step up and mentor one of the young docs on the staff at Angels Memorial who has lost his confidence.

Rox and Ethan go on a call for injuries sustained at a step dancing competition between two rival groups. And Rox is forced to step up and face some old ghosts that she'd prefer to leave in the past.

And just watch to the very end to see some impressive step dancing. I dare you to try and stop yourself from tapping your feet or jumping up to join in!

There is a teen childbirth arc which helps to pull the curtain back a little on Dr. Noa Kean's past. And we get to see her forcefully step up for a patient in the process.

And a very sweet story involving Ariel and a self proclaimed 'cancer kid' that she is falling for rounds out the show.

Oh, and if someone does not break Diego's video camera soon, I will not be able to contain my anger. I'll be back in a few weeks to give you an advance preview of the series finale. Stand your ground and #savecodeblack!