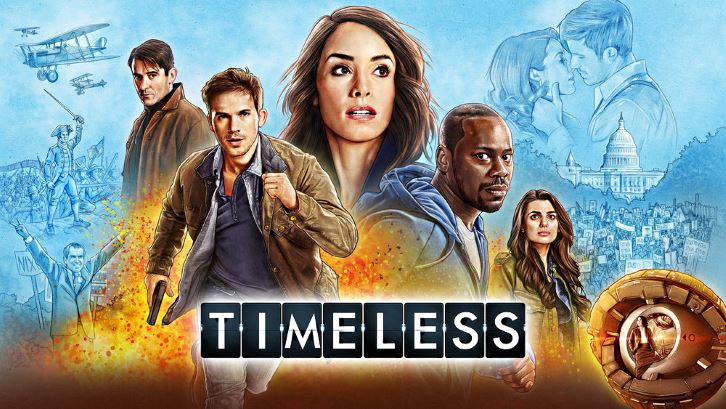 Timeless
"The Day Reagan Was Shot" was written by the team of Arkia Lisanne Mittman and Lauren Greer and was directed by Alex Kalymnios, whose other credits include
Being Human
,
EastEnders
, and
The 100
. Greer moves from writer's assistant to writer for this episode. We're already at episode 8, folks which means there's only 2 more left for the season – and they both air next Sunday!
This episode is very much focused on the women of the team. Despite the title, don't expect a whole lot about Hinkley (Erik Stocklin) or Reagan (Jefferson Black), but there's a great connection to Jodie Foster.
This episode is a week early because it is very appropriate for a Mother's Day episode because this episode really focuses on mothers! I wonder if it was originally supposed to air on the 13th? We get a lot of backstory on Denise (Sakina Jaffrey), and a bit more on Jiya (Claudia Doumit) who gets to go on a mission! The date, of course, means that neither Garcia (Goran Visnjic) nor Connor (Paterson Joseph) can go.
Garcia gives Denise some valuable advice that she takes. We get some valuable insight into the sleepers. Lots of past show events become important in this episode. Wyatt (Matt Lanter) has questions for Jessica (Tonya Glanz) who has a surprising revelation. Rufus (Malcolm Barrett) and Jiya make a decision.
And that's all the teasing you get for this episode – remember we only have two more episodes after this one, so it's really important to get those ratings UP! Watch and get everyone else you know to watch and tweet! Let's keep this great show going!
Tune in tonight at 10/9c on NBC!
And here are those dialogue teases…
It just makes you look like a douchebag.
You've been brooding like a real housewife all week…
Either way… we just need to plan for the future.
Popcorn anyone?
There was nothing else you could have done.
In a way, I guess he was a victim too.
The next time I saw her, she was dead.
I trust the team.
We're problem solvers. We don't just give up.
We promise. It's totally not bogus.
Going up?
I like to live on the edge.
If we can change the past, there has to be a way that we can change the future.
Great. A mustache in a haystack.
That's not an option for me.
So we just let it happen?
I'm Cagney, this is Lacey.
On the plus side, I wouldn't have been arrested.
It's time for you to stop risking your life for this job.
If we get there in time to save our friend, then we'll worry about what to do with you.