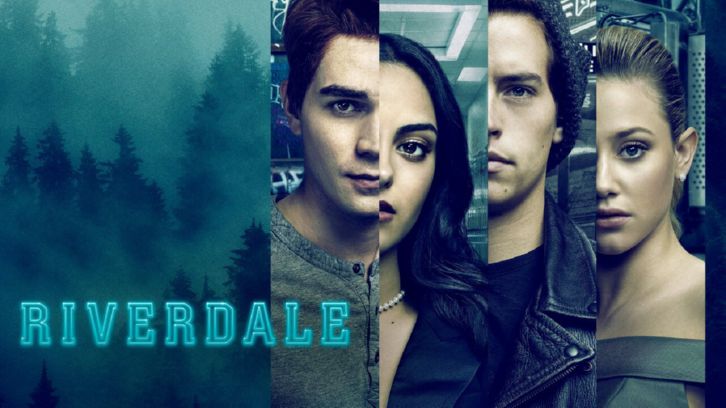 Welcome Riverdale fans! I am Beth and am going to fill in for Francesco this week! Well this week's Riverdale had some intense moments and the town can never really catch its breath, can it? Let's discuss!


This episode had so many things going on with the core four, their parents and their respective alliances that I don't even know where to begin. I mean we saw Betty slowly working on her theory that her father Hal is the Black Hood and feeling immense guilt over the fact that he may have killed Chic. We saw Archie trying to find the Black Hood on his own and deal with Hiram and his mob like grip on him. Veronica was sent on some sort of wild goose chase that had to do with her father's business but to me, it was just a way to keep her busy that backfired on Hiram. Finally, Jughead found out that one of his serpents, Fangs, was involved with our dearly departed Midge and did not tell the ousted Sheriff Kellar even though Jughead caught him on tape the night of her murder. Oh and by the end of the ep we had two shootings in two different locations. I would say these characters should just chill and get a milkshake, but they do that already and all this stuff keeps happening to them regardless!
Let's start with Betty because she was pretty much separated from some of the main stories this week. I loved her working with Cheryl. They could have gone the cookie-cutter route of her sleuthing with Jughead but honestly, who better than Cheryl to know what it is like to find out your father is a murderer? Betty spent the episode going through the gambit of emotions like when she had to go identify a body that could be Chic's and knowing that would be her fault (it was not Chic in the morgue but still, that scene was powerful!). She also broke into her father's shared B&B he was still renting and found the
Nancy Drew
book the Black Hood had used earlier in the season to send Betty on scavenger hunt of sorts. I am not sure where I stand with Hal being the guy and it only got more confusing when all signs were pointing to him until the
'Black Hood'
showed up at the mayoral debate and Hal was there at the SAME time to shield Betty. I mean at this point do we think there are multiple Black Hoods with someone being the mastermind? Could that person be Hal? I don't know, but Betty went through it this episode and is no closer to the truth even after she confronted her father with her suspicions. It was intense at the end when she told her father to meet her at the town hall where her speech last season took place and inspired the Black Hood. She and us were kept waiting because the Black Hood showed up to Cheryl's house instead. As things move along, we go from the most intense to the most infuriating in the form of Hiram Lodge.
Who else is just over Hiram at this point? The man is seriously grating my last nerve by using everyone to his advantage to further his agenda and honestly, I have no idea what he's doing all this for. I used to think it was family, but he really treats his wife and daughter like pawns in his game. As mentioned above, Veronica had to do her father's bidding when it came to finding new ventures for Riverdale that were presented by the sons of some wealthy businessmen. She settled on a casino bid brought forth by one of the sons, Ellio, but her father fought her at every turn. Veronica showed the initiative of finding a way to make it legal and decided to front the money she got from Nick's family to make it happen only to have Hiram tell her that money was now in a trust and to not try to go behind his back and act like a child. Sorry daddy dearest but if anyone is being selfish here, it is you! I mean Veronica worked hard on this and once again her parents roadblocked what she was doing. This led her right to the Andrew's house where she joined team Archie and Fred which made me cheer.
The next plot lines are messy as they tried to weave the stories together and honestly it got a bit too choppy for my taste. There was the Black Hood disrupting the debates, Midge's murder, The Dark Circle making a comeback and finally a shooting that will send the town into chaos and Hiram Lodge is at the center of all of it.
Who missed
The Dark Circle
? I personally did not, but they are back nonetheless. Archie is basically forced to reforming it after Hiram suggests it. They were supposed to be helping find the Black Hood but that comes secondary when the information about Fangs and Midge comes to light. When Fangs gets arrested at the school after a knife falls out of his pocket, he is a sitting duck and Jughead and the serpents scramble to protect him as he is accused of first degree murder. Reggie seems to care a lot more about Midge than anyone else and spends the episode raging war on the serpents through fights and destruction of their property at the serpent bar. Archie is over it and doesn't condone any of it, but it doesn't matter because Hiram has appointed Reggie as their leader. This is such an obvious behind the scenes move from Hiram and maybe the final straw for Archie when it comes to him. When now Lawyer McCoy is able to get Fangs out of the slammer, the Serpents try to protect Fangs from the mob waiting for him from the town and Circle. Jughead calls Archie down there to corral his former group but when he tackles Reggie, a gun goes off and Fangs is shot. So yeah, I think Hiram got just what he wanted, the town is in chaos and he will be its knight in shining armor. Honestly all of these people are playing into his hands by in-fighting. Next week we will have a full on North and Southside war I am guessing and let's not forget we have an election, I am already exhausted, but hold on, because we MUST discuss that second shooting I mentioned earlier!
The mayoral debates took place this week even after Fred was threatened by a letter from the Black Hood. There is a back and forth about who can keep Riverdale safe and Hermione goes low at Hiram's reassurance by bringing up that it was Archie who formed the aforementioned pest group
The Dark Circle
. This was obviously a move to make Fred look like an unreliable parent if he can't even control his own son. The debate is getting heated when Veronica notices a man in a hood aiming a gun at the crowd and hysteria ensues as bullets fly. This brings us back to the scene with Betty and Hal I mentioned earlier.
Some other Tid bits of info I noticed that could play into the final episodes:
* Ellio informs Archie that dearly departed Papa Putine's son Small Fry (Isn't that name perfect for a serpent?) is out for revenge for his father's murder.... watch your back Archie!!
* The Goulies will be out soon.... Watch your back Jughead!!!
Oh my this episode packed a punch and at times it was too much in my opinion. What did you think? Will Archie start playing offense with Hiram? Is Hal the blackhood? Is Fangs dead? Let me know!