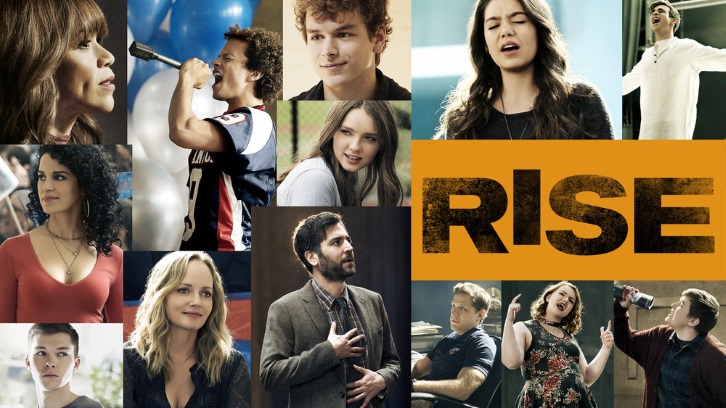 Opening night of "Spring Awakening" is getting closer, and Lou, Tracey, and the rest of the cast have to deal with the changes that are happening to the show. Unfortunately this changes cause drama and friction behind the scenes.

Tracey and Lou tell everyone about the changes, and they're all concerned about their scenes being cut. Lou tries to convince them that "Spring Awakening" will still be great but things start to collapse. They have to replace the f word, and they try to find a replacement. "Totally Messed Up" definitely didn't work. Tracey and Lou also fight over the scene where Robbie's character whips Lilette's. I laughed when Robbie asked if he can beat her or not and Lou said, "You can beat her. Just like it less."
As everyone tries to make the changes work, they also deal with problems outside of the show. Vanessa still isn't home, and Lilette's landlord is demanding their rent. Robbie comes over and is very protective of Lilette. He doesn't like that she's by herself, and says that he can see if she can come stay with them. When Lilette says no, he offers to pay her rent. But she doesn't want his money. Later she apologizes to him and tries to explain why she can't take his money. Her mom has been dependent on guys in the past, and she doesn't want that. She wants to want Robbie not need him.
Then we cut to Lilette on the phone leaving a message for her mom. She needs to know if her mom's okay. You can tell that she's upset. There's a knock on her door, and it's Robbie. He's crying and Lilette asks him what's wrong.
"I know you said you didn't want to need me. But I need you."
She hugs him and notices he has something in his hands. It's a chain lock for her door, and he wants to install it. She says okay, and then they kiss. The next scene is them lying in bed together, but they didn't sleep together. They've never felt closer to anyone before. I loved this scene. I loved everything about Robbie and Lilette this episode. I love that he needs her, and I think, despite everything she's said, she needs him too. This is turning into a beautiful relationship, and I thought the performances by Damon Gillespie and Auli'i Cravalho were amazing.
I also liked the scene between Lilette and Mrs. Strickland. When Lilette apologizes for her mom, Mrs. Strickland makes it clear it's not her fault. She's very kind to Lilette and encourages her to own who she is. And Mrs. Strickland is right- whatever problems that the adults have- it is not Lilette or Gwen's fault.
Maashous prepares to move back in with his mom, and Lou and Gail's daughter is not taking the news well. She asks Maashous if they can have a party, but he prefers to leave quietly. He also always writes "Maashous was Here" wherever he stays so he writes it on the wall at the Mazzuchelli's house. Gail also worries about Maashous. When she is teaching piano, her daughter plants the computer down in front of her and it shows the child adoption website. This makes me wonder if the Mazzuchelli's will try to adopt him or another foster child in the future.
Simon deals with his family again this week. His sister is afraid that their parents will divorce, and he asks his dad about it. He doesn't understand why his parents are still together if everything is a lie. His dad tells him that life isn't like the movies. This is real life, and he's made sacrifices. This makes me wonder. What sacrifices did he make?
The cast runs through "Spring Awakening" with all the new changes for the principal. It's so bad, but I guess "totally hosed" is better than "totally messed up". The principal is impressed, though, and doesn't think the play lost anything. Lou notices the moment between Tracey and Principal Ward, and asks if they made a deal. Lou thinks he manipulated the situation. She gets upsets. She gave everything to this show even though he took her job. Lou is angry and tells her she had no right to make a deal behind his back. Tracey walks out and tells Lou good luck with his vision.
There was so much that happened this week! I'm excited and nervous to see what happens next week in the finale (I'm hoping it's the season finale. Still crossing my fingers for that renewal).
What did you think of "Totally Hosed"? Can "Spring Awakening" still work with all the changes? Will Tracey come back? Will Maashous be okay with his mom? Leave a comment and discuss below!