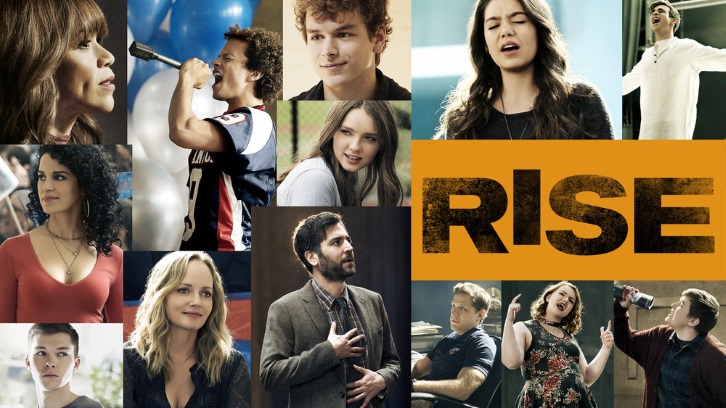 Last week viewers learned that Rise wasn't renewed for a second season. This is devastating as this is the first show I've truly loved in a long time. But I'm still glad that I watched it, and I hope that the rest of you are, too. While knowing this made the finale a little sadder, it was still a beautiful way to end the show.


As Stanton prepares for opening night, the cast is also dealing with personal issues. Maashous packs up his things as he prepares to move back in with his mom. Vanessa comes back into town and informs Lilette that they're moving to Philadelphia. She got a job as an office manager, and she thinks this will be good for them. Vanessa's excited, but Lilette isn't.
Simon is surprised when he learns that his family is coming to see him perform. The play is acceptable now that the changes have been made, but Simon thinks the show is going to suck. Gwen tells her dad the same thing, and she doesn't even want him to come. She's still angry with him, but he's her father and will be a part of her life.
Lou visits Tracey and apologizes. She tells Lou that she could have taken Ward's deal, but she didn't. Even though she was passed over for a less qualified white male, she stayed and helped with "Spring Awakening". When he said she put her career over her kids, that was too much. She says that she can't be at the show tonight and tells Lou to break a leg.
Robbie's entire family is coming to see him perform even his mom. He looks so happy to have her in the car with him. When he gets to the school he tells Lilette that his mom is here, and he thinks everything can go back to normal now that Vanessa is back in town. Unfortunately, this isn't going to happen. Vanessa brings Johnny to the show, and he tells Lilette that her mom deserves this job.
The scene of everyone dancing, playing their instruments, putting on costumes and makeup was very well done. Gordy helps with page turns for the musicians, and Maashous learns that the Mazzuchelli's got him a suit. Then everything comes back to reality. Everyone is panicking especially the prop master. Michael needs his gun for the suicide scene, and it's nowhere to be found. The prop master calls Tracey, and she knows where the gun is. She also panics when she learns that they are adding scenes back to the show and runs out of her house to get to the school.
Maashous meets Gail and the girls before the show, and Gail thinks he looks good in his suit. Gail tells him they'll see him after the show, and Maashous just looks so happy and proud.
"We'll always have Allentown."
Tracey walks into the sound and light booth and asks Maashous what's going on. They went back to the original version. She's shocked, but she's also proud. Her kids are incredible, and "Spring Awakening" is the best show she's ever been a part of. I'm so glad that Tracey came, and she also let the kids keep performing.
As Gwen sings on stage, Lou tells Tracey he's glad she was there. I honestly don't think they could have done this performance without her. Gordy and Sasha watch Gwen and Michael perform, and they both think they're amazing. After the song is over, Gwen and Gordy bond over their father issues. Gordy offers some good advice: being angry at someone for so long just takes up so much energy. Gwen asks Gordy if he's going to keep stalking her after the show is over. He asks her if she wants him do, and she does. I really like this version of Gordy, and I'm glad he took steps to overcome his issues. I just wish that we could see this happier side of him. We spent so much time with him being angry, and it just now feels like we're seeing the happier, healthier side of him.
Sasha and Michael bond after his performance. Sasha comments that this was the first time she really saw Michael, and she liked him. They kiss. I have to admit, I didn't see this kiss coming, but I was okay with it. I think if
Rise
had gotten a second season they would have explored these two together and their feelings.

"I think you might have changed my life."
Robbie absolutely kills the graveyard scene. He showed so much emotion and finally found what Lou was talking about all these weeks in rehearsal. After this scene everyone was crying. Even Robbie's dad is impressed. Lilette and Michael are also great in the scene, and Lou and Tracey are very proud. They hug as Robbie ends his performance and has tears in his eyes. His mom is beaming.
At this point I'm crying, and it doesn't get any better as the episode starts to wrap up. Behind the stage Lilette tells Robbie that she loves him, too, but she's moving. He doesn't want her to go. The curtain opens and Robbie and Lilette start to sing "Desire." Robbie and Lilette sing in the center of the stage while the rest of the cast walks around them with lights. Behind the stage Gordy and Lou have one last moment together. Gordy thinks it's amazing what Lou did, and he's going to join tech next year. Gwen and Simon get to have their own moments on the stage as they sing, and Robbie and Lilette kiss on stage for the final time.
I loved the end of the episode when the camera shows everyone up close as the curtain closes. Everyone takes their final bow: Jeremy and Simon. Gwen- who accepts flowers from her dad. Robbie and Lilette. Then we see the tech booth, and it's empty. Maashous has left, but he left his signature phrase "Maashous was here" on the wall. Lou and Tracey walk out on stage and receive a standing ovation. The camera closes in on Lou as the song ends.
"I will never be the same."
Rise
also changed so many people's lives. It was an important story, and I'm glad we were able to watch it even if it was just for 10 episodes. As I wrote above, I would have loved to had a second season and gotten more time with these characters. In my mind, Lilette doesn't move away, Robbie keeps acting, and Gordy continues to bond with Lou. We would continue to explore the relationships between Robbie and Lilette, Gordy and Gwen, and Simon and Jeremy. Maashous doesn't have to transfer schools and these kids are able to save Stanton Drama.
I appreciate Jason Katims for writing this show, and I've loved watching the cast grow over the last few weeks. I know that I'll see Auli'i Cravalho, Damon Gillespie, Amy Forsyth, Ted Sutherland, and the rest of the cast again. Years from now I can say I saw them on
Rise
.
I hope that everyone enjoyed
Rise
as much as I did. It will be a while before I find another show to love like this one.