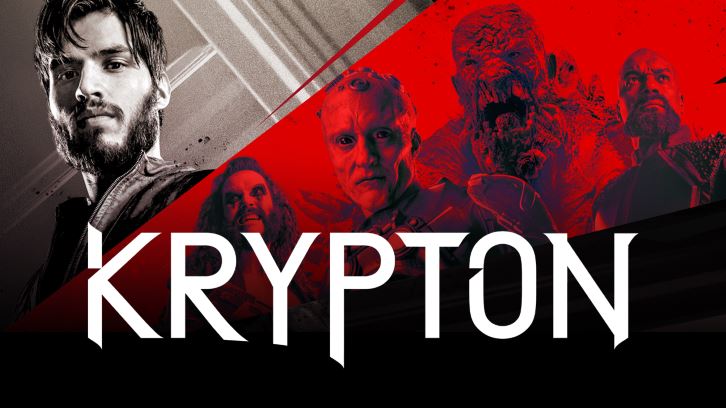 Krypton 1.09 "Hope" - Review:
Directed by Lukas Ettlin, Written by Chad Fiveash & James Stoteraux
Hope
felt a lot like the first part of a two part episode and as a result, a lot of this episode was spent putting the pieces together for the finale which, if
Hope
is anything to go by, is going to be awesome. Allegiances changed once again, and hard choices were made in an episode that was a character defining moment for not just the Zods, but also Nyssa, in a gamechanging episode that successfully raised the stakes.
As usual,
Krypton
has been keeping itself busy with lots of exciting things happening lately, so we'll start with the Zods, and their mission to turn an already bad situation into a worse one by unleashing Doomsday on Krypton in the hopes that it will bring Brainiac down. Lyta is quick to point out the risk that comes with this, saying that it'll just work its way down the food chain and rather than dealing with Brainiac they'll have Doomsday to deal with instead. General Zod is quick to remind Lyta that's Seg talking, and he wants her to not ask questions and follow his lead.
This begs the question, will we see some deaths in the finale? The show has been, true to comic book fashion, kept most of the major players alive so far, and even introduced an
Altered Carbon
-style system where the guilded can continue to rule
Krypton
as clones.That said, we did tragically lose Ona in the previous episode, so anything's possible with this show. I'm worried for Nyssa at this point after she chose to come back to Kandor rather than flee the city to help Seg, and I hope she doesn't end up a casualty in the next episode. She's too good a character to kill off. I like how the dynamic between her and Seg shaped up over the course of this episode, and I'm relieved that the writers didn't attempt to make things more contrived by having Nyssa stab him in the back as well.
Krypton
's survival rate in terms of its characters so far, to see him return like the cockroach he is.
The attempted allegiance between the Black Zero soldiers and what remained of the Sagitari to stop Brainiac was something that was always going to fail as there was still another episode left in the season before it ended, but to see it fail so badly really didn't help things at all. They waited so long before shooting The Voice of Rao they were practically asking for him to turn them all on another. But regardless, Seg's effort of uniting the Sagitari and Black Zero, two bitter enemies, with the help of Nyssa, was a fantastic sequence of events to watch unfold even if it was ultimately doomed. I loved the scene between Seg and Val-El, and more emphasis on the fact that The House of El chose its sigil. "
As long as there is an El on Krypton, there will be hope. And hope can be a powerful weapon
." Time is running out to save Superman and Krypton itself, but that doesn't mean Val-El can't provide more motivational speeches while he's here.
The odds are looking slimmer by the moment for
Krypton
survivors, in what was overall a solid episode despite its flaws. I'm still not wholly sold on either relationship that Seg has, between Nyssa and Lyta, but that doesn't stop all three from becoming good characters in their own right. Given that it was announced that the show was
renewed for a second season
while I was writing this review ahead of its upcoming UK airdate, I'm excited to see where the show takes them next season, but are we burning through everything too quickly? Where will the show go from here after presumably, Brainiac is defeated in the finale? But the good news is that the show has not held back from making its connection to the DC Comics universe known, so there's plenty of potential to explore there.
What did you think of Hope? Let me know in the comments below and be sure to check out the season finale - The Phantom Zone - tomorrow night on SYFY.