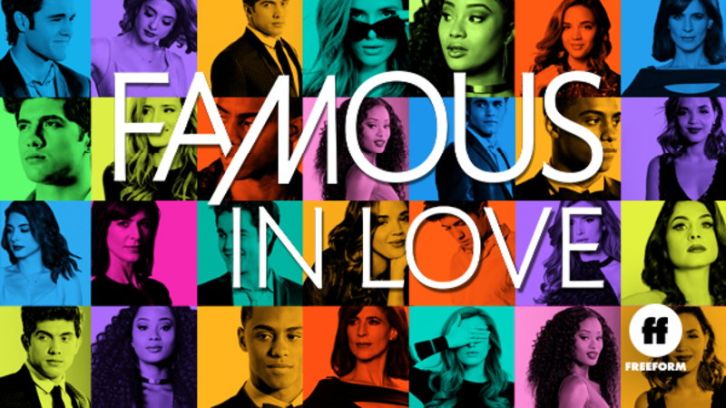 Last week on the "Reality Bites Back" episode so many things happened that was all confusing. Sloane, the kind of new troublemaker, gave us a glimpse of her claws, Paige got drunk and let Rainer take her home. Rainer and Harper got into a fight at his fundraiser or her fundraiser; I cannot tell who was responsible for that mess. Nina looked like she was getting into a relationship with Steve and Jake was trying to get funding for his movie with Billy tagging along making Paige insecure. We didn't get to see Tangey but found out she's friends with Sloane and Cassie was missing in action. Jordan hooked up with Marisol which I fully support and poor Alexis is still trying to film her reality show which Sloane is about to destroy.

This week's episode aptly titled
"The Goodbye Boy"
things did not look much different; however, there were a couple of subjects that were brought up albeit in passing that I think are essential to address in this review. First off the episode begins with Cassie on the set of her horror movie. This show is very confusing because when Cassie first auditioned I misunderstood who the costar was going to be for the horror movie. We meet him in the first few minutes, and he is a big man maybe six foot tall and some; also very inappropriate. As it is in many professional situations, Cassie tries to introduce herself to this man who has no interest in knowing who she was but kept staring her breast. I understand what the writers were trying to do by making Cassie seem confident in confronting the man, but it left me very uncomfortable. Yes, these situations occur and what was unfortunate about it was his response and knowing that Cassie wanted this job so badly that she was going to go back to set and work with him. Watching this scene left me quite upset because of how real it felt.
I sense that this was a continuation of the same theme from the last episode about sexual harassment that the show was on and they were trying to show a different point of view on how sexual harassment occurs. The next scene is where they lost me; I agree that they were trying to remain authentic to what indeed happens and how these behaviors continue without being addressed especially on film sets but making Cassie use the car door to defend herself was not a solution. The director didn't realize the unpleasant situation Cassie was in, decides to add her more scenes to milk her emotional state. Cassie agrees to the extra work but doesn't share the reason behind her spectacular performance. The writers used this quagmire Cassie was in to portray how complicated the decision-making process can be when one is in this kind of a bind. Continuing the part would mean the harassment would not stop since she still had to work with the idiot. I hoped that this would not drag on to several episodes so, Cassie sharing the situation with Jake and Adam was a good sign; however, I hope that the show will address this particular situation further.
Last week's episode we found out that Paige had a screen test for a Scorsese movie. Well, she missed it because she was drunk and got sick from a terrible hangover. In a poorly written scene with cringe-worthy dialogue, Jake and Cassie are trying to figure out Paige's where about since she hadn't reached out to either of them all night. I understand Cassie being busy with night shoot and all but Jake had no excuse not to check on his girlfriend it was so out of character for him. The writers are not even pretending anymore that this was all a way to cause drama which, worked. Rainer who ended up sleeping on her couch as I had predicted in my previous review, tries to help her through the hangover but is confronted by Jake who is not happy with his presence in his girlfriend's house. Cue the clichéd argument between Jake and Paige about why Rainer was there and Paige blaming Jake for making her miss her screen test. Paige's reaction to Jake choosing to use Billy for his short film was a little bit much, however, for the first time this season we got a high emotional performance from Bella Thorne. Paige was very passionate, but I think her pain was not caused by Jakes decisions but by her lack of admission of wanting out of the relationship with Jake. I was disappointed by the writer's choice of making Jake mean to progress the Paige and Rainer story. Jake cares for Paige's wellbeing more than Rainer would, and he has for a long time; unfortunately, this is TV and break-up city is inevitable at this point for this ship.
Harper and Rainer also have the same argument, and we start to see Harper's other persona that Sloane had hinted at during the fundraiser. I don't think this was about bipolar but just the character of a manipulative person. This behavior was also explicit when she went on the Locked set to apologize to Rainer but then went straight into convincing him to move to New York to do philanthropy work. Rainer agrees to the move and decides to let everyone know at the wrap party which surprisingly enough he invited Nina. This impulsive pronouncement was quite a shock to the attendees and to Paige as well who got a longing look from Rainer when she showed up. I somewhat agreed with Nina when she told sad looking Harper that Rainer would not leave Hollywood, old Nina is back, and it only took one invite from Rainer. A few episodes ago Rainer was Mr. Environmentalist, this episode he hands his fancy car to Octavio, the valet guy. Harper was not impressed by this development at all, but I don't feel sorry for her since she engineered this new Rainer.
I liked Steve and Nina together, but after this episode, I wasn't sure anymore. I know he wants to keep their personal and private relationship separate, but he knows how aggressive Nina is in the industry. Giving her a script to read as his "girlfriend" and telling her someone else would be producing was a shitty move. This whole scene was very uncomfortable to watch because Steve acted like all this was casual, but Nina was hurt. Nina has proven that she can take people out if they try to interfere with her business hopefully Steve is ready to deal with it.
The episode handled anxiety very well when they showed Jordan reacting to a phone call from the paparazzi and freaking out. My heart ached for Jordan because I know how helpless one feels when anxiety overwhelms you and a panic attack ensues. Witnessing a panic attack can be scary, but Marisol was great in this situation as it was unfolding in front of her. She was calm and helped him to sit down and take deep breathes which was an excellent way to get Jordan settled. Jordan deciding to address the rumors about him on live TV was a big step forward which opens room for more emotional content for Keith Powers. This new Jordan is the work of Marisol, and I pray this doesn't change because I want him to heal. His background story has been the worst cliché in this show, and they need to correct it before they say adios.
We finally met Jeremy a character who might end up being the stalker even though my gut feeling tells me there will be a twist. In his short conversation with Paige he blurted out too much useful information, and as a viewer, my first instinct was "this is bullshit." Seeing Paige coming home to an intruder situation kind of raised my bullshit meter even higher in regards to Jeremy, so I am looking forward to seeing how they pull off this stalker situation.
Overall this was an enjoyable episode. Most of the characters had some development but I am not sure about Rainer. Unfortunately, it looks like the show will rush through everything to finish the season since they only have four more episodes to go. The writers wasted a lot of time on pointless storylines that added no value.
I have questions?
1. What happened to the Billy we met the first time, this new woman is becoming soft?
2. Where did Tangey go?
3. So was Alexilicious canceled or did it not get picked?
Don't forget to watch Famous In Love on Freeform Wednesdays at 8PM ET.