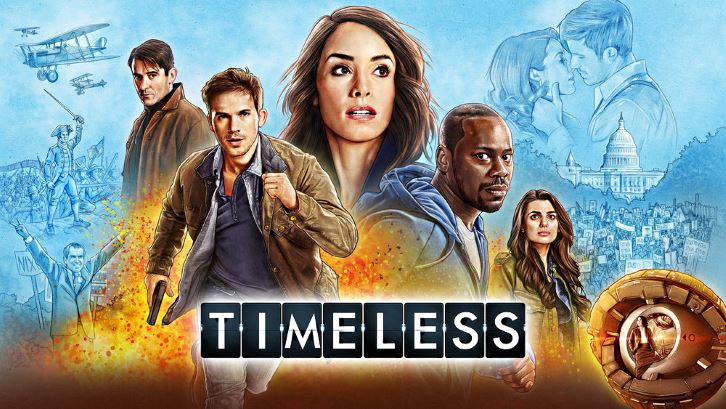 Timeless
"Mrs Sherlock Holmes" was written by the team of David Hoffman and was directed by Douglas Aarniokoski, whose other credits include
Bull
,
Sleepy Hollow
,
Arrow
, and
Criminal Minds
. The episode features not one, but two really interesting female figures from March 4, 1919: Alice Paul (Erica Dasher) and Mary Grace Quackenbos Humiston (Sarah Sokolovic). The team travels to New York to try to save one of them.
Rufus (Malcolm Barrett) handles things badly with Jiya (Claudia Doumit) before the mission. But he finds an upside to something she tells him that gets him into trouble. At the bunker, there's another awkward exchange in the bathroom. Connor (Paterson Joseph) really throws himself into his work and gets help from an unexpected source.
Keynes (Michael Rady) begins to enjoy some of the modern conveniences. Emma (Annie Wersching) is given a new role that she's not happy about at first but is satisfied in the end. We gain some interesting insight into Emma.
Garcia (Goran Visnjic) continues needling Wyatt (Matt Lanter). Wyatt and Lucy (Abigail Spencer) get a very effective ally. Rufus and Garcia get help from a very surprising source. There's still a lot of tension between some team members. We learn something surprising about someone at the Bunker.
Don't miss this episode tonight at 10/9c on NBC!
And now that you know who the historical figures are take a minute to look them up…
And here are a BUNCH of dialogue teasers!
Hey look. A couple of dicks.
Totally some crazy nostalgic vibes.
Oh my God! I suck at making friends.
I'm not stupid. If I tell you, you kill me.
We're too late.
More than Beyonce?
Guess we're supposed to be Watson.
We're a team. We don't need Yoko.
She's entitled to her point of view.
Sorry, I don't take romantic disputes.
Let someone else do the dirty work.
Easy tiger. You're here for back up and that's it.
The dirty work is what I'm good at.
I promise that I'm not going to kill you on this trip.
None of this has to happen. None of this is set in stone.
Great. Now both my enemies have guns.
I'd rather earn my respect than grovel for it.
Guess I could move from one hopeless situation to another.
Love issues. They can feel like life and death.
Same place as always. Kicking ass and saving the world.
Invincible doesn't mean what he thinks it means.
From now on no more cowboys or Kenny Chesney concerts.