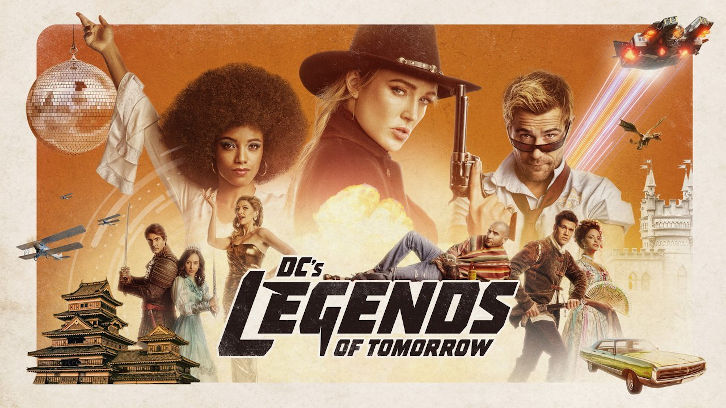 Legends has been on fire this season and now we're standing at the end of this long strange trip with some great news! Legends season 4 is official! We can expect to see some faces say goodbye and some new faces come aboard next year, but for now we've got to deal with the Mallus of it all.


I, Ava
I, Ava was a pretty solid hour. It had two strong plots going with a little Mick-Zari time as a comedic relief that made the hour just fly by. I'm going on record as saying that I don't mind Ava, and I am curious to see what her series regular presence brings next year, but on the other hand, I wasn't exactly clamoring for more of her. This episode definitely gave us a lot of Ava. I thought Sara's break up with Ava was a little ridiculous and now I'm left wondering if it only happened because the writers wanted to give us this plot. We've all been through a break up where we feel like we're seeing our ex everywhere and in Sara's case,s he ends up seeing her ex everywhere in the future. I am a huge fan of Gary, so I'd loved that he, Sara and Ray were working together to find out missing Ava. Sara's reaction to all of this is pretty Sara for the most part, from the wanting to get some space, to the threatening of Ava's parents due to suspicion. ( I loved that actors complained about work being hard to come by). We finally learn the truth that Rip didn't want Sara to know when they travel to the restricted time 2213 and discover Ava's everywhere. Ava is a clone and not a robot, and Ava actually stands for Advanced Variant Automaton, the perfect peacekeeper in the future. Sara and the team believe their Ava purposefully hid this truth from them, but once our Ava( Ava 12 we learn in the next episode) shows ups and passes out they learn she was just as in the dark. I did love Sara convincing her that she was different than the other Ava's and then asking her to blend in with them to save their buts from the army of Avas. The fight scene was pretty awesome, even if overall, the adventure was just pretty filler. Honestly the reveal that Ava is a clone, while slightly complicated for Sara, felt kind of lackluster and not like something that would be revealed so close to the climax of the season. It was great because it forced Sara and Ava to deal with breakup and the reality of Ava being too good to be true for Sara. I just wished the reveal wasn't so meh.
On the other hand, Kuasa was finally redeemed this week and suffered gravely for it. I wish we actually got to see Mari this week, but I understand that it's not quite necessary for us to. Amaya is serving as Captain while Sara is away and I respect that she did try and stay out the whole situation at first. Nate and Wally really should have been a bit more cautious about Kuasa fully and let Amaya know what was going down. While Kuasa was able to get the totem back by trading Nate, she still let Nate be taken by the Darhks because her grandmother's love for him is dangerous for her legacy. ( More nods that Amaya will be leaving us this season IMO) Mallus is definitely growing stronger inside of Nora and it's got Damian worried. His bonding with Nate instead of torturing him was pretty hilarious. Nora all juiced up on Mallus is one tough cookie and she really doesn't need a totem to dispatch them all when they come calling for Nate. Kuasa dies so that her grandmother can live and so that her legacy stays intact. I think we all knew that Kuasa would end up on the side of her grandmother by the end of the season, but that never stopped it from being satisfying.
B.
Guest Starring John Noble
This episode was equal parts frustrating and fun for me. John Noble appeared(!), the Legends save Barack Obama from Grodd(!!) and Sara trusts Damien Darhk(?!) but at the same time the clone plot goes most nowhere(ugh), Mallus' reveal is meh(uggggh) and Amaya just has to screw up the future and let her daughter fight Grodd in one of the worst choreographed fight scenes of the season(ugggggggggh). For this to be the penultimate episode of the season, this was a decidedly mixed bag. All Obamacare jokes aside, I almost wish we just had an entire episode about the team saving young Barack. I was so excited early in the episode because the show kind of alluding that Mallus' reveal was something to behold by having us only see Damien's reaction to it, but when he was finally revealed at the end of the episode, I literally said, "That's it?". The showrunners claim that Mallus is a big old budget eater, but honestly, he's just a generic CGI demon. There is no face to Mallus, just John Noble's voice. The show had a lot of fun this week, very tongue and cheekly acknowledging so many things about the Arrowverse it's almost not fair. (Run, Barry, Run being my favorite.)
The Darhks sent Grodd to kill Barry O, in attempt to corrupt the timeline enough to free Mallus, it almost works and Damien realizes that when they do succeed, Nora will be no more. It's heartwrenching to watch them both try to convince the other that this what they want, and it's hard to not feel for Damien. As annoying as he is, Legends has done a great job improving on a character that Arrow floundered with. We all knew the alliance with Damien and the Legends wouldn't stick, but it was nice to see how much Sara has grown that she was able to stomach Damien long enough to side with him for the greater good. Ray taking a time trip to see John Noble on the set of LOTR put a huge smile on my face, (almost as much as Mick watching LOTR, or Ava asking him if he could read) and it was great how meta the show went with this plot. Of course Damien ends up tricked by a death totem vision and betrays the plan in an attempt to save Nora, but in the end, the team gets what they want, a chance to meet Mallus.
B

The season finale of Legends of Tomorrow, The Good, The Bad and The Cuddly, featuring Jonah Hex/Beebo, Jax and more airs 4/9 on The CW!

What did you think of these episodes? Any predictions on the finale? Sound off below!