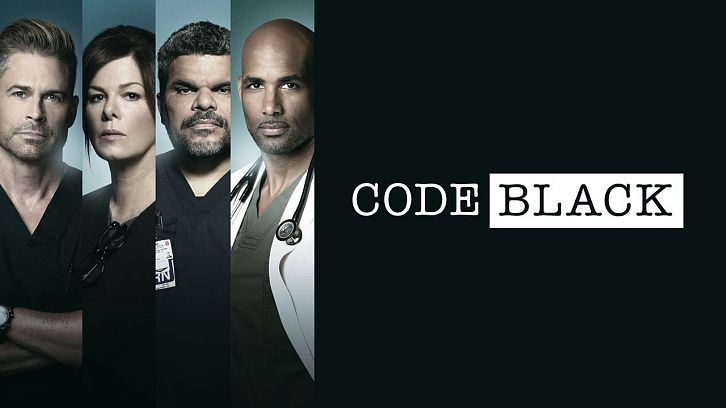 Season 3 of Code Black premieres Wednesday, April 25 at 10pm eastern time on CBS; starring Marcia Gay Harden and Luis Guzman.

After an almost 15 month hiatus, Code Black is back; written by Michael Seitzman and directed by Rob Bowman.

First time viewer here and I loved it! It's like ER on steroids. Leanne (daddy) and Jesse (mama) are still 'heads of the household' and Angels Memorial Hospital is busier than ever.

It's the first day for a couple of first year residents and for poor Pepper, it is going to be one LONG day. Hope she survives it? Her fellow first year is annoying as hell, videotaping everything for his 'documentary.' Everyone seems to let him slide because his family's name is all over the hospital, but is he going to get someone killed?

Angels is still the busiest hospital in the country with the highest survival rate; dealing with 300+ code blacks a year compared to most hospitals 5 a year.

Rob Lowe's Ethan is headed out into the 'field' with paramedic Roxy. And he is one bad ass ex-military doctor who takes too many chances. He just wants to plug that 'golden hour' hole.

Head nurse Jesse is working to keep the first years in line: "Mama knows everything that happens in this house, you think you are smarter than your mama because you have an M.D.? Well, you are not!"

Watch out for the deadly fentanyl fog and just because someone seems fine one minute does NOT mean that they are going to live and vice versa. 'Hagrid in scrubs.' I was a candy striper MANY years ago and I did not know that they still existed?

One thing I could do without is the workplace love affairs, just my opinion. There is already so much going on with terrific acting and writing that to me it just seems unnecessary. Love that Angus gets a big 'break.' Great musical performance near the end, too.

And, finally, I hope to never have a team of doctors that are romantically entangled; not a good idea.

Notable quotes: "Stay low and make yourself a small target. But I am not small."

"You're not safe, man, and I don't have a death wish."

"I never saw a doctor hit a patient before."

"Being a superhero can cost you." "Then why did I buy the cape?"

"Don't be so hard on yourself, that's my job."

"Sorry is irrelevant." This one is my favorite.