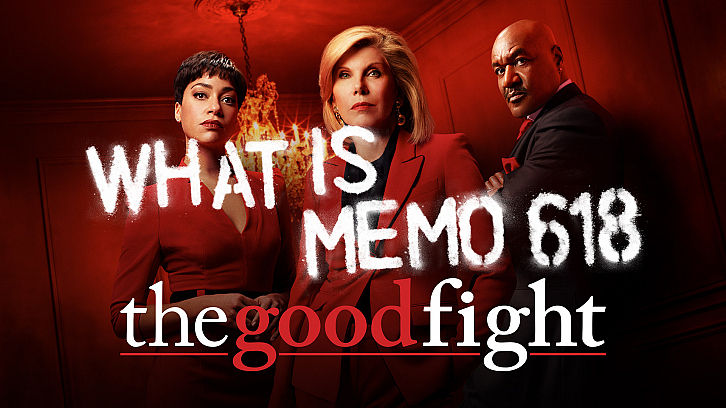 This week on The Good Fight we got a very special episode in which it was split into two main stories; Liz's case and Lucca's case. Each story spans about one day and is first told from Liz's perspective and then Lucca's perspective. This was fascinating for me to watch because it draws on the thematic idea of everyone being the heroes of their own story, as Diane and super special guest Elsbeth Tascioni ponder during their part, and everyone also being a background or supporting character to someone else's. This was an aspect that I really enjoyed watching. what made it even better was the plethora of some of my favorite guest stars. Mamie Gummer as Nancy Crozier is back as Liz's opposing counsel, Gary Cole as Kurt, and as I mentioned Elsbeth is here helping Lucca with her case. All in all a fun episode to watch. Because of this split, I'll also be discussing it the same way, starting with Liz's case and then Lucca's.

Liz's case:

Liz's case revolves around her ADHD-addled son, Malcolm, whose favorite teacher has been fired. But Liz doesn't know why and she is determined to find out. She talks to the principal, but she won't say anything except that he has an arbitration that afternoon because he is appealing the decision. So, Liz asks Jay to look into it, but he doesn't have time (which we'll get into during Lucca's story) so Marissa takes the job instead.

The teacher allows Liz to represent him in his arbitration and she brings in Maia to mentor her on the case. At the arbitration, Liz and Maia go up against Nancy who is representing the school. The arbitration gets interesting when it is revealed that Marissa found out the teacher is gay, and the principal has a history of firing gay teachers. However, she also reveals that the school has developed an algorithm to fire teachers only on the basis of job performance. Obviously, Maia and Lia want that data.

They grab the algorithm experts from last season to poke holes in the school's algorithm. However, it turns out the algorithm uses objective testing for the majority of their data. The judgment of the teachers' performances are 90% based off of how well the kids do on tests. Can't poke holes in that.

But, there is something about the tests themselves they can poke holes in. After a discussion with Malcolm, Liz figures out that there is something wrong with his test scores from the past couple of years. She, through the help of an eraser expert, finds out most of the teachers at this school are fudging the kids' test scores to make them better than they actually were, as to reflect a better image on the teacher's abilities. And the only teacher who hasn't, the only honest one, is the one being fired. Go figure. The funniest part about this is Nancy, whose daughter goes to that school, only cares about her daughter's test scores.

Liz wins the arbitration and the teacher is invited to return to the school. However, he's taken a job at a private school because of better pay. Liz is upset about this because she supports the public school system and feels like he's joined the enemy. She won this battle but lost the war. So it goes.

Lucca's case:
Lucca's case revolves around her brother. She is confronted by agents from the Department of Corrections and discovers that her brother, Dominick, and his business are being investigated for practicing law without a license. She tasks Jay (explaining why he was too busy for Liz's case) with the job of finding out where her brother is. Jay tracks him down in Chicago and Lucca confronts him in a coffee shop. From their interaction, it's clear they don't have the best relationship. Apparently, their parents loved Lucca more than Dominick and gave her everything and him nothing, which she later admits is true. Yeesh.
Lucca thinks he did it, but Dominick claims to be innocent. His business is all about providing legal advice to prisoners but he's not the one actually representing them and so he can't be busted for preventing to be something he isn't because he isn't. But she doesn't believe him. He has a history of scamming people.
Returning to the office, Lucca is served. She's pissed. But after a talk with Maia, who knows from friends that Dominick's business is legit, decides to help and represent her brother. However, she can't do the representing herself, so she hires Elsbeth to do it for her.
Elsbeth represents Dominick in a deposition with Carter Schmidt, played by Christian Borle (!! So many guest stars this episode), who is representing the Department of Corrections. Dominick explains what his business does, just providing guidance and forms to inmates, but Carter claims it's illegal. What it really boils down to is Dominick is helping too many inmates and it's hurting the Department of Corrections.
Lucca softens at her brother's genuine desire to help inmates. She thinks the business is a great idea. The two reconcile and she firmly stands behind him during the rest of the deposition. But Carter hits them with everything he's got, using all possible legal loopholes to shut down Dominick. He's determined to put the kibosh on this business. Part of it is because he doesn't want businesses like this to grow and replace lawyers everywhere. Elsbeth and Lucca don't have much of a defense against all Carter is going to hit them with. When Adrian gets wind of this, he wants to put the kibosh on it as well. He offers to buy the business in order to shut it down. For $100,000, Dominick agrees to sell it.
Now, the biggest reveal of Lucca's story this week is that she is pregnant with Colin's baby. Oh, boy. Not sure how I feel about this, and neither is she. It doesn't look like she's even going to tell Colin and instead asks her brother to be the godfather.
Outside of these cases, Diane has her own small subplot again. She and Kurt are still waffling over their separation. At the firm's party celebrating the opening of a second floor, she meets a bartender, who is played by another great guest star, Tim Matheson. What starts out as flirting turns into him ending up in her bed. Diane, who is supposed to meet with Kurt and talk that same day, feels guilty. She and Kurt partially reconcile, but she doesn't tell him about the bartender, so I imagine that will come back up later.
I loved that this episode gave us more information about the family lives of Liz and Lucca. Seeing Liz with her son and Lucca with her brother provided an interesting aspect of both characters that we don't normally see. I still wish Diane's storyline would expand to something outside of her just falling apart. I feel like it would be more interesting if she had more screen time to actually flesh it out, but she doesn't. She pops in, curses, does some drugs, and then she's out again. At least this time we had Kurt involved, which I'm always glad to see Gary Cole on the show. Also, the Lucca pregnancy. Lucca as a mom could be good, but I don't know where they're going to take this and with Colin. It could very easily go wrong. But, I look forward to seeing what happens in the next episode, so that's a good sign.
That's it for this week. How did everyone else feel about this episode?