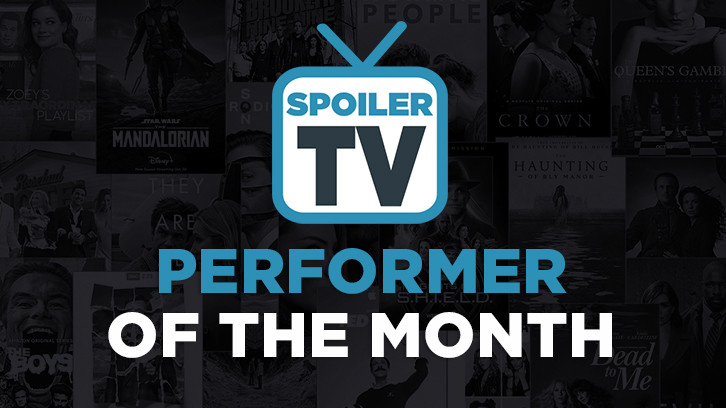 Results:

Television in February was repeatedly interrupted leaving most shows to preempt new episodes from airing. Even with the preemptions, there were still many amazing performances that graced our screens throughout the month. The winners of SpoilerTV's February Performers of the Month delivered some of the most profound performances ever delivered on either of their respective shows. Their performances will not soon be forgotten. The performance by one can easily be called iconic and the other delivered what was arguably the very best performance ever delivered on her show. These women were top of their class and rightfully deserving of the titles of Reader's Choice Performer of the Month and Staff Choice Performer of the Month.


The Reader's Choice Performer of the Month is Tala Ashe who portrays Zari Tomaz on CW's
Legends of Tomorrow
. After a very close race she just barely edged out American Crime Story's Darren Criss. Tala Ashe is a new addition to the cast this season, but she has delivered some truly noteworthy performances. Her performance in
Here I Go Again
(3x11) was one of her very best performances and was one of the overall strongest performances ever delivered on this show. That is an impressive thing in and of itself because she is part of an ensemble that is full of unbelievably incredible performers. She covered the gambit from funny to serious to heartfelt to heartbreaking and everything else in-between and did it all while delivering one exceptional performance after another. It was the epitome of a perfect performance and made her an exceptionally worthy winner this month.
The Staff Choice Performer of the Month is Mandy Moore who portrays Rebecca Pearson on NBC's
This Is Us
. She took an early lead and easily maintained it to run away with the win. She won for her instantly iconic performance in
Super Bowl Sunday
(2x14). There was arguably no episode of any show this season more highly anticipated by large masses of people than this episode. It was a factual guarantee that Moore was going to deliver the performance of her life, but even with expectations high she still managed to exceed what everyone was expecting. Her performance was one for the books with its raw emotion and gut-wrenching realism. Through Moore's performance, Rebecca's pain was palpable. When people look back on the 2017/2018 season her performance in this episode is one that everyone will remember. She was more a very deserving winner this month
The performances by both of these gifted actresses will be looked at in more detail in their winner articles. The articles should be released later this month as we honor these two powerhouse actresses. Until then, feel free to use the comments to discuss Tala Ashe and Mandy Moore as well as their very worthy fellow nominees.
Original Post:
Nominations were a bit slow for this round, which was expected given all the interruptions caused by the Olympics. Still, the nominations produced a very strong group of performers who delivered some very powerful and memorable performances in February.
Now it's time to determine who will be our very first Reader's Choice Performer of the Month. The results will remain hidden for the duration of voting. The results of this poll and the Staff voting will be revealed after the poll closes.
2017 Staff's Choice Performer of the Year: Tatiana Maslany
2017 Reader's Choice Performer of the Year: Sam Heughan
January Winners:
Reader's Choice: Camilla Luddington (Jo Wilson) - Grey's Anatomy
Staff Choice: Justina Machado (Penelope Alvarez) - One Day At A Time
Please remember that a performer can only win once in 2018. After that win, they will be ineligible to win again in 2018, but they will secure a spot in our year-end Performer of the Year contest.
Now comes the hard part where you can
only vote for 1 performer
. The poll will be live until
Sunday, March 11th at 6 pm ET
.