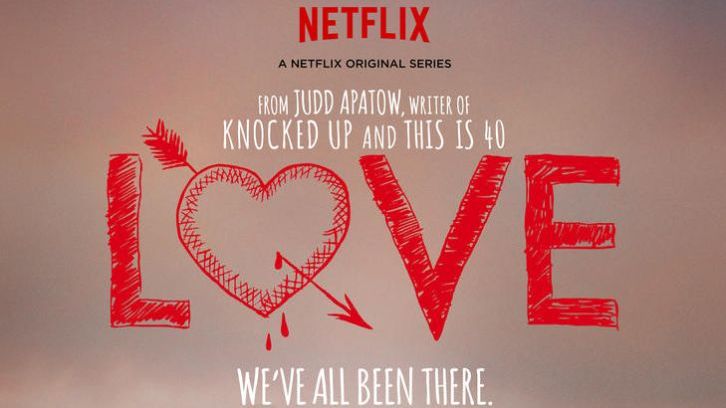 Be honest, who came here for a solid "Love is over!" joke? Perhaps a nice "this is the end of Love" or "Love is over after three seasons"? Okay that last one is just a fact. Sorry! You can @ me on Twitter if you don't agree, because that's the only way I interact with people.

That being said, this was indeed the final season of Love. I'm a fan of Love and therefore am comfortable declaring that it's for the best we've reached the end. Ahead of season three's release, I rewatched the first two seasons and I really appreciate how the show takes place over six months from start to finish. This show wasn't the most sustainable and ending it here leaves the story as a very specific character study based around this very specific time in their lives. Instead of thinking back on the endless obstacles that were thrown at our leads over eight years, we get to focus on the 34 episodes that tell a fine story.

For those of you who haven't finished the new (and final) season, here's a quick spoiler-free review for you. If you liked the first two seasons, you're going to like the third. It has a slightly unexpected follow-up to the conclusion of season two and successfully continues its deep look into Mickey and Gus, both as individuals and as a couple. It also successfully gives the supporting characters more to do and develops them beyond props for our two leads. Not everything works, and if you didn't like the show so far you're not going to suddenly like it now. It knew what it was from the very beginning and never really shook things up during its short life. And that's okay. I imagine everyone has a different opinion on the ending of the show, but it was relatively successful. And even if you dislike the end, we can always cherish episode 5 (aka Bertie's well deserved episode). Seriously, I love Bertie.

Alright, I'm done avoiding spoilers. Get out of here, hooligans who haven't watched yet and don't want it ruined! All kinds of reveals coming at you underneath the picture below. You've been warned. Don't @ me on Twitter for spoiling a single thing (or do, I love when people @ me).


If there's something to take away from
Love
as a whole, it's that sometimes messed up people do messed up things and sometimes messed up people do good things. It was bold for the show to avoid Gus finding out about Mickey's cheating with Dustin last season, but honestly it also rings true because sometimes mistakes aren't caught. Just like it rings true that Randy realized Bertie cheated with Chris and got hurt. Life is messy, and love is messier.
Our final season really gave the characters a chance to grow individually while challenging them as couples. Mickey's career flourished into producing her own radio show, Gus struggled to make his own short film that created conflict among his friends, and Bertie pushed herself to avoid falling into the same trap she was in back in Australia. They grew, they made mistakes, and then they grew again. It was a challenging journey that guided them to a complicated and controversial (I assume) ending.
Love
, those are considered higher stakes.
But let's talk about the big Love. Gus and Mickey. I thought the season built up to their South Dakota trip really well. It was frustrating a lot of the time because they're both insufferable, but it really worked watching their dysfunction build toward a a semi-functional relationship that was clearly about to burst. The fact that Gus never found out about Mickey's affair actually drove the plot for me, and added a really nice layer to Mickey as a character through these episodes. Sure, it never bubbled over into a fight like we usually expect from TV, but it was always in Mickey's expressions and decisions. You could tell how much Shaun's judgment hurt her in episode 6, and you could see the complicated guilt she felt after meeting Sarah and catching Gus in his lies in episode 7. Kudos to Gillian Jacobs and how well she used that secret this season to drive her acting.
I know they're irrational characters, but it felt out of nowhere. Neither had previously discussed a desire to get married and start a life together aside from a quick conversation the episode before. I think it would've made more sense to me if their individual lives were going horribly. I can easily see them eloping after everything else falls apart, but why did their personal and professional success inspire them to get married? Wouldn't it inspire them to continue working on themselves? I thought it played out well once the decision was made, and I like the note it ended on, but the decision getting there didn't work for me. It seemed to happen for the sake of shock value and series finale closure instead of an organic step in their lives. Perhaps that's the finale they imagined down the line and bumped it up when they decided they were ending after the third season? Who knows.
Personally, I don't doubt that a divorce is in their future. The magic of TV tricks us into wishing they'll live happily ever after, but if we're being honest they were still an unhealthy couple that had no business getting married. Mickey was only six months into her sobriety and was never single after declaring herself a sex and love addict, and Gus never showed growth in his anger issues or tendency to play the victim. One passionate speech admitting your faults does not change who you are as a person. If you feel differently about the ending and think they'll live happily ever after, that's okay and probably what they wanted. While I think the show jumped to marriage a little too quickly and randomly, it ultimately ended the show in a way that felt right. It felt like the
Love
we knew.
Love
was a nice, 34 episode rom-com that wasn't for everyone but was a comfortable place to visit for those of us who wanted to be here. It wasn't laugh out loud funny and it wasn't tear-inducing drama, but it was an interesting peak into these six months of their lives. Plus, it gave us the gift of Bertie. I'm so grateful for Bertie.
SPARE THOUGHTS
-When the "Palm Springs" house was such a disappointment, why didn't they just ditch the house and actually go to Palm Springs? It didn't look that far away on the map.
-Gus was his absolute worst in the sick episode. People do not always know how they got sick, and if she got sick from work you already had it. You did not catch her illness in the few hours you spent at the house. Not to mention, SHE DIDN'T ASK YOU TO COME OVER. That one got me worked up, I would've dumped Gus on the spot.
-After making a big deal about cooking Shaun and her husband a meal and acting like an adult, why did no one mention how Mickey failed and just made Randy do the cooking?
-Vanessa Bayer stole the show as Sarah in episode 7. That was superb and heartbreaking acting. Someone give her her own show. (Maybe with Claudia O'Doherty? Okay I'll stop)
-I felt more feelings watching Bertie and Chris in her birthday episode than I ever felt with Mickey and Gus.
-It's already unrealistic that Gus is even allowed on the set of Witchita after his shenanigans in season one, so don't even get me started on how absurd it is that Susan offered him a writing job on her next show just because she read his short film.
-Overall, it wasn't really necessary to return to Witchita, but I will say Iris Apatow grew as an actress over the three years and made me a laugh a few times this season.
What say you? Do you feel satisfied with the final season? Do you agree with their decision to get married at the end? What was your favorite episode? Do you want to hang out with Bertie every second of every day?