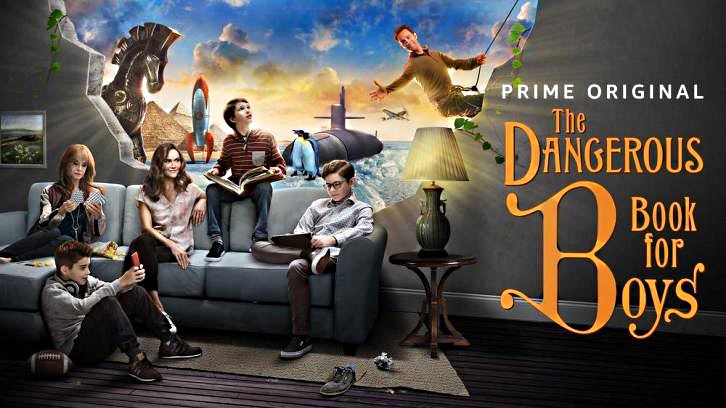 Amazon released today a new family show, The Dangerous Book for Boys, based on Conn and Hal Iggulden's book of the same name. In the series, Kyan Zielinski plays Liam, one of the McKenna brothers who sees his life transformed after the loss of their father. SpoilerTV chatted with the young actor via email and discussed his work on the show as well as his general approach to this acting career.

SpoilerTV: Tell us about your character in The Dangerous Book for Boys. How did you approach this role and were you familiar with Conn and Hal Iggulden's book before working on the show?

Kyan Zielinski: My character is Liam McKenna, the oldest of three boys in the family. He is a kind, mature kid who is smarter than his brothers and he doesn't let them forget that. When dealing with the loss of their father, he soon realizes that he has to become the man of the house and feels that it is extremely important to look out for his mother and be a good role model for his brothers. He hasn't expressed that yet but knows inevitably he needs to step up.
When I learned of the role, I was instantly intrigued by the story line and felt a strong connection with Liam as a character. I just knew that I really wanted to be a part of this project. While I was not familiar with what the book was about, I had heard of it before, and got really excited when I realized Bryan Cranston and Greg Mottola were writing a story that stemmed from this how-to guide book.


Liam is the most down-to-earth of the three McKenna brothers, but can you tell us about his journey throughout the first season of the show and if he gets to let his imagination run a bit wilder?
K.Z.:
Liam is the most mature minded of the three, however he definitely has his moments of frustration with his brothers and while he tries to keep his cool, he engages in some sibling rivalry. Most of the time he is annoyed by his brothers and their ignorance. Liam's journey in season one is interesting. He wants to stay focused on his own path, having a strict schedule, but when his father passes, things are not as structured anymore. Things are falling apart little by little in his own world. Liam doesn't get to have his own fantasies in season one, however he has a full imagination as well but in different ways than Wyatt (
Gabriel Bateman
). Liam is extremely mathematical and scientific, so his fantasies would look a bit different, even if similar topics, he would go about it in a much more realistic way.
The show brings to life kids' fantasies and you all get to play astronauts or cowboys and such. What is that like and what would be your reaction if you were given a book like The Dangerous Book for Boys?
K.Z.:
Honestly, every day on set was so much fun! Getting to come to work every day, and explore something new, was an amazing experience. I would have loved to receive this book as a young boy embarking on my childhood. It would have been really fun learning all the different skills and working closely on them with my own father and grandfather.
There have been a lot of shows lately featuring child or teen actors and you are now one of them. Is it hard at your age to keep up with a "normal" life in the midst of all this? How do you balance your acting jobs with being a regular teen, going to school, hanging out with your friends and all that?
K.Z.:
Yes, it's hard to believe but pretty cool! I'm homeschooled which helps, but it makes it harder as well in the sense of being able to socialize and hang out with friends. I'm a YouTuber, so that assists in meeting people and being social, but it's different because it's not with my good friends most of the time. I also live between three cities, so that adds complexity to being balanced, but my family is very supportive and help me in being a regular teen, going to the movies, going to theme parks, and hanging out at regular places.
Can you tell us about your experience working with Bryan Cranston and Greg Mottola on The Dangerous Book for Boys?
K.Z.:
It was phenomenal. Both
Bryan
and
Greg
have such creative minds with strong visions. I was able to learn so many things from them that I will take with me through my entire acting career. I am beyond grateful for that. Their on-set positivity was contagious throughout the production and created a second family environment that we all lived in for two months.
In 2019 you'll be in two movies, They Reach and Small Things. How different is it for you to work on a movie in comparison to a TV show? Which one do you like the most and why?
K.Z.:
Filming a movie and a TV show are quite different. There are reasons I love being a part of both, but my favorite today is being a part of a TV show. You get to tell a core story which has a bunch of little stories within the core, and each little story has its own arc. In a movie you have one story with one arc, which can be very effective in telling that story, but for now I prefer to have the opportunity to tell many little stories. I do aspire to be a director one day, so I have that additional love for film as well.
If you could be in any other TV show, which one would it be and why?
K.Z.:
I love a lot of different types of shows. One show I love that people may not know is "The Goldbergs". I enjoy how you can get sucked into another era of which I feel a part of as I'm watching it. I've always wanted to live through the 80's which comes from some sort of crazy curiosity, so getting to be on that show would be a blast. I also love "Designated Survivor", "Stranger Things", "Modern Family" and "The Good Place".