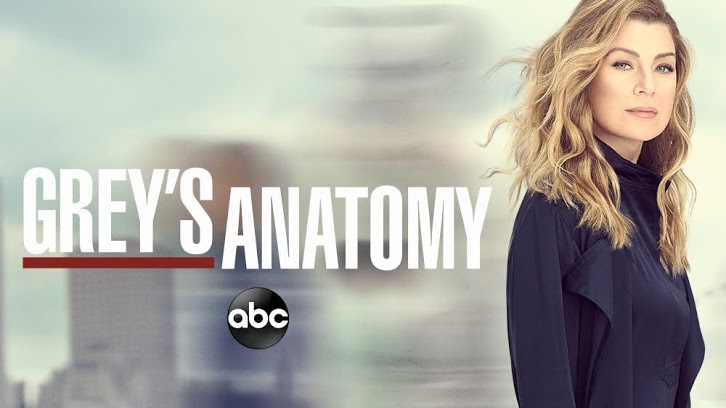 So, the episode began with April at the bar waking up with a definite hangover after another bender. April, looking a little rough, meets her first patient Eli, a Rabbi, who shows up in the ER with a rash. As April examines him she notices that his skin was separating from his body. Yes, you read that right; pretty gross. He tells her that he had seen Bailey three times and each time she gave him antibiotics instead of opting for surgery. Quickly, April realises that a rare reaction to the antibiotics is what caused his condition and that he is dying. Now, we all know April is not being herself and so she takes it out on Bailey and blames her even though it isn't Bailey's fault.
April stays with Eli as he waits for his wife to arrive whilst his conditions quickly deteriorates. Eli quickly picks up on the fact that April is in pain and he wants to help her, it is his job after all. Obviously, she's reluctant, for the past few episodes she has been doing her best to run away from talking about what is going on in her life. But April does for the first time open up. She tells him she isn't mad at Bailey but God. She's mad at him because her whole life she has done nothing but follow his teachings and tried her best to do everything right and yet He still makes her suffer. Eli then stops her and asks her about the Old Testament; most people in it followed God's rules yet still suffered. He continues by saying that the world is cruel and strange and random after all he is dying after taking pills which were meant to save him. It all hits April hard and she begins to cry. As she breaks down Eli gets worse and begins to confuse April with his wife, April plays along in order to ease his suffering until he dies. And now we're all crying. The scene was both powerful and completely heart breaking. The writing was amazing, and Sarah Drew was beyond fantastic; I truly believe that the show made the biggest mistake letting her go. She brings so much to the show that I struggle to see it without her. However, on the positive side it looks like April will recover, so how will she be written out now?

The second storyline of the episode belongs to Meredith and her patient Dr. Nick Mars, a transplant surgeon who recently went through a kidney transplant himself. Mer runs into him after a transplant and realises that there is something wrong. So, she runs tests and examines him; there is some sort of complications. Obviously as this all happens a bit of flirting between the two goes on and both seem to enjoy it. I haven't seen Meredith smile this much in one episode in a long, long time. Eventually, Meredith gets all the results back but they're inconclusive, so she examines him again and finds a blood clot. She rushes him to the OR and obviously manages to save his kidney. At the end of the episode Meredith meets with Alex at the bar and reveals that no one has made her feel that way since Derek, could Meredith be getting a new love interest?

Talking about love interests, in the previous episode we seen Owen get into a taxi and rush off to the airport after Amelia made him realise a few things about his life. And so, in this episode Owen showed up at Teddy's doorstep in Germany. Obviously, Teddy is shocked, but they end up sleeping together, Owen tells her that he loves her, they talk about Teddy's life in Germany and how Owen could move to Germany and be with her. But things take a quick turn as Teddy realises why Owen showed up. It doesn't take her long to figure out that even though Amelia and Owen were over they were sleeping together, and that Amelia was the on to suggest he has feelings for Teddy, after they had sex… the night before he came to Germany. Hurt, Teddy kicks Owen out after telling him some harsh truths about himself. I love seeing Teddy back on the show however, I've never seen the chemistry between her and Owen. I think that this will be an interesting storyline, I'm interested to see how Teddy will be brought back fully and maybe even back into Grey Sloan after mentioning all the great stuff she is doing in Germany. However, I personally think she should have been brought back in a different way.
Other notes

The end scene between Bailey and April was so beautiful. I truly believe April is coming back to us.

I still love the friendship between Meredith and Alex, why can't we see more of it?

I loved seeing Meredith open about what she would do if she wasn't a doctor, it isn't often that we get to see her opening up to someone especially a stranger.

Overall, a solid episode. Let me know what you thought in the comments below!