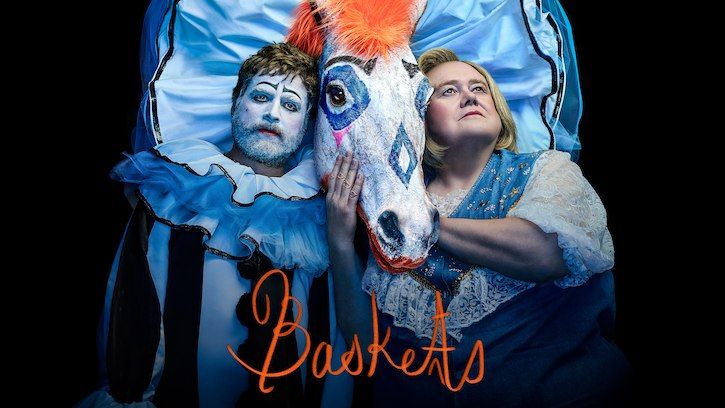 Episode 7 of season 3 was written by Theresa Mulligan Rosenthal and directed by Jonathan Krisel.

Yeah, so happy to see that Baskets has been renewed for season 4!

Christine and Martha are in Las Vegas for a weekend, what could go wrong? A lot.

Christine Baskets has had enough of men telling her what to do: Chip, Dale and her brother, Jim. She needs some girl time!

So, she 'kidnaps' Martha and they're off to a businesswoman's conference in Las Vegas; hosted by Shark Tank's Lori Greiner. Martha is not quite as excited as Christine. But, she doesn't have much say in the matter. Maybe, if Christine had actually asked her and not told her?

Dale is looting Mama's house, while she's away. He's been told by a very reputable doctor, whose ad he saw at a few bus stations, that he needs back surgery.

Christine maxed out all of the credit cards, so he's going to get his money back, anyway he can. Though, I don't know how much he'll get for that Gatorade.

Christine can not contain her excitement about Vegas. It is sweet to see her, treating Martha like a daughter. Too bad, Martha just wants to go home. Though, she does love the soft boiled eggs on the buffet.

They meet some ladies at the conference who invite them to a strip club: "there'll be free refills on men!" Martha's name is picked for an on-stage lap dance. She does not appreciate the fireman grinding on her and backs away, off the stage and onto a table.

She does not want to be unfaithful to her shepherd boyfriend, back home.

Poor Martha. In addition to her arm cast, now she has a cane and an enflamed knee. She is falling apart. She'll be lucky if she makes it home alive.

And, she is used to only having one item on her shoulder and that conference tote really threw her off.

Ken shows up in Bakersfield to try to talk some sense into Dale about the lawsuit. His first attempt fails. Dale tells Ken to 'put a ring on it' if he wants to have any say in their family matters.

Later, Chip takes Ken to see Dale whose living in his Baskets College van, in a trailer park. He accuses Ken of trespassing.

Ken takes Chip's advice to make Dale feel like a winner. It works. He smooth-talks Dale into being reasonable; bringing him the adapter for the treadmill he stole from Christine's.

When Martha returns to the club to find her lost purse, they offer her a free lap dance, but she chooses a hat, inscribed with 'license to drill', instead. It's a perfect fit.

Tonight, Martha is a voice of reason, even when she's giving Christine the silent treatment. She finally gets through to Christine; kindly telling her that she has to become a better listener.

Martha defends Dale by saying that he tried to help Mama with the financial end of the rodeo, but no one would listen to him. And, that's why he's suing her. Martha's right.

I have been so mad at Dale, but Martha helped me to see the other side of the story. Like the wise Martha said: "not everyone is like you, Mrs. Baskets, some of us are more sensitive; like myself and Dale."

At the meet n greet Christine thinks that she'll be able to talk to Lori Greiner about her business problems, but she's whisked away from Lori within a matter of seconds.

She is crestfallen after having bought a massage for Lori's sore neck, which Mama learned about at their 'Vegas miracle' ice machine meet up, the previous night.

Mama treats herself and gets the massage (her very first one). She and Martha had spoken about massages, but Martha doesn't like 'to be touched by strangers.'

Mama learns from the very wise masseuse that Dale's lower back pain could be caused by stress and financial problems. She recommends a book about back pain to Christine. 'They're available for sale, in the lobby.'

Christine, referring to Martha as her wingman in this 'women's paradise,' apologizes for dragging her to Vegas and thanks her; telling Martha how much she loves her. I'm not crying.

When she gets home, she reaches out to Dale, calling him her 'financial wizard' and asking for his forgiveness. Dale looks relieved. They both know that they've all made mistakes with the business. In the end, they decide to work together to try and make the rodeo work.

Mama is a Lori Greiner seminar graduate, 'how can they lose?'

Dale's back pain is instantly relieved and Mama comments that she's never seen him stand up so straight. Dale: "I'm as erect as a Navyman during fleet week."

Dale twirls around declaring: "look at me, I'm Chip!"

Random thoughts: I'm not sure, but is Dale actually acting like a decent human being? Martha was so on-target with her insights. Martha Kelly is amazing with her subdued portrayal of Martha Brooks. Great episode, glad to see the family isn't splitting up. I am sending positive thoughts their way. Hope it works!

Favorite Christine line: "what's the name of that steak house you like in Vegas, Ken? Ken: Outback?"