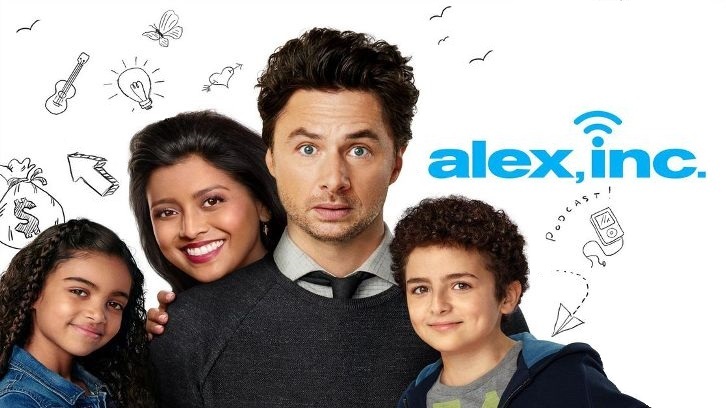 "Based on Alex Blumberg's successful podcast "StartUp," comedy series "Alex, Inc." is all about the things that happen – the good, the bad and the ugly – when a journalist and family man quits his job to start his own company. He quickly discovers it's going to be a lot harder than he thought.

Alex Schuman is a successful radio producer with a whip-smart, public defender wife, Arunima (aka "Rooni") and two confident, quirky children, Ben and Soraya. After years of making the kind of content that brings no creative fulfillment, in what most would consider an early mid-life crisis, Alex decides to risk everything – including his savings – to start his own business. Armed only with the help of his overenthusiastic producer, Deirdre, and his fast-talking, unemployed second cousin, Eddie, Alex navigates the crazy world of start-ups while trying to keep his marriage and family a priority.

The series stars Zach Braff as Alex Schuman, Michael Imperioli as Eddie, Tiya Sircar as Rooni Schuman, Hillary Anne Matthews as Deirdre, Elisha Henig as Ben Schuman and Audyssie James as Soraya Schuman."

This is a warm comedy, I find no better word to describe it, everyone in it is charming, Tiya Sircar (The Good Place), as the wife is amazing and Zach Braff (Scrubs) especially is perfect as the lead, his capability for storytelling makes him perfect for this role of a man sick of the pessimistic outtake on life he feels he's been forced to have.

The story begins the day he decides to go out and build his own Podcast company, and we will be here for the journey. Also, his family is very sweet and there for him, with every possible problem this might entail. This is a fun light comedy but it's also filled with heart, so if that is what you're looking for you should definitely give this a shot.

Alex Inc. premieres tonight, on ABC at 8:30-9:00 p.m. Are you excited about this one? Let me know in the comments.