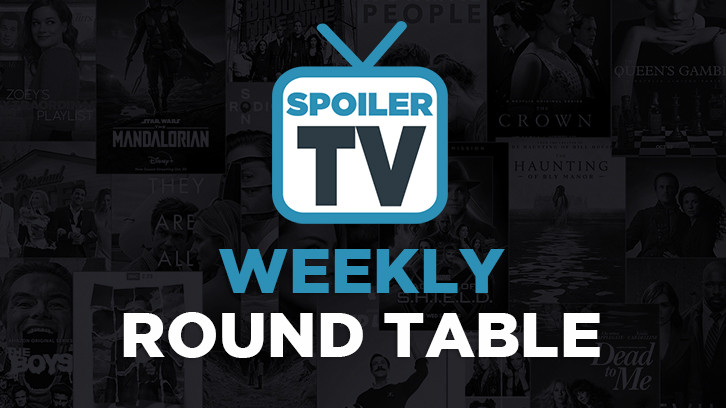 Hello everyone and welcome to another WRT! We are in the middle of Pilot season and there is stuff to be talked about. Today I'm (MK) joined by Laura (LS), Samantha (SB), Shal (KG), Patrycja (PK), Lisa (LM), Gina (GK), Beth (BW), Jamie (JC), Katherine (KM) and Jaz (JZ). As always sit back, enjoy the read and join the discussion down below.


1. Pilot pickups are (mostly) done and now the interesting part starts THE CASTING! Who would you love to see get a role this season and in which project?
MK:
Casting is what is a deal breaker, in my opinion, it can make or break a show. Yesterday I was reminded that Shane West is free for something and would look forward to seeing him kick behind somewhere, he is getting to the age where he can play daddy roles. Would love to see The Original cast score some neat roles and Adelaide Kane get to lead another show.
LS:
Now that
Chance
got axed I still want to see Hugh Laurie grace TV with his presence again. I also want to see Michael C. Hall on something worthy of his talents, because I hear that
The Crown
did not provide that for him...
SB:
I really need Sarah Michelle Gellar, Kat Dennings, and Jeffrey Donovan back on my screen. I'd also settle for Katie Cassidy finally leaving Arrow behind and being cast in something decent. I also really want Josh Bowman & Hayley Atwell to end up in something that won't flop, and Sophia Bush, Hilarie Burton, Eliza Bennett & Taylor Dearden to be cast in something good.
KG:
I would love to see Brett Dalton get cast in the main role this season! Not entirely sure what project at the moment but I'd be excited about anything he chooses to do.
I also think Victoria Justice would be a good fit for the Charmed reboot.
The other actors I want to see get roles this pilot season are Holly Marie Combs, Bridget Regan, Angela Kinsey, Hilarie Burton, Charisma Carpenter, Charlie McDermott, and Eden Sher.
LM:
So many! I know that I will leave out the lot or people that I'd love to see every week, so I'll second a lot of those already mentioned: Brett Dalton, Haley Atwell, Hugh Laurie, and Michael C Hall. I'd also love to see Katie Cassidy in something better than Arrow. Ioan Gruffudd is doing an Australian show - but will we see it here? Want him back on regularly! Would love to see Alaina Huffman get something juicy - and Meghan Ory.
BW:
This is my favorite part..... the CASTING!! So for actresses, I would love to see Vera Farmiga, Kat Graham and Sophia Bush get cast as leads in something. For actors, it would be Aaron Tveit, Daniel Gillies, and Brett Dalton. I am not sure about what projects; for pilots, I have to see who is cast first before I decide if I am rooting for it.+
JC:
There are a few actors I'm hoping to see again like Lyndsy Fonseca, Hayley Atwell, Rita Volk, Tatiana Maslany, ...
KM:
None of the network pilot ideas really interest me, and it's so hard to keep track of all of the other channels to see what they have going on. I'd like to see the following back in the tv world: Hugh Laurie (hated Chance), Kyra Sedgewick (hated 10 Days in the Valley), Lauren Cohan (as long as she doesn't exist The Walking Dead AS a Walker), Candice Bergen (no Murphy Brown), Hayley Atwell, Meatloaf (they were both the only good thing about Ghost Wars). Like I said, it's hard to imagine what will come up next project-wise, but I hope for good shows for them as well as better television for us.
JZ:
This is my favorite time in television because a good casting choice gets me to watch a show every time. I'm hoping a lot of The Originals cast get some new gigs, in particular, Daniel Gillies, Yusuf Gatewood, and Charles Michael Davis who are the standouts of that series.
I'd also like to see Edi Gathegi from The Blacklist: Redemption gets cast in something because he absolutely blew me away last season as Solomon. Also now that she's done with Quantico, I'd also love to see Yasmine Al Massri back on TV as well.
Other actors that I always enjoy and would like to see again are Cassidy Freeman (Longmire/Smallville), Andy Mientus (The Flash) Matt Bomer (The Last Tycoon), Rick Cosnett (Quantico),Shelley Hennig (Teen Wolf) Pia Miller (Home and Away), Kyle Pryor (Home and Away) and Augustus Prew (Prison Break)
I don't have any sort of vision about where they should go but I'm hoping the stars align and Anne Rice gets her wish for Matt Bomer to play Louis in The Vampire Chronicles!
2. With The Good Doctor being based on the Korean show and Grand hotel being based on a Spanish broadcast, how do we feel about the Americanisation if foreign media? What other shows could you see making a splash in the US?
SB:
This is an EXTREMELY contentious subject for me. I don't in theory mind Americanisation of foreign media because it happens all around the world. It would be great if we could just import the original shows with subtitles, but with licensing and whatnot that isn't always possible. And sometimes from watching a remake, it can lead a person to seek out the original. I watched the original Grand Hotel last year and it's absolutely fantastic. It introduced me to Yon Gonzalez among other actors, and I've also gotten into watching & adding several other Spanish dramas to my watch list.
My problem tends to be with cases like Timeless. I watched the pilot last year & loved it. However it was then explained to me the series is a rip-off of the Spanish drama El Ministerio Del Tiempo (Ministry of Time) Giving that a watch, the similarities are beyond obvious and I ended up dropping Timeless to watch the Spanish original. Because of EMdT's popularity, many foreign markets have bought the rights to it. Back in 2015, Sony agreed to produce an American remake of it, but then things happened behind the scenes and suddenly NBC are buying a project called 'Time'. That lawsuit has now been settled but it still makes for uncomfortable business, which I'm very much against. Unfortunately these cases do happen every now and again because studios sometimes think things in a foreign market aren't widely known to the larger audience & they can either attempt to negotiate & pay far less than something is actually worth and then bathe in the money, or come up with their own creation and just throw the lawyers & money at it afterwards. Thankfully from everything I've read, that isn't the case with Grand Hotel. It has already had several authorized remakes, and this ABC will be the latest one if it does indeed make it past the pilot stage & I really hope it does. It's the type of trashy soap that ABC usually eats up & with the right casting, it could be a success. As for what other shows, I've seen people mention before that an El Internado remake would suit The CW which I could see providing they omit the bad language.
LM:
Honestly, this is nothing new. I think what is new is the possibility of using the show to increase the diversity of roles available. Just a quick aside - copying another show is not plagiarism (which has no legal basis) - it's copyright infringement. You can bet your bottom dollar that Timeless got clearance and paid for it (whether before or after the fact - and there is such a thing as spontaneous creation). Hollywood doesn't mess around when it comes to chain of title. I also agree that this will lead some people back to the original - thought when there's a language barrier, that will be less.
KM:
I have to say that I worry about other shows coming over here, they just never feel right. The subtitled shows I watch on Netflix are all crime types, but I can't see how they can be adapted to the US. The Bridge was a disaster, The Killing turned out okay, but there's something understated about so many of these shows I'm not sure they would do well on the networks. Jordskott might work on Netflix or SyFy, if they invested money in it, so that's a possibility. I would like to be pleasantly surprised to see some of the others I watch out there, though.
JZ:
For me as an Australian, I've found that the adaptations of our TV have well and truly failed. I think it's because when the US picks up our TV shows, they don't tend to understand what makes a show a success in that country and most of it comes down it 's cultural relevance. A great example of that would-be Kath and Kim and the god-awful monstrosity of My Kitchen Rules.
I have enjoyed US adaptations of The Good Doctor and Being Human and I think that's because they have very generic storylines that are universally understood and can be adapted to an American market. I think if the US sticks to that format and have a killer cast then they might get away with nicking more series' in the future.
But for the love of god STOP TRYING TO MAKE THE IT CROWD HAPPEN! The UK one is already perfect!
3. An increase in ordered Multi-Cam comedies this season (mostly cause of NBC), does it really matter to you if it is Multi or Single Cam?
LS:
Doesn't really matter to me as long as it feels organic and the quality is actually there. For example,
One Day at a Time
is easily one of the best shows in existence, and they perform in front of a live audience. So when they laugh, you laugh. They actually laugh at things you're supposed to be laughing at. They become a character in the show. Can't say that about a cough most multi-cams these days.
SB:
I don't really see the difference between multi-cams and single-camera comedies, I just want comedies that are actually funny and don't have a laughing track. If I think something is funny, I'll laugh.
BW:
I see strong opinions on this more frequently and to be honest if it is funny and works for me, I don't really care either way.
JC:
I can honestly not tell the difference. But I do like comedies with a live audience because I think there are more ad-libs, which with the right actors can be hilarious. You can often tell when it's a laugh track and in those cases, it would probably be better to leave it out.
JZ:
For me it depends on the series. I think multi cams are really well suited to comedies that are somewhat serialized, (Like Fresh Off The Boat and Black-ish) but for those ones where they're situational, observational, I expect them to be the single cam. Otherwise, it might seem too forced or too cheap. I'd like to say I don't think it bothers me but if the choice is incorrect for the tone of the series, I'll probably take issue.
4. The Olympic Games break is ahead of us. What should be on everyone's binge list?
MK:
Comedies in general, there are so many treasures out there. But people certainly shouldn't miss
Here and Now
, a brilliant new entry on HBO ( a lot of BLL vibes in my opinion) and Seven Seconds which will drop on Netflix February 23th, Regina King securing another Emmy.
LS:
Please watch
Brooklyn Nine-Nine
. Done. Okay, fine, here are some other recommendations:
One Day at a Time
,
BoJack Horseman
,
Steven Universe
,
Schitt's Creek
,
The Tick
,
Danger & Eggs
,
Eastsiders
,
Take My Wife
,
Mary Kills People
, and more. These are excellent shows worthy of binging.
SB:
How much time do you have? If Brooklyn Nine-Nine isn't already routed to your binge list, then it's not really a list. It's a show that is almost incapable of having a bad episode. It is full of diversity, interesting storylines, and balances the comedy and more serious storylines perfectly. I'd also suggest giving Schitt's Creek a watch because it's absolutely fantastic. Because I can't resist, I'd also suggest anyone who is curious about the Grand Hotel remake watch the original. Yes, Spanish dramas are stupidly long, but at least it'll make the broken fly by. If you want an introduction to Jodie Comer before Killing Eve starts, then I'd suggest watching Thirteen which is a nice miniseries full of twists and turns. I'll be attempting to use the break to catch up on a bunch of shows I've fallen massively behind on.
KG:
The Good Place, One Day at a Time, The Crown, The Punisher, and Stranger Things are my top choices for people to binge-watch during the Olympics hiatus. Definitely some of my favorite shows!
PK:
The Bold Type, Brooklyn Nine-Nine and Absentia should definitely be at the top of everyone's list.
LM:
People should binge 12 Monkeys!!! And of course, Walking Dead and Game of Thrones...
Gina:
I'll be binge-watching some oldies but goodies and some new shows... Shows that aren't streaming yet but need to be rewatched on DVD are Dark Angle (Season 2), Kyle XY, and Due South. Newer shows I'll be rewatching Sense8, Stranger Things, Stargate Universe, Teen Wolf, Sleepy Hollow, The Brave, MacGyver, Magnum PI and SYFY's Tin Man and Alice. Oh and some across the pond shows... Primeval and Endeavor. I still need to find SYFY's Taken mini-series. Can't wait...
BW:
I always say The Man in The High Castle (yes the key art can be off-putting but it is an excellent show and the visuals are amazing). I am almost done with Absentia and it is an amazing worthwhile ride. I myself am going to continue with Charmed and have been doing a slow re-watch of One Tree Hill.
JC:
Well, I would recommend binging One Day At A Time, The Bold Type, Westworld,. Those are the short ones. If you're more into long binges I'd recommend Golden Girls, One Tree Hill, Gilmore Girls, ...
KM:
One Day at a Time and Absentia come to mind.
JZ:
I'm making a vow not to watch any new television shows this hiatus because I have far too many as it is! So, in that vein, if you're looking for shows without commitment, I'd suggest Partners, Prison Break, Being Human (UK & US), Smash and Looking. All of them have nice endings that won't leave you miffed at the end.
If you're looking for new series to watch post-Olympics, I'd suggest shows like 12 Monkeys, Man In The High Castle, Mozart In The Jungle, The Path and Queen of The South. These shows are far off the beaten broadcast track and are intelligently written and acted. Hiatus time to be the perfect time to try something a little different than the ho-hum of regular television.
Hope you've enjoyed this edition and join the discussion in the comment section. Till next week. . .